While you suckers in the northern states are preparing to put your clubs away for the winter, us lucky souls down south are simply trying to remember where we've put our long pants. After all, that's all winter really means to us: pants instead of shorts when we golf.
Us southern boys also get the opportunity, unlike you Yanks, to try out the new equipment that is invariably released in September or October. This week, we've got news of lots of new gear from both Cobra and TaylorMade.
Don't worry, my northern brothers, you'll be playing this equipment in six or seven months!

King Cobra L4V Driver
Cobra's new L4V driver line stands for Limit 4 Variables. This dynamic new driver is designed up to the limit of four USGA defined performance variables: Maximum COR (.830), maximum head dimensions (5″ by 5″), maximum volume (460cc), and maximum inertia or MOI. Clearly, limits are not an issue for Cobra.
"The L4V driver line is a direct result of Cobra's commitment to developing the industry's highest performing drivers via innovative, advanced design and technology," said Jeff Harmet, President, Cobra Golf and Titleist Clubs.
The clubhead is constructed with a carbon composite crown and sole section with tungsten back-weighting, and the largest face area in golf with a dual rhombus face insert. This multi-material driver has been designed for maximum distance and accuracy.
The new L4V line features three models, X, F, and M. The X model is available in 9.0° loft, the F model available in 9.0° and 10.0°, and the M model available in 10.5° and 12.0°. All three models are tricked out with the most technologically advanced shaft on the market, the Cobra/Mitsubishi Rayon Diamana Red Board. Additionally, these shafts feature Cobra's proprietary Dynamic Shaft Balancing technology, paired perfectly with Cobra's exclusive Speed Tuning platform. This technology enables Cobra design engineers to reposition more mass (four to six grams) in the L4V head, maximize MOI and maintain optimal swing weight to maximize ball speed for all player types.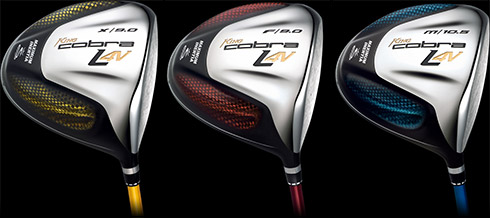 "The Cobra R&D team designed this clubhead to the limit of USGA regulations for MOI, COR, head volume and dimensions," said Scott Rice, Director of Research and Development. "The L4V is the most advanced, highest performing driver we have ever produced, providing all player types the ultimate in distance and accuracy."
The styling that Cobra consistently brings to the market is present in this new driver as well, with classic good looks that belie its playability. Just looking at it makes you want to call in to work sick for a day… or two.
All three Speed Tuned models will begin shipping on November 1 with an MSRP of $480.
R7 CGB Max Line
TaylorMade has introduced a new line of golf equipment called r7 CGB MAX, comprised of a driver, fairway woods, and irons. "MAX" is short for maximum distance, maximum forgiveness, maximum performance, and the kind of maximum ease of use that most players wouldn't have dreamed possible.
r7 CGB MAX Irons
TaylorMade has vowed to make the new r7 CGB MAX family of clubs to be the very best game-improvement equipment that money can buy, and the iron looks as though it may live up to that promise. The extremely large head is stabilized with the help of visible tungsten weights that increase MOI for greater forgiveness. Clubhead speed is dramatically boosted by the incorporation of SuperFast Technology, which includes the ultra-light shaft and the thin, flexible clubface (thinner than the previous r7 CGB MAX model). There's also TaylorMade's Inverted Cone Technology, visible on the back of the face, to promote high ball speed on off-center hits. Finally, there's a new back-cavity badge that contributes to the clubhead's great feel. When you add up all of the features and technologies you get the longest iron in the TaylorMade line, not to mention the most forgiving.
r7 CGB MAX irons are available in 3- through 9-iron and pitching, attack, sand, and lob wedges. Left-handed clubs are also available (except for the lob wedge). Women's right-handed r7 CGB MAX irons are available in right-handed only, 4-iron through 9-iron and pitching and sand wedges. The irons should hit the market on October 30, 2007, at a MSRP of $172 per club with steel shafts, $195 per club with graphite shafts. A set will run $1299 or more. Hey, nobody said game improvement came cheap!
r7 CGB MAX Fairway Woods

Like the driver and irons, r7 CGB MAX fairway woods incorporate a variety of top-level technologies that make them the best game-improvement fairways that TaylorMade has ever created. They share the driver's triangular head shape and the exceedingly far-back CG location in relation to the face that this geometry makes possible. That CG location will prove especially valuable to the many players who have trouble getting fairway woods in the air, because it makes launching a 3-wood into the sky as easy as a 7-iron.
Besides that, the heads feature a large, eye-catching shape with high MOI that makes them extremely forgiving on mis-hits. r7 CGB MAX fairway woods incorporate Movable Weight Technology and three weights, promoting up to 22 yards of trajectory change from side to side, which will help players configure additional distance and control to their liking. Last but not least is SuperFast Technology in the form of an ultra-light graphite shaft that promotes added clubhead speed for increased distance. Available in right- and left-handed 3-wood, 5-wood and 7-wood. Availability starts November 30, 2007 at a MSRP of $360 per club.
r7 CGB MAX Driver
The r7 CGB MAX, which is characterized by its smashing good looks and deep red color, incorporates multiple technologies that make possible its extraordinary performance. First is TaylorMade's now-famous, Movable Weight Technology (MWT). In this case, MWT is in the form of three weights; one in the toe, one in the heel and one in the very back. Two one-gram weights and one 16-gram weight are included. Very simply, if you want the ball to go to the right, put the heavy weight on the right side of the clubhead (the toe). That promotes a slight fade. If you want the ball to go left, as in a slight draw, put the heavy weight in the middle of the clubhead (the back). If you want to promote a large draw, put the heavy weight on the left side of the clubhead (the heel).
"CGB" stands for Center of Gravity Back, which is critical to making a club easy to launch high and long. The r7 CGB MAX's distinctive triangular clubhead shape makes it possible to position the CG especially far back in the head in relation to the clubface. That kind of CG location also makes the r7 CGB MAX more stable and forgiving on mis-hits, which leads to another huge advantage about this driver, and that's high MOI. When you combine the Inverted Cone clubface technology that TaylorMade incorporates into all of its drivers, which delivers higher ball speed when you miss the center of the face, you get an effective MOI. The r7 CGB MAX also incorporates TaylorMade's SuperFast Technology, with an ultra-light RE*AX graphite shaft, an ultra-light grip, and an extra inch of overall length, all of which contribute to more clubhead speed for increased distance.
The r7 CGB MAX driver is available right and left-handed models in three lofts: 9.5°, 10.5° and HT. Availability starts on October 30, 2007 at a MSRP of $600.
"Everything we know about improving golf club performance has gone into the r7 CGB MAX line," said Sean Toulon, TaylorMade executive vice president. "We've incorporated every modern performance technology we have into each member of this family, and we did so without regard to the cost. The result is equipment that delivers a truly extraordinary level of performance in terms of being incredibly easy to hit high, long and straight. For golfers willing to pay a premium price, we believe the r7 CGB MAX line delivers the best performance that money can buy."
This article was written by guest author Ryan Sullivan, who remains an active member of our forum.