I'll be the first to admit that most of the traditional golf shoes available today don't quite fit my taste and certainly don't go far in terms of matching any sort of newer, younger style. So basically, with the golf apparel available today, you either end up looking like your dad, or you get into the Poulter zone, where, quite frankly, I'm equally as uncomfortable. So where does that leave people that don't like Raisin Bran or Fruit Loops? For an industry that is so insistent on growing the game, most manufacturers aren't really doing a lot to attract younger players in terms of youthful style. Exceptions to this might be Nike, Adidas, Ecco, and Puma, but even their lines of golf shoes are pretty conservative when compared to their other lines of everyday shoes.
Equally annoying is how uncomfortable a lot of golf shoes can be. If you're accustomed to walking more than riding, it goes from moderate annoyance to a truly miserable experience. Former NCAA champion James Lepp had these same exact complaints, but unlike most of us, he decided to do something about it by creating his own golf footwear company, which he named Kikkor. This month, the company officially launched their line of footwear, which promises both style and comfort as its main goals.

We'll take a look at the shoes in just a minute, but first, lets get a little more familiar with Kikkor founder James Lepp, and his goals for his new brand of golf shoes. Lepp, who was the 2005 NCAA individual champion while getting his business degree from the University of Washington, always wanted more of a street-style/skate-style golf shoe throughout his young career, but never really had many options. He decided that if no one else was going to make one, he would.
I used to play in my street shoes all the time, but I could only do so when it was warm and dry out. Any hint of moisture and I'd be slippin' all over the place. Street shoes are way more comfortable, they match my personal style better, and frankly, if they had spikes, they would provide everything that I would need out of a golf shoe. I couldn't see any legitimate reason why there wasn't a shoe out there like this, so instead of waiting and with the help of some friends I decided to do it myself. What started as just some random designs on my computer about a year ago has turned into what Kikkor is today.

James Lepp, Founder & Owner of Kikkor
With that, Lepp's interest in competitive golf transformed into a desire to succeed in a market where he saw an opportunity. Though the official launch takes place this month, Kikkor has been in the makings since 2008.
At Kikkor.com, a few reasons for their existence is listed, with the first being that it doesn't matter what age you are, no one really wants to wear the same stuff as their dad. Because most golf shoes are designed with older players in mind, there simply aren't many options that match more of a youthful style.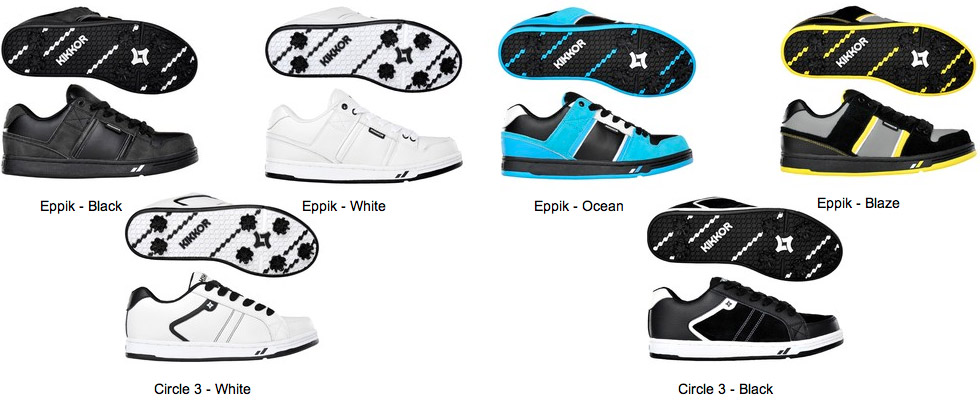 The new Kikkor golf shoes come in two flavors, both of which come in a variety of colors, and both having a lot of qualities common with the shoes a lot of younger players are wearing off the course – flat-bottomed, stylish, and comfortable. One thing you'll probably want to be aware of is that Kikkors fit half a size tighter than other golf shoes, so if you're interested in ordering a pair, keep in mind that if you usually wear a size 10, you'll want to step up to a 10.5.
Kikkor Eppik
We'll take a look at the Eppik first. The Eppik is available in four different colors – black, white, ocean, and blaze. The outer body is created from premium action leather and Kikkor Komfort Foam Technology provides the soft, cushioned feel that your feet will appreciate. Kikkor's Sure Foot Stability System helps keep your feet stable throughout the swing, while Champ Q-Lok Scorpion spikes keeps everything firmly planted in the ground. All of this is backed by a one year limited waterproof warranty. The Eppik has a price tag of $89.

Kikkor Circle 3
The second model in Kikkor's lineup is the Circle 3, which is available in both black and white. Though it's a different style of shoe, the Circle 3 has much in common with the Eppik, like the use of premium action leather. The Circle 3 also makes use of Kikkor Komfort Foam Technology to keep your feet happy on those long, hot days. Rounding out the Circle 3 is the Sure Foot Stability System and Champ Q-Lok Scorpion spikes. What really separates the Circle 3 is that it is a water resistant shoes, which can be a great benefit if you're used to playing in soggy conditions. Expect to pay $79 per pair.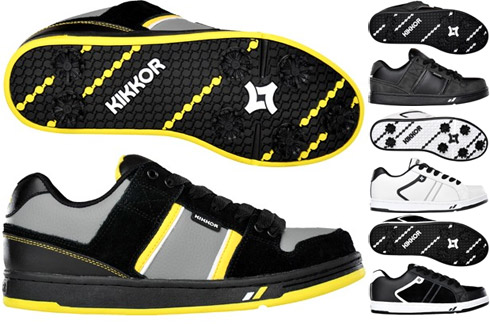 I recommend checking out Kikkor's website, as there are other things available such as hats and gift cards. While you're there, have a look at the Kikkor Tips section, it's well worth the visit. The Kikkor Tips page is a few videos, where Lepp gives you some help with your game and few various shots to try out. While the videos are helpful, Lepp's approach is what I really liked. He's laid back, funny, and helpful, all at the same time.