Some are saying Lorena Ochoa's retirement is the latest blow to the LPGA. They must have forgotten the women's tour took a major leap into irrelevance and tiptoed toward extinction while the phenom from Mexico sat atop their rankings.
How can it get any worse with her stepping away? It can't. If anything, it should open the door for more of the LPGA's personalities to take the spotlight. Names like Christina Kim and Michelle Wie, who can make more headlines without hoisting a trophy than Ochoa ever could while assembling what would be a Hall of Fame career had she stuck around for 10 years.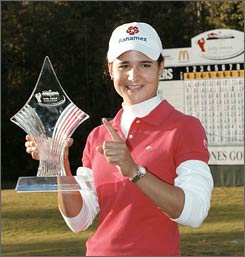 I like to pride myself in being a big fan of the game, and trying to maintain some interest in every tour. What I know about Lorena Ochoa is that she's from Mexico, and she's been atop the women's game for a quite a while. And now I know she's hanging it up, presumably to go have babies, walking away while tops in the game.
Since the news broke, I went looking for more about Ochoa. What she's like as a competitor, how she's grown and promoted the women's game, what sets her apart from anyone else on tour, other than the scores she posts. Truth is, there's not a ton out there, which is a shame, but also telling when it comes to the dismal state of the LPGA brand.
Ask me to name five female golfers and the first one is easy – Michelle Wie comes directly to mind. Obviously Wie comes with baggage. We know her for surging into the public eye as a teenager with brash goals and a father who studied the playbook of Richard Williams and Earl Woods. The difference is, his daughter wasn't Venus, Serena, or Tiger. It's taken almost a decade for her to settle into the place we expected her to be by her sweet 16 – rounding into shape as a top 10 mainstay. Maybe the fact she's easily more recognizable than the woman who has dominated the LPGA illustrates the fact it's better to aim for breaking barriers and setting obscenely high goals than simply racking up victories and world ranking points.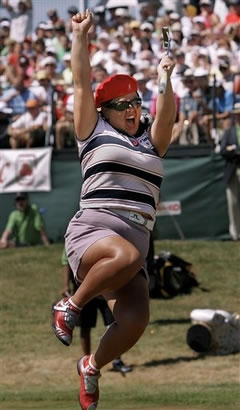 After Wie, I would name Christina Kim, but I'll admit I've probably seen her play about 18 holes of golf in my life. I know she stole the show (or made a fool of herself, depending on who's weighing in) at the Solheim Cup, an event I stumbled upon but was riveted to. You might say there's a lot of emotion on display at the Ryder Cup, but these women took it to a new level, and it's now a "mark your calendar event" for me. Lately, Kim has been in the public eye thanks to a book that the people who sell books are wisely pitching as a look into the dirty (maybe even seedy) underbelly of drinking, carousing, and fooling around on the LPGA circuit. Are there likely only a few pages out of a few hundred with such tales? Probably. But that's fine, because women's golf can use all the publicity it can get, and who better than a vivacious, full of life personality like Kim? Now, could I tell you if she's number two in the world or number 35? Without looking it up, I couldn't. But just like Wie's lack of trophies, does it matter? Apparently not, if she's the second name to come to mind.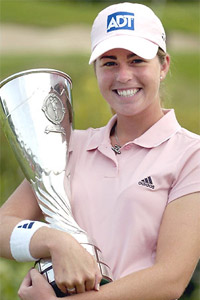 By the time I get to a third women's golfer, I'm already starting to struggle. I'd spit out the name Paula Creamer. What do I know about her? She wears pink. She's sick and injured more than she's playing (pretty sure I read that a few months back). And she's got a commercial in heavy rotation where she roars at herself and all I can think each time I see it is, whoa, I wonder what that would be like if she'd just eaten garlic bread?
At this point, I'm racking my brain. I know there are awesome Korean players out there, but I couldn't name any. Se Ri Pak comes to mind, but her heyday roughly coincides with David Duval's, so I'm dating myself.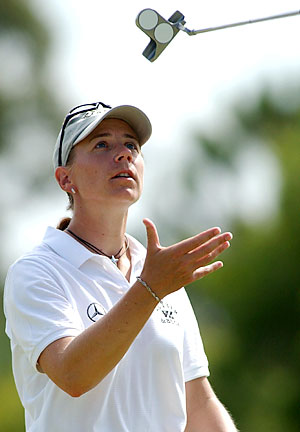 So now I'm thinking I better come up with a fifth, and I can't stop thinking Annika Sorenstam, because she's still the one who carries on as the face of ladies golf, even four years since her last major title and two years after announcing her retirement. At the height of her greatness, she transcended the LPGA Tour, and I maintain that her attempt to play a PGA Tour event was brave, bold, and deserving of respect. It also cemented her place as an athlete who pushed the boundaries, entered an uncomfortable place, and performed admirably. Add it all up – an astounding 72 LPGA victories, another 17 on the European LPGA, and 10 major championships, plus the guts to see how far she could push herself – and you can say Sorenstam belongs on any list of the greatest golfers ever, male or female.
When you boil it down, there are a lot of great players on the LPGA Tour, but just as I've said about the men, I reiterate it here: there needs to be more to your athletes to generate the interest and buzz. Wie's bold arrival. Kim's party girl persona. Creamer's branding as the Pink Panther (hell, Gary Player has said he never really liked black, he just needed something to help define himself, so the Black Knight was born). Sorenstam's mind-boggling performance, paired with a risky one-week foray onto the men's tour. Notice I haven't even mentioned over-the-top sex appeal, because we've seen that Natalie Gulbis can get into Maxim magazine but not the final pairing on a Sunday. Without sports substance, for my money it only cheapens the tour if it goes out of its way to promote looks. Good looking stars will emerge regardless of which tour. Forcing it is what can be a real turn off.
Much ink has been spilled this week lamented Ochoa's retirement as a setback to women's golf. I couldn't agree less. Her fire never burned brightly enough to transcend the small circle of LPGA fans, and by stepping away, it's merely a blip on the radar. I had high hopes for the tour this year, and still do, considering it's early. But when it's late April and you've played five events (two in America, and one that won't even be televised until two weeks after it was played), are we supposed to consider that a golf tour? They even played a major. Who knew?
One thing I did know is that Christina Kim's got a book out that I'm looking forward to picking up. And, if I could ever find the LPGA on TV, I'd tune to watch Michelle Wie play golf. That's got to be cause for optimism. Right?