While most of us have one or two places that we frequently play, a lot of players like to venture out every once in a while to a course that's unknown and unfamiliar. I know that I'm pretty familiar and comfortable with the yardages at my home course, but along with the excitement that comes with playing somewhere new is a certain degree of unfamiliarity which can lead to a few issues, the biggest being second-guessing club selection.
Since we aren't lucky to have a Steve Williams or Fluff Cowan by our side every weekend, yardage book in hand, devices such as laser range finders and GPS units have found their way into a lot of bags, and it seems like they're improving with every product release. Sometimes, though, these new features leave you scratching your head, thinking "Why didn't I think of that first?"
One such product is SkyGolf's new SkyCaddie SGX with SmartClub Technology. What improvements am I talking about? Well, you'll just have to read on to find out more!

Before we jump into the new SmartClub Technology, let's first have a look at the other enhancements in the SkyCaddie SGX. The 3″ transflective LCD screen ensures that no matter how bright it is outside, you'll always be able to easily see the wealth of information provided, while the rechargeable Lithium-ion battery guarantees that you'll have service for even the longest days, as it will give you up to 14 hours of non-stop life. One handed operation is simplified via the inventive dual navigation option. I know one thing I have a problem with, as I'm sure a lot of you do as well, is that my big hands aren't ideal for use with most touchscreens such as the one on this unit. Luckily for us, the guys at SkyGolf addressed that exact issue when designing the SGX's new UI, which is said to totally overcome all of the errors that are usually associated with large fingers and/or operation while wearing a glove.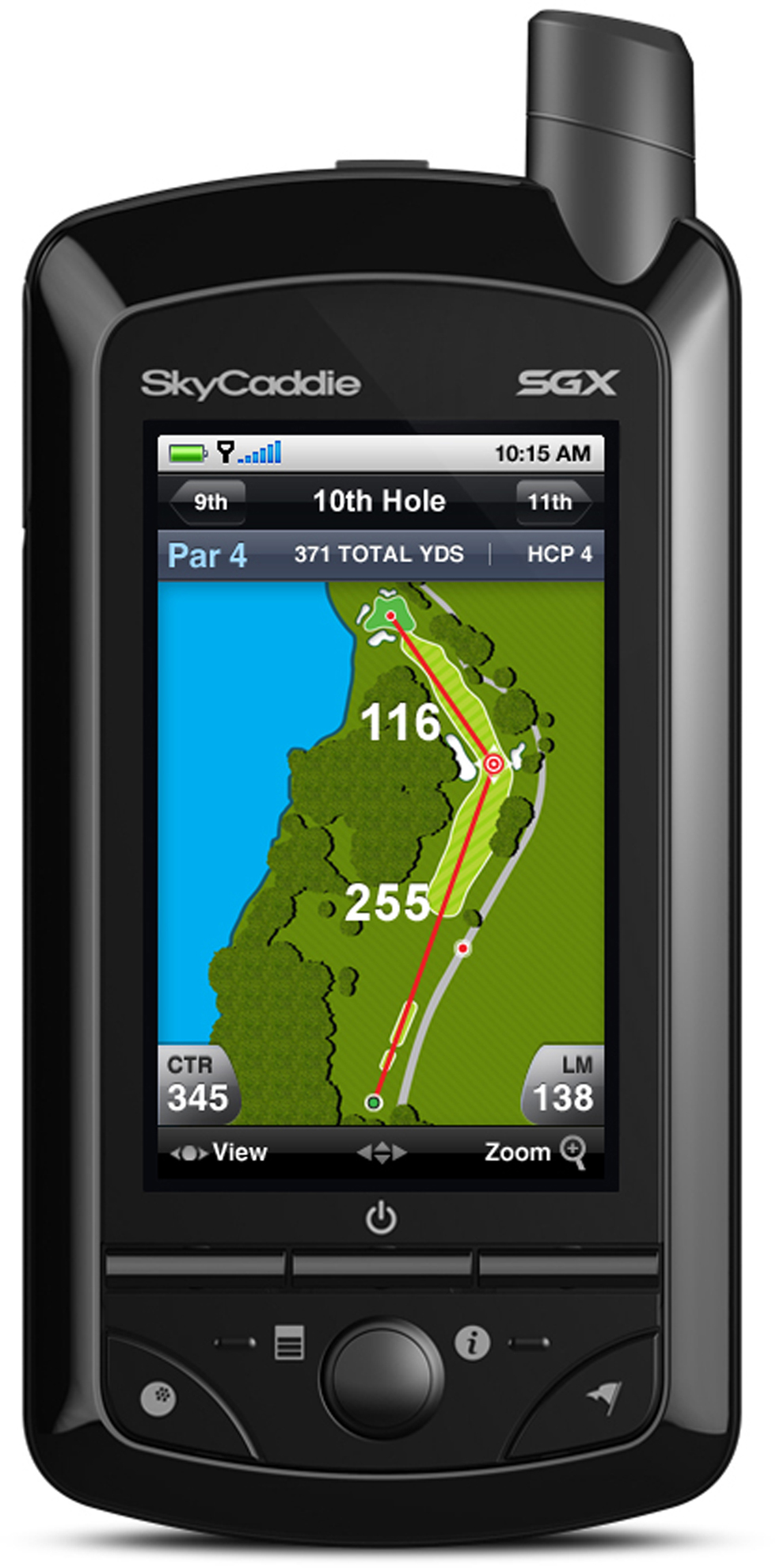 Another integral piece to the SGX is SkyCaddie's proprietary TruePoint Precision Positioning Technology, which provides positioning accurate within one meter, according to SkyGolf. Created out of a partnership between u-blox and SkyGolf, TruePoint gives you all that you'd want – quick, accurate location acquisition, and low power requirements.
Pinpoint accuracy is great and all, but latitudinal and longitudinal coordinates are useless without one big thing – maps. I'm not talking about satellite imagery maps like you'd find on Google or somewhere else on the Internet, I'm talking about maps that SkyGolf spends a great deal of time and money verifying. Luckily, out of the box, 30,000 of these maps are pre-loaded so that basically, you buy it, un-box it, and you're ready to take it to the course! Don't get me wrong, there is certainly a reason to take advantage of the built-in storage. While the 30,000 pre-loaded courses have basic green information, the SGX allows the player to store 50 full-featured course maps.
The full-featured maps take the device to the next level with features such as HoleVue and IntelliGreen technology. SkyCaddie is putting together a ground-corrected archive of maps using true-color, detailed images so that the player has the most accurate representation of the course as possible. This includes the HoleVue Zoom functionality, which will let you see your target perfectly and avoid any unforeseen obstacles.
The IntelliGreen technology goes a step further when deciding on your approach shot by allowing the player to see the shape of the green and automatically rotates the image for you, based on your position. There, you can see the angles of the green and the distances to significant breaks in it so that you're not left with that long march to the other side of the putting surface.
The SGX also offers a level of personalization, as it can be configured to learn the distances of each of your clubs and create a profile for each. Once fully set up, the new Club Ranging Meter will tell you what club is in that distance range.
A digital scorecard and statistic tracking system is built in as well, helping you identify parts of your game that may need work. Among the stats kept by this system are greens in regulation, fairways hit, driving accuracy and distance, and total number of putts. After each round, all of that useful information can be synchronized with SkyGolf's new online system for further analysis.
Finally, we get to perhaps the most significant new feature – SmartClub Technology. Due out later this year, SmartClub Technology provides a wireless link between your clubs and the SGX unit. Via the use of a SmartClub tag, which resides at the butt end cap of the grip, the SGX unit and the tag sync once the club is removed from the players bag. This can serve two very useful purposes; first and foremost, if you've ever lost a club, you'll be immediately thankful for the tags. The SGX Club Reminder immediately alerts a golfer when they've left a club at the previous hole, as they're approaching the next one. The other main purpose is what's being called SGX Game Tracker, which records the club used and the distance the shot was hit. That information, along with your score and other statistical information is then uploaded to Club SG, where you have a number of options for further analysis. Ultimately, it's the most comprehensive way of automatically tracking every aspect of your game outside of videoing ever swing for you. Ya know, I might be on to something there…
I mentioned Club SG (Beta, at the time of this writing), which is designed to be your one-stop portal for connecting the player to their game, their statistics, their friends, and even their teachers. Though the beta site launched this past January, SkyGolf says that the community is quickly growing and evolving.
Our mission is to help golfers play smarter, play better, play faster and have more fun. We believe that if golfers experience more rewards from the game, they will play more rounds, take more lessons, get properly fit for equipment, and share their passion with other golfers, both new and inactive, to help to grow the game. The SkyCaddie SGX is not only the most advanced, reliable distance measuring device in golf, it is a platform that can extend the game beyond the 18th green. Moreover, it provides a foundation for improvement, while providing access to a passionate golfing community where players come together to enjoy the sport and celebrate achievements, which will motivate them and others to play more golf.

Richard Edmonson, CEO of SkyGolf
Of course, a solution such as this one comes with a healthy price tag. Though the price including SmartClub Technology hasn't been made available yet, expect it to be north of the $399.99 price tag of the SkyCaddie SGX unit by itself. The release date is set for April 2010, so look for it in your favorite golf shop in the upcoming weeks.