TaylorMade Golf is kicking off 2008 with a bang by launching an entire lineup of revised and new golf balls that will give golfers a multitude of options to choose from based on what you are looking for in a golf ball.
Four of the balls will carry the TaylorMade name with the remaining two carrying the Noodle banner, and all will feature "a new proprietary aerodynamic technology called Low Drag Performance, which promotes improved distance on the most common types of off-center driver hits."
With a pretty impressive tour staff that includes Retief Goosen, Sergio Garcia, Justin Rose, Natalie Gulbis, TaylorMade is continuing to make a name for themselves in the golf ball arena. I was impressed with how the original Tour Preferred Red and Black balls performed and I am eagerly anticipating giving version 2.0 a closer look.



Technology
Utilizing new aerodynamics technology called Low-Drag Performance (LDP), TaylorMade is looking to help you gain more distance on off-distance hits. Since the vast majority of us don't hit the center of the club face most of the time anyway, any additional help on mis-hits is greatly appreciated.
According to Dean Snell, senior director of golf ball research:
We used the TaylorMade MATT (Motion Analysis Technology by TaylorMade) System to study the driver impact patterns of more than 80,000 players of differing levels. We found that the great majority of off-center hits occur on the upper part of the clubface, above the clubhead's center of gravity ("CG"). We compared the effects of these types of mis-hits on a variety of balls, including our own. The result was always the same: spin-rate dropped by a large percentage, typically from 500 rpm to 1,200 rpm. Spin rates became so low that the balls couldn't sustain lift. When that occurs, drag slows the shot down and the ball drops from the sky, seriously cutting carry and distance. With some models, the loss in yardage was exceptionally severe – up to 18 yards.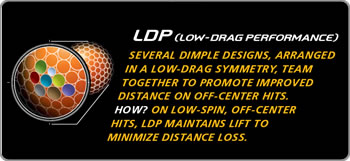 The LDP technology, which is comprised of the combination of "every element that makes up the ball's surface: the size and depth of the dimples, the angles of their edges and the symmetry in which they're laid out" is now featured in the entire lineup of TaylorMade golf balls.
According to their testing, there is a "clear difference in distance on mis-hits above the CG, as well as on mis-hits level with the CG toward the toe and heel, between balls with LDP and balls without it." Needless to say, I'm quite intrigued to find out if this is true.
New TaylorMade Tour Preferred Black
Tour performance and faster ball speed for players who prefer less spin
Cast thermoset urethane cover delivers predictable spin and supreme shear-resistance
360-dimple Low-Drag (LDP) improves distance on off-center hits
Promotes high ball flight
Feels softer than original TP Black
Expected retail price of $39.99
New TaylorMade Tour Preferred Red
Cast thermoset urethane cover delivers predictable spin and supreme shear-resistance
360-dimple Low-Drag (LDP) improves distance on off-center hits
Promotes mid to low ball flight
Feels 15% softer than original TP Red
Expected retail price of $39.99
New TaylorMade Burner TP
Combines awesome distance with tour-caliber bite and great feel
HPF 1000 SpeedMantle169 boosts ball speed while limiting driver-spin and increasing iron-spin
342-dimple Low-Drag Performance (LDP) aerodynamics improves distance on off-center hits
Iothane cover feels soft, spins great and resists shearing, scuffing and scarring
Tour performance at an incredible value
Expected retail price of $24.99
New TaylorMade Burner
Fast, long and soft performance for every type of player who wants more distance
New 360 High-Lift dimple configuration promotes higher launch angle and longer carry
Energetic core boosts ball speed while retaining soft compression
So amazingly soft it feels and sounds like a balata-covered ball
Expected retail price of $19.99
Noodle+
10 yards longer and 25% softer than before
New core formulation boasts higher COR yet feels softer
New 342-dimple configuration promotes increase hang-time, carry and distance
Better performance than ever, yet still "priced for the people"
Expected retail price of $15.99
Noodle+Lady
Created specifically to appeal to women and perform better for women
Live-Action Core compresses easily at moderate swing speeds to spring off the face fast
Iothane 56 cover feels soft yet resists shearing, scuffing and cutting
Highlights in the cover shine with a diamond-like sparkle
Expected retail price of $15.99
Final Thoughts
TaylorMade has come up with some fancy engineering to help make the aerodynamics of their 2008 lineup better. Will LDP be the "next big thing" and actually help golfers make-up some of the distance lost due to our mis-hits? That remains to be seen but the idea seems to be a good one although it's hard to imagine that a ball can "forgive your most common miss-hits." Don't get me wrong, I appreciate the potential for added distance, but the penalty is the same whether I hit it 250 yards out-of-bounds or 265 (perhaps LDP will assist my ball from going OB in the first place- that would be nice!).
TaylorMade has an impressive ball lineup coming out for 2008 which will provide a decent array of options for golfers to choose from. While I won't be able to get these on the course until the snow melts, I should have plenty of time to test out which ball feels the best off the putter. The entire lineup will be available January 1, 2008 at TaylorMade's retail parters so you only have to wait a few more weeks to give these a try.