Quick, what is the first thing that pops into your mind when I say Tour Edge? Reasonably priced clubs that always seem to make all the "hot lists" and score well on club tests in various publications? A lifetime warranty for all their clubs? The crazy-long Exotics line? I've never heard of them?
If you answered one of the first three then you already know what I am talking about. If your response was more along the lines of "never heard of them" then you may need to get out a bit more as the folks down in Batavia, IL make some outstanding clubs. We came away quite impressed by both the Exotics CB2 fairway wood and the Bazooka GeoMax driver in reviews last year.
Keeping with that tradition, the Exotics line has added two new drivers for 2008, the XCG and the XLD. Sporting some fancy technology, these two new drivers should be on everyone's demo list. Unless of course, you have something against hitting the ball far.

Exotics XLD
Drivers comes in all shapes now: square, triangular, and now we get the "stealth-like geometric shape" of the XLD. What that exactly is, I'm not sure but it allowed the head's center of gravity to be moved deeper and lower, which leads to a higher moment of inertia for more forgiveness.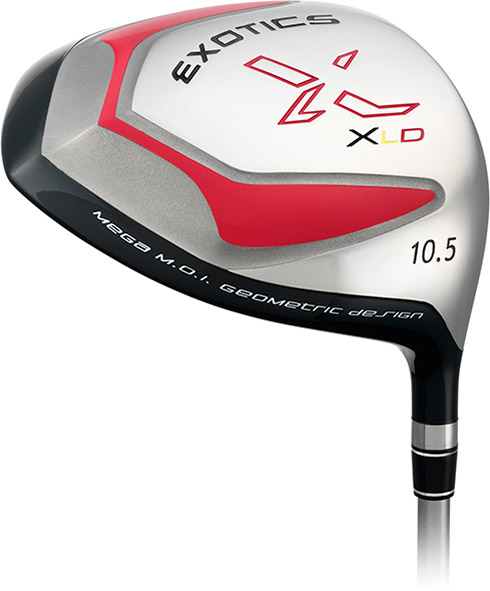 Besides using the stealth-shaped head, the other main feature is the weight. Or more importantly, the lack thereof. By reducing the wall and crown thickness utilizing a new waxing process, Tour Edge was able to create a very light 295-gram head that will help you create more swing speed that will lead to longer drives.
Also helping you generate some additional swing speed is the X-Quad shaft by Graphite Design that tops out at 46″ and and a very light 50 grams. While that seems to be the latest trend by offering a lighter, longer shaft for more distance, make sure you get fitted to find the best shaft and loft combination that works for you. You only have a short wait as you can add some stealth to your game in February for $299.99, which is pretty affordable for the Exotics line.
Exotics XCG
The XCG definitely belongs in the Exotics line as it utilizes the use of magnesium for the crown and hosel. Why magnesium? Well, according to Tour Edge, the "magnesium crown is two times lighter than typical titanium crowns" and allowed more weight to be moved lower and more towards the sole than other drivers on the market, creating very little spin and and a high moment of inertia for booming drives.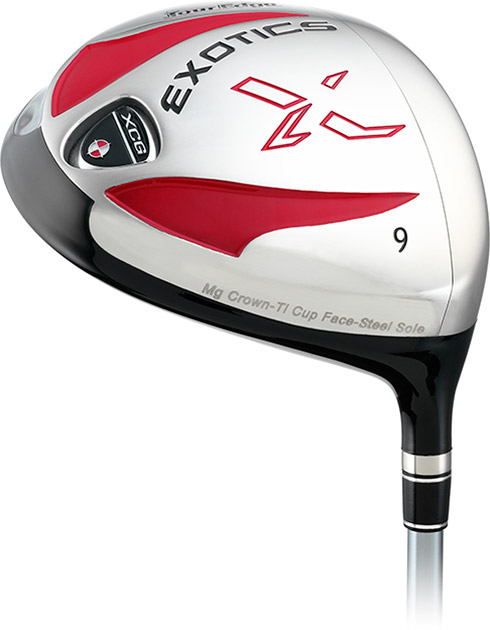 Besides magnesium, the XCG also uses a titanium cupped face and a hyper steel body and and puts all three together utilizing "interlocking channels that are pressed together and combo bonded for permanent bonding without welding." I'm not sure how the folks at Tour Edge come up with this technology but if it produces long, straight drives, then count me in.
Standard shaft is the Graphite Design X-Quad but you also have the option of either the Aldila DVS-65 or the UST Proforce 65 shafts as well. You can get your hands on one of these rocket launchers in February for $399.99.
Final Thoughts
You would be hard pressed to find a golf club manufacturer that is more on the cutting-edge by utilizing the technology Tour Edge uses. They do not pay any player on the PGA tour to use their equipment yet their clubs pop up on Tour based solely on their performance, which is quite an endorsement.
If you've never tried Tour Edge products before, you really owe it to yourself to give them a try. I gave the Exotics CB2 fairway wood a tryout last year and it was by far the best fairway wood I've ever hit. Not only was it extremely forgiving but I hit it almost as far as I hit my driver.
I'm more of traditional guy when it comes to driver head shapes so the XLD isn't really up my alley but if the XCG is anything close to the experience I had with the CB2, then my current driver better not get too comfortable in my bag as it will be faced with some serious competition.