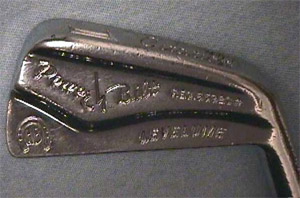 The 1-iron, also known as the driving iron, is becoming extinct. Golfers opting for the latest hybrids and fairway metals are leaving their 1-irons at home, not trusting the club's ability to get the ball in the air. Are there any golfers who still use this club?
Joey Sindelar, PGA tour pro, finally did the unthinkable. He removed his 1-iron, a Tommy Armour 845, from his bag at the MCI Heritage after 15 years of service. "I'm a very stodgy, slow-to-move, dumber-than-a-rock kind of guy. I'm very slow to change clubs," Sindelar said. "But this had to happen."

Although missing the cut at the MCI, it wasn't because of his 1-iron. His replacement club, a hybrid, "failed miserably," but he's going to keep using it, stashing the club that won him the Wachovia Championship last year.
More forgiving clubs like the new hybrids still produce similar shots to the infallible 1-iron, but the club, aka the "butter knife", requires a special touch of speed and power which, when in competition, may be too much of a risk to take.
However, the driving iron has made many a player into a legend. Ben Hogan's famous 1-iron shot to the 18th green at Merion to win the 1950 U.S. Open remains one of the most memorable shots in golf.
Jack Nicklaus has secured several major victories using his trusty 1-iron. At the 1967 U.S. Open at Balustrol, he needed a birdie to tie Hogan's record and got it, his 1972 win at Pebble Beach hitting the stick on the 17th won him that event and at the 1975 Masters defeat over Tom Weiskopf, Nicklaus used the club to almost double eagle.
"I would say that probably the best shots that I've played in golf, and the ones I remember the most, have been 1-iron shots" Nicklaus thoughfully remembered.
Ping doesn't even push it's 1-iron anymore. "We used to have a lot of single orders for those because they were easy to hit relative to what was out there" said a Ping rep. "They were a mini-category, the predecessor to the hybrid in a way. Obviously, it's not a big part of our iron offering any more."
But, you can still find 1-irons on sale at the local thrift store… just ask TST writer Josh Premuda…
The butt of many a joke, the "butter knife" is slowly being stashed in garages and taken out of golf bags all over the world.
As Lee Trevino quipped once as lightning approached during a round, "Even God can't hit a 1-iron."