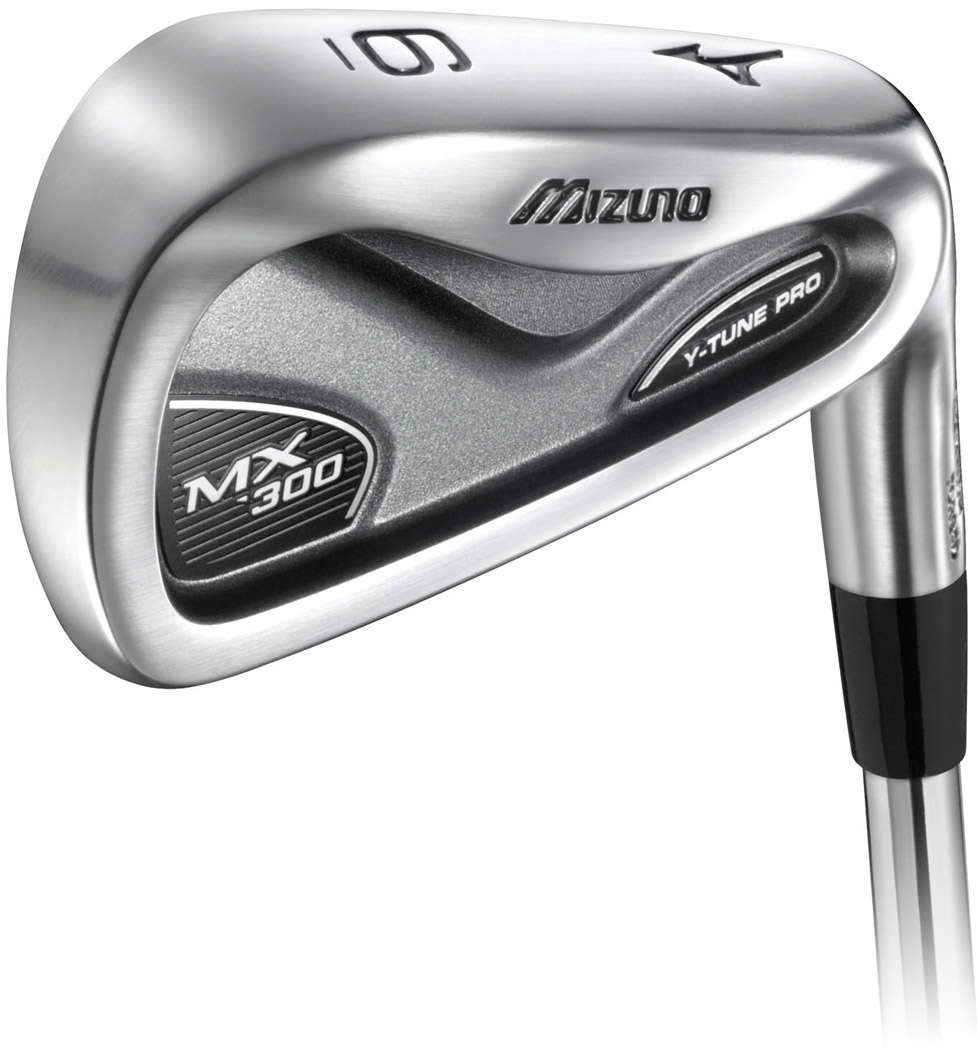 I'll be honest with you, I feel like I really need to throw everything I believed about irons in the "game improvement" category out the window. Quickly. The Mizuno MX-300s changed my mind about what a game improvement iron should be and how a game improvement iron should feel. And this is coming from someone who thinks the constant Mizuno praise gets a little old sometimes.
Don't get me wrong, there is no doubt that Mizuno is one of the top iron makers on the market, and has been so for a while. Every time I tried a set, I walked away impressed with the looks, the feel, and the performance. It's just that Mizuno has a somewhat rabid fan base, and though their love for the forged iron maker undeniably justified, I'm the kind of person that's maybe best described as "anti-hype" and therefore, I tend to stay away from the things everyone hypes too much. I guess I like to be different. Still, when I was given the opportunity to review the newest irons in Mizuno's MX series, I was more than happy to oblige. I knew that I was in for a treat, especially since I remembered thinking their intention to blur the line between player's iron and GI iron was pretty interesting back in October, when I covered their release.Now that I've had a while to get acquainted with the MX-300 irons, I can honestly say that I had no idea that I'd be this impressed. Elated or euphoric might be the better words in this case. Before we get into my thoughts and opinions though, lets first take a look at what makes these new irons tick.
Design
Mizuno set out to create a club that fits somewhere between a players iron and a game improvement iron, and from that idea came the MX-300 line of irons. To give you a better idea of the concept behind the MX-300, think "a more forgiving MP iron." Yes, the workability and sleek appearance is still there, but so is a larger sweet spot, and a nearly invisible cavity. The MX-300s are made from the Grain Flow Forged, 1025E "Pure Select" mild carbon steel, which plays a big part in that feel that Mizuno fans adore. In conjunction with the Grain Flow Forging process, Modal Analysis was used to further perfect that sweet, buttery soft feel and sound at impact.
They are in fact the successor to the MX-200 irons that were released in early 2009, and share some of the same design features. The Y-Tune Technology in the MX-200 has been updated in the new series and is now called Y-Tune Pro and is said to provide a much larger sweet spot, which further increases the forgiveness across the clubface. The Y-shaped channel in the cavity is visual evidence of the Y-Tune Pro Technology.
A milled pocket cavity can be found in the long and mid-irons, while the short irons make use of a solid power bar. By doing this, Mizuno was able to optimize the center of gravity depending on the type of shot each iron provides. The solid power bar gives more control in the scoring irons, while the milled pocket cavity allows for weight to be relocated low and deep to help achieve a higher ballflight with the long irons.
Esthetics
Though labeled as a game improvement iron, the MX-300 exudes the beauty that you might normally find in a blade. The thin top line is an indication that these irons don't exactly fit squarely into that GI category, and thus are not very bulky or excessively thick. Looking at the cavity, the Y-Tune Pro is immediately identifiable by the "Y" shaped relief, as well as the "Y-Tune Pro" badging on the top hosel side of the cavity. Opposite that badge, on the top toe side of the cavity is the MX-300 badge. Longtime Mizuno fans will immediately notice a deviation to Mizuno's traditional use of blue and yellow in favor of a more subtle grey and black combination in the badging. Though I never had a problem with the blue and yellow combination, I found the updated color combo to be very sharp and sleek.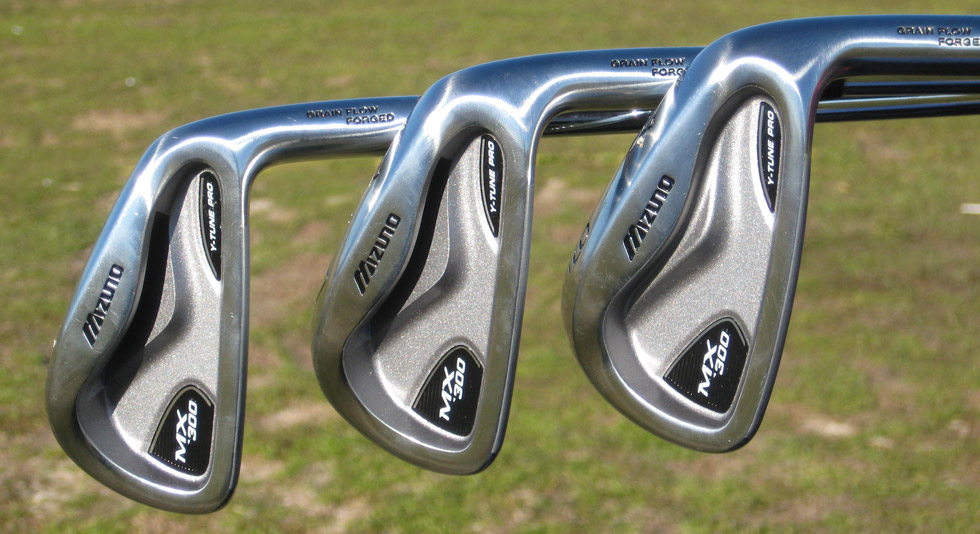 While it's obvious that some of the design of the MX-300 is derived from the previous-generation MX-200, I found the MX-300 to be a good bit more esthetically pleasing, though most all of Mizuno's irons are free of any distracting graphics or bulkiness. The MX-300s simply have a sharper, more elegant appearance than the older irons in the MX line.
Looking directly down at the cavity, the difference in the scoring irons and the long irons can be seen, as the short irons (8-PW) make use of the solid power bar, while the long irons (3-7) have an empty pocket cavity.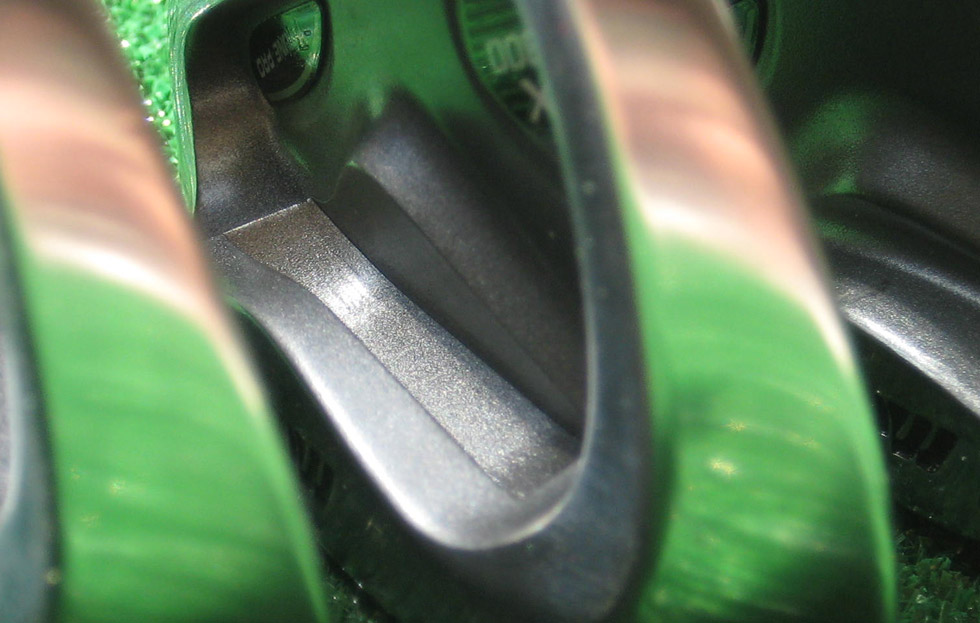 The cavity itself is not visible at address, which is undoubtedly a desired trait for the mass majority of players looking for a club in this category. Combine that with the thin top line and a minimal amount of offset, and the result is a club that appears very "player's iron"-like at address, which is why the amount of forgiveness in these irons may come as such of a surprise. More on that later though.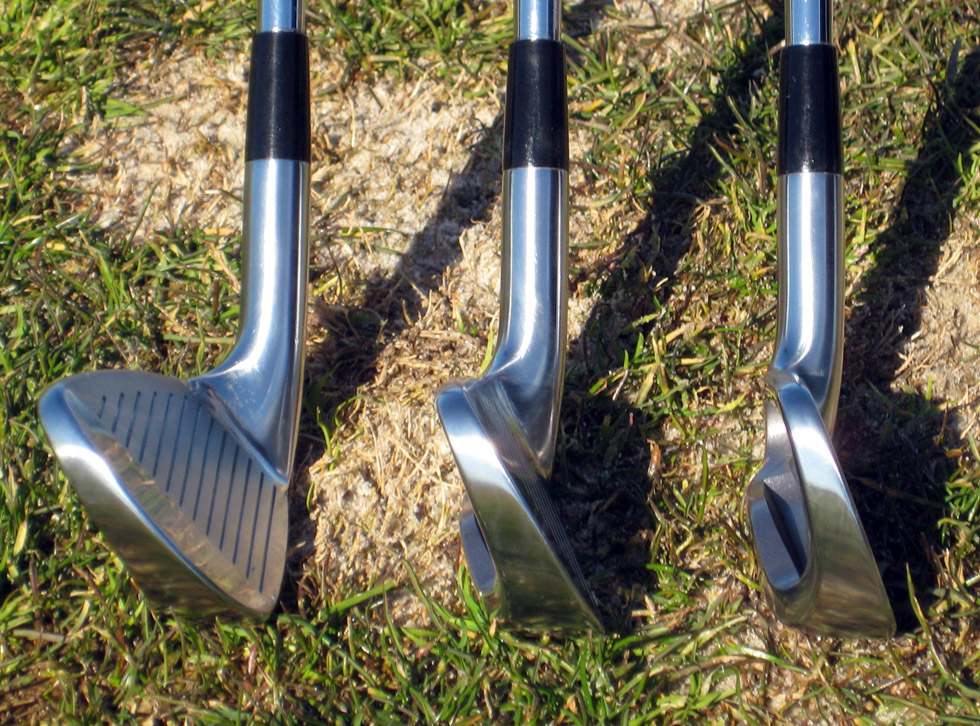 The hosel retains the familiar "Grain Flow Forged" stamping and leads down to the compact face which features modified U-grooves that are designed to conform to the new Conditions of Competition. The double nickel chrome plated finish gives the clubhead a very sleek, satiny look that I found very attractive.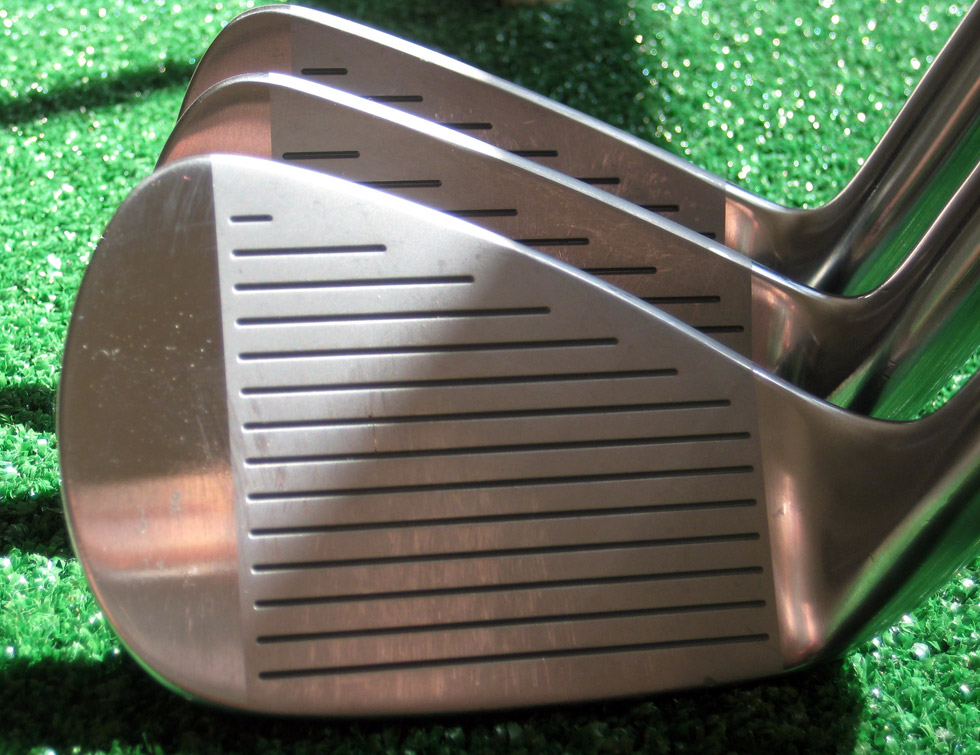 Performance
Upon unpacking the MX-300s, I was a little surprised, as I didn't expect them to be as attractive as they were. They are much more elegant in person than they are in the pictures. At that point, I really didn't know what to expect in terms of performance, because surely MX-level forgiveness couldn't come in a package that looked almost MP-like at address. Once I took them out for their first test, I realized how wrong I was.
Set up was simple, as they are free of the large amount of offset that is present on some GI irons. Looking down at them, I almost swore I was looking down at my familiar Nike Victory Red Split Cavities. The topline was very similar, though not quite as thin as my VR forged blades.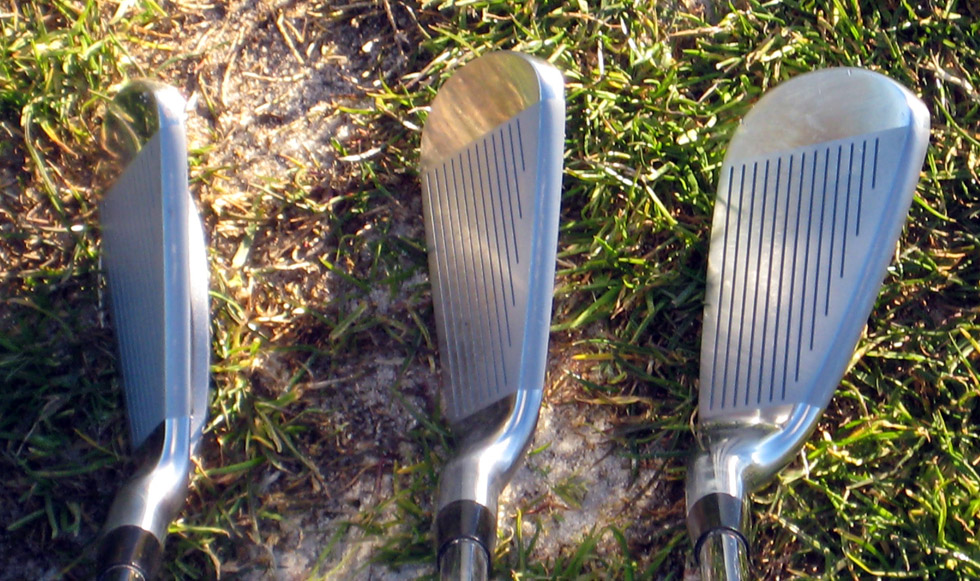 Though beating range balls hardly gives the same feel as contact with a quality ball, I had to start somewhere. My normal routine starts with a series of ½ and ¾ shots with a wedge or short iron. Even with rock-hard range balls, the feedback from the MX-300 gap wedge was accurate and soft (at least as soft as can be expected with range balls). As I progressed down through the mid-irons, I continued to be shocked by how great the feel was with these irons, even as I intentionally made contact off center. Of course if you get out to the extreme toe end, they let you know it. The thing about it was that they did give a slightly different feeling when I made contact off center, though it was still a nice soft feel. Where a lot of GI irons lose a lot of the ability to tell where on the face contact was made, these do not.
Normally, if you can tell you made contact outside of the sweet spot, you expect a loss of distance, but with these, that simply did not seem to be the case. Had I closed my eyes and hit these, and was allowed to see the results, I would swear I was hitting a SGI iron based on the results.
From the rough, they also performed exceptionally well, as they cut through the tall grass without getting stuck like some thicker, bulkier irons do sometimes. The dual cambered sole worked as advertised, as I never really had an issue getting them stuck when I'd come down extra hard and steep. In fact, they glided quickly through the turf, almost deceivingly so.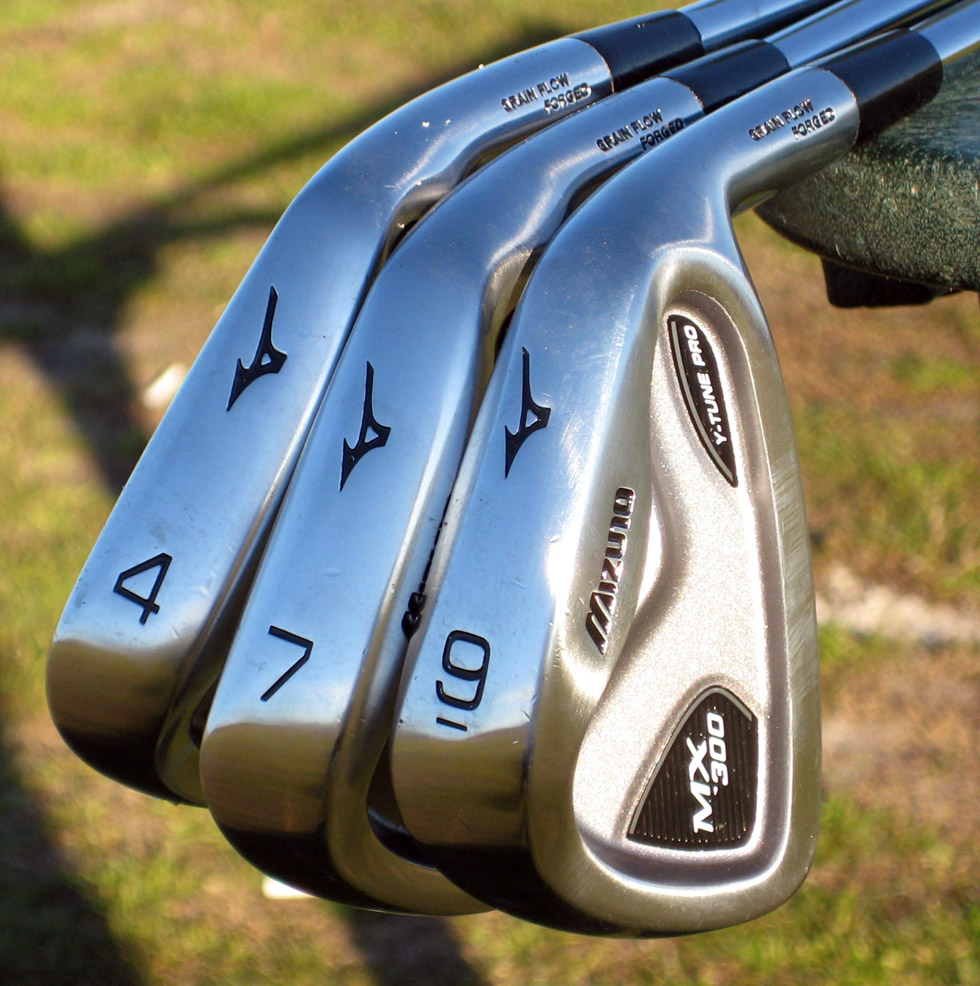 On my flush, solid shots, there was no noticeable difference in distance when compared side by side to my regular set, though the long irons are a single degree stronger. Where they shined was when I forced contact closer to the heel or the toe. As I said earlier, I can tell where contact was made, though it wasn't the stinging penalty you may be used to. Instead, the feeling is still nice and soft, and the end result looks almost as good as a pured shot. There may have been a loss of three, maybe five yards at most.
Every iron in the set had a high, penetrating flight, and would land softly on the green without the worry of the ball rolling too far away from my target. If you like to work the ball, you should have little problem with the MX-300, as the extra level of forgiveness they offer isn't too much to hinder their workability.
Specifications
Mizuno offers the MX-300s in a your standard array of lofts, ranging from a 3-iron, all the way up to a gap wedge, though the standard set runs 4-iron through 52° gap wedge. The stock shaft is the True Temper Dynalite Gold XP, in either the R300 or S300 flex profiles, and is a lighter, higher launching shaft than the Dynamic Gold. They come wrapped in Golf Pride M-21 58 round grips, which are somewhat similar to the popular Golf Pride Tour Velvet.
Being that I'm a little on the tall side, I usually require extra length and a more upright lie angle. Luckily, Mizuno Custom is there to take care of players such as myself. I also prefer the heavier weight of the Dynamic Gold versus that of the Dynalite Gold, and was happy to find that the Dynamic Gold is an option from the custom shop. On the subject of shafts, one notable difference between Mizuno's irons and other manufacturers I've is that their standard length is a quarter-inch shorter, so if you may want to keep that in mind if you're looking at getting a set tailored to your specs.
As mentioned, the iron set I tested came with the Dynamic Gold shafts instead of the standard Dynalite Gold XP. In addition to those shafts, others are available such as Royal Precision's Rifle and Project X, and Nippon's NS Pro 950. For a full list of custom shaft options, see here. Mizuno's custom shop did a great job of setting me up with irons that meet my specs, and as an added bonus, they wrapped them with the Mizuno-branded New Decade Multicompound grips.
Standard Specs:
Club     Loft     Length     Lie     Bounce     Offset
----     ----     ------     ---     ------     ------
3I       20°      38.75"     59.5°     1°       0.171
4I       23°      38.25"     60.0°     2°       0.161
5I       26°      37.75"     60.5°     2°       0.152
6I       29°      37.25"     61.0°     2°       0.142
7I       33°      36.75"     61.5°     3°       0.132
8I       37°      36.25"     62.0°     4°       0.122
9I       41°      35.75"     62.5°     5°       0.112
PW       45°      35.50"     63.0°     6°       0.102
GW       50°      35.25"     63.0°     7°       0.093
Conclusion
I truly believe Mizuno has a winner on their hands with the MX-300. I could see a 20 handicapper playing these just as easily as I could see a scratch golfer keeping them in the bag. They really are that versatile and really stay true to what Mizuno set out to do – create an iron that straddles the line between game improvement and players iron. I liked them so much that there is no doubt these will be in constant rotation in my bag for quite a while. Everything Mizuno fans love is here: the soft feel, the "click" on a solid shot, and the minimalist, aesthetic appearance.
I'd absolutely recommend these to anyone that can hit the ball in a fairly consistent manner. If you're stuck in a spot where you cannot decide between players iron and game improvement iron, the Mizuno MX-300s may very well be exactly what you're looking for. I also think these would be a great long iron option in a mixed set along with either the MP-58 or MP-68. Whether you opt for a full set or mixed, I fully believe these irons are an excellent choice that can give you the best a game improvement iron has to offer.