As our editor, Erik J. Barzeski, reported in his review of the Nickent 3DX Pro irons, Nickent has taken on noted club designer John B. Hoeflich and, with his expertise, launched itself into the iron market in a big way.
Their latest offering is an evolutionary – maybe even revolutionary – take on set makeup. The Nickent 3DX Hybrid irons are designed from the hybrids on down. What this means is that there is no longer a gap in loft between the shortest hybrid and the longest iron. Loft progression through the set results in extremely strong mid-irons and weaker short irons.

They've brought the concept to market by marrying two of their proven hybrid clubs with extreme perimeter-weighted irons that range from a 5-iron to a pitching wedge, including a 10-iron. With a lot of offset, and all that forgiveness, they seem to be pitching these clubs at slower swingers and older players.
Appearance
Hoeflich is a proven master when it comes to iron esthetics. Most designers acknowledge that the 8-iron is the most difficult to conjure up as it is the transition club between the mid irons and short irons. Hoeflich's 8-iron in the old Tommy Armour 845's is one of the most beautiful ever designed.
You can see that same master's touch in the 3DX Hybrid irons. They are very good looking. In the playing position they display a fairly thick top line and considerable offset. But it's the shape of the iron face that's most appealing and where you see most of the designer's touch in evidence.
A graphite cap covers the cavity back and has a glossy clear finish revealing the woven graphite fabric pattern. Coupled with the very tasteful graphics and the highly polished stainless steel head it makes for a very, very classy-looking club. And while the head is polished, the top line and face are bead blasted to avoid glare. The two lower scoring lines are filled with white paint to help with alignment.
The two hybrid clubs, on the other hand, bear more a family resemblance to Nickent's earlier hybrid offerings. Truthfully, I wonder how much design input Hoeflich had on these clubs. They are uniquely shaped and, to my eye, just a little awkward looking.
Playing with me the other day as I tested the hybrids, my good friend and PGA pro dubbed the hybrid "the cloven hoof." But beauty is as beauty does, and as I'll relate later, these clubs work.
The hybrids have a shallow face, moderate offset and feature a glossy black painted crown. Probably because they were designed as a line extension of the hybrids, not necessarily from scratch as part of this set, the accent graphics are green instead of the red on the irons. But such nits are mine to pick.
Design and Technology
There are two stories here: the construction of the clubs and the loft progression through the set. First construction…
The irons are designed along much the same lines as Callaway's popular Fusion irons. They are a cast stainless steel clubhead with an exceptionally deep cavity covered by a graphite cap. Nickent claims the cap saved them 35 grams (that's a lot) that they were able to reposition as two steel plugs in the heel and toe.
Because this design lets them achieve a lower center of gravity and a concomitant higher launch angle, it opened up the possibility to strengthen the loft so, in theory, anyway, the launch angle would be similar but the distance greater.
The two hybrid clubs are marketed separately as the 3DX Utility DC. This line has a wider body than the 3DX Ironwood and Ironwood DC models and is variously labeled as "wood iron" on their web site and designated "fw" on the sole of the club.
The bigger body allowed them to keep the same general shape as their original Ironwood while increasing the moment of inertia (resistance to twisting) by 25 percent. Fused polymer/tungsten inserts spread weight to the heel and toe.
I wondered why Nickent didn't use one of the smaller Ironwood models with this set since it would seem the smaller size would better complement the irons. But then I checked the lofts on their website. At 15° loft the 3fw in this set corresponds to a "2+" Ironwood at 15.5°. The 4fw in the set is 17° and corresponds to their "2" Ironwood, also 17°.
And that brings us to the loft distribution through the set. It's unique both at the top end and in the more lofted clubs. Before we go further, I must note that even according to noted club expert Tom Wishon, there is no such things as "standard" lofts in clubs. Typically forgiving, cavity back game improvement clubs have stronger lofts than forged iron "players" clubs.
With that in mind, here's how the lofts of the 3DX Hybrid set compare against what Nickent chooses to represent as "standard" lofts on their website:
Club 	3DX Hybrid      Standard
----    ----------      --------      
3           15 (hybrid)    21 (iron)
4           17 (hybrid)    24 (iron)
5           22             27
6           26             30
7           30             33.5
8           34             37
9           39             41
10          44
PW          48             44
Whether you agree with Nickent's definition of "standard" or not, what this tells us is that at the top end, the clubs are much more strongly lofted. The 3fw at 15° has the same loft as most players' 3 wood. But, of course, with a much shorter shaft, it won't go as far as that. Nickent is counting on the weight distribution and inherent higher launch angle to compensate for the low loft.
It also means that the 5 iron – the first true "iron" in the Nickent set – is lofted almost the same as a traditional 3 iron.
At the bottom end it's just as interesting. The 10 iron is lofted like a traditional pitching wedge. This makes the pitching wedge in the Nickent set a better transition to a 52° gap wedge and, ultimately, a 56° sand wedge (both of which they sell separately to match the set).
And it's these weaker-lofted short irons that I think are ultimately the set's biggest advantage. Slower swinging players on a 460-yard par four are going to hit two shots with the longest clubs they can manage. That third shot is likely to be under a hundred yards and that's where having several clubs to choose from for precise distance control is a real scoring advantage.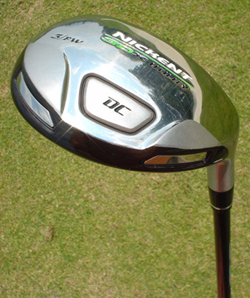 One design characteristic that I have a personal problem with is the generous and consistent offset down through the whole set. Short irons with that much offset just don't look right to me. At the same time, this feature is entirely in keeping with the "easy to hit" theme and the players these clubs should appeal to.
Performance
Let me get something off my chest right away. I'm quite at odds with Nickent's marketing hyperbole in support of these clubs. Their web site trumpets them as "the longest irons in the history of golf." Come on. Their 22° 5 iron doesn't go any further than any other 22° iron… and it may even be shorter because it's a shorter shaft than a traditional 3-iron.
They also talk about the 5-iron going 200 yards and the 8-iron traveling 150 yards. That may be true if you currently hit a 5-iron 185 yards and an 8-iron 140. But, again, the reality is that many of the players who should be playing these clubs aren't getting that distance with their current clubs.
Finally, the number on the sole of the club doesn't mean diddly… or shouldn't. There's a distance to travel and a club to send it that distance. If you need to brag about the number on the sole that sent it that distance you should go buy a Hummer instead.
Now I feel better. So let me tell you how these played:
My test set came fitted out with Nickent's graphite shaft, a UST SR2 model in stiff weighing in at 85 grams. It's been a long time since I've tried graphite shafts in irons and I must say these performed very well. They were solid and consistent in feel.
The irons themselves were extremely forgiving. So forgiving you can forget any thought of consistently shaping ball flight one way or another. It can be done, but with so much offset, it's hard to pull off all the time.
With the design of the head and the offset, I found myself hitting these higher than I would have preferred. I still achieved reasonable distance, but every once in a while I'd launch a real balloon, especially with the short irons. I'd have to work a lot more with these to learn how to hit a knockdown shot.
The 9-iron, 10-iron, and pitching wedge shown here illustrate how the generous offset carries through the short irons.
I very much liked the loft progression. I felt like I had much more precise control of distance throughout the entire set. And these clubs matched up well with my 52° gap wedge and 58° sand/lob wedge. I also like the way the 5-iron distance matched up with the 4fw hybrid. It took me a while to calculate new distances for each club, but once I did they performed consistently.
I must say the two hybrids are something special. Despite the "cloven hoof" crack my friend made, the look is something I could get used to. They just may find their way into my bag because they really do perform well. Despite the strong lofts they were excellent out of some pretty funky lies as well as tight fairways. And they're exceptionally easy to hit.
On one long par three into the wind I hit what my pro friend likes to call a "pull hook bone fade." Which is basically a terrible strike pulled far left, thin, that somehow slices back on target. Well, this hybrid managed such as esoteric shot with aplomb. It left me with a birdie putt. Cool.
Jim Furyk is playing a Nickent hybrid and the company is doing exceptionally well in club count on the Nationwide Tour where they've concentrated a lot of their marketing effort. Now having played a couple of examples, I understand the success.
Specifications
The Nickent 3DX Hybrid irons come in a number of configurations. First, there are the two shaft options… the UST SR2 graphite I tested which comes in five different flexes ranging from X to light and includes something called an R-light. The steel shaft is a Nippon 850 in uniflex.
The set can be had as a seven-piece iron set (5-iron through pitching wedge, including the 10-iron) and as the full nine-piece set that includes the two hybrids. As mentioned earlier, a matching gap wedge and sand wedge are available separately. The iron only set has a retail price of $749. The full set with hybrids is priced at $849.
They are also marketing a "senior" set which replaces the 3- and 4-hybrids with 4- and 5- models for higher launch with the long clubs. The senior set also comes with a sand wedge.
Conclusion
These are well-designed, well-made clubs. The concept is a good one, despite the somewhat misleading marketing hype. It gives shorter hitters the length they need with longer clubs and the precision they need with the shorter ones.
Stronger players may be put off by the offset and the lack of workability. But seeing how the loft progression plays out in this set may be an incentive to look more closely at the match up in their current or future sets.
Nickent and their chief designer, John Hoeflich, are to be congratulated on coming up with a great concept and executing it in stunning fashion. They are beautiful and they work. Anyone considering clubs like the Callaway Fusions or Adams Idea irons should definitely, most definitely, try these out.