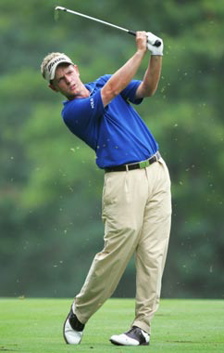 Tiger Woods is nearly unbeatable when he is tied for the lead on Sunday at a major championship. However, after watching yesterday's round, I think there three things that could allow us to witness one of the most incredible David versus Goliath upsets in golf history. If one of the players follows the criteria below, they might be the one holding the Wanamaker trophy today instead of Woods.
Tiger Woods stood with CBS reporter Bill McAtee after Saturday's round and let the world know just what kind of major championship was playing out before those in attendance and on the course.
"It honestly doesn't feel like a major," Woods said. "I mean in a major you expect that you're going to look for a lot of pars and hope to sprinkle in a couple of birdies when you can, but you just can't do that and hope to contend this week at week at Medinah with that mindset. I saw all the low scores early on, and some guys were three or four-under-par through six holes – when that kept happening I knew I had to go low."

With those comments Woods summed up the PGA Championship at Medinah by sugarcoating what he was really trying to say: 7,561-yards doesn't make a course more formidable, instead it can make a course look like a joke.
And yet throughout the entire three rounds, fans of the tour have been treated to something most haven't seen in a long time – a leader board stocked with big names all in contention during the Sunday round of a major championship.
Never has a PGA Championship scoreboard looked more like a B.C. Open in terms of scoring and given fans something to truly look forward to. And never has a major championship given us what we could have never expected: the chance to see Tiger Woods toppled on Sunday.
Now by this point I'm sure you're wondering what exactly I've been smoking for the past couple of hours, however, if you bare with me for a second, you might see where I'm going with this.
Think back to past major championships where Tiger Woods has been tied or leading a major championship. When the guy has a lead of at least two shots he's unbeatable; and being tied for the lead going into Sunday is just about the same thing.
But amongst all the U.S. Open wins, Claret Jugs sitting on the mantle, and Green Jacket hanging in Woods closet, the field might finally have the advantage tomorrow to take a coveted Wanamaker Trophy away.
Here are the three things players have to do on Sunday if they want to topple Woods.
Play Without Fear
Never once have I read interview transcripts from a major championship with so much interest. Geoff Ogilvy is saying that Woods will be toppled at some point when leading after three rounds; players are pulling for Luke Donald or another player to standup, look Tiger straight in the eyes and throw a punch. Never has a major championship field been so vocal going into a final round at a major, and yet, never has a major championship field played a golf course like Medinah without fear.
Not only is Medinah shaping up to be the easiest major test in golf history, it's also allowing golfers the chance to go as low as the possibly can. Woods and Weir shot identical course record 65's on Saturday afternoon. Chances are pretty good that someone will need to shoot 65 tomorrow to have a shot. While I wouldn't count out someone currently at 8-under-par like Mickelson to go low tomorrow, I wouldn't be surprised if someone like Ogilvy or Weir takes it to another level while playing in one of the last groups without Tiger.
The scary thing is that Woods really hasn't been pushed to the limits in past major wins. And by pushed to the limit I mean having to shoot 4- or 5-under-par to win by a stroke. What will Woods mindset be tomorrow if he notices Mickelson or another player at 8-under-par through 16 holes? Will it make him feel like he has to press?
Major championships are meant to be won by the most battle tested golfers each year. But if there is one tournament all year where a guy at 10- or 11-under-par could grow a "set" and take on the best ever, I think tomorrow would be that day.
Avoid Big Numbers
Right now, you're thinking, doesn't everyone? Well let me put this into perspective for you. If Geoff Ogilvy doesn't double bogey his first hole on Saturday, he would be looking at 13-under-par and a round of 66 during the third round. That sounds a whole lot better, huh?
When a course is playing easy like Medinah, you have to fire at the pin whenever you get the chance. However, if you find yourself in trouble on a hole, the best route isn't to play Superman and whack a ball through the ballpoint pen hole. Instead, just take your medicine and hit the ball out into the fairway and make par.
Unlike previous major championships where bogey was sometimes your friend, this major championship will be over in a hurry if you make a double like Ogilvy did on his first hole.
Par isn't your friend tomorrow (birdie is), but if in doubt, play for the smart shot when you have to. Unlike the U.S. Open this year, the field isn't going to come back to you during the back nine on Sunday. So unless you plan on making 10 birdies and 2 bogeys tomorrow, my suggestion is to hope for a bogey-free round of 66 or lower while staying out of trouble.
Pray
Pray to the golf gods, pray to your local priest. Heck, try praying for someone to steal Tiger Woods clubs before the round tomorrow.
While it might take a miracle tomorrow for Woods to lose, there is an old saying that says you should never underestimate the power of prayer!