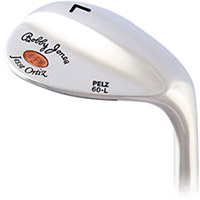 Next to one's putter, your wedges are the most important club in your bag. Considering that the majority of your golf shots occur within 100 yards, having a wedge (or wedges) you can trust is vitally important to playing good golf.
To give you an alternative to the "big boys" of the golf equipment field, Bobby Jones Golf have combined the forces of clubmaker aficionado Jesse Ortiz and short-game guru Dave Pelz and have come out with a set of wedges that are one part classic and one part science-fiction technology.
I spent a month playing the Pelz/Bobby Jones wedges and though I had to adjust my wedge game a little bit, I was pretty impressed by what Ortiz and Pelz had come up with. Read on to find out what I thought of their creation.

Technology
The Pelz/Bobby Jones wedges are a cast club made from 302 stainless steel. It's the only wedge I know of that has an insert – the entire clubface is a different material than the rest of the club. To set the insert into the club, a pocket and some deep channels are milled out of the clubhead. The face material, an aerospace steel alloy Carpenter 440XH, is an alloy that is often used for industrial bearing assemblies and critical valve components. The face material is then milled to USGA specifications for conforming texture. The milled channels also serve to move some weight around for better utilization.
According to Bobby Jones Golf, "heat and pressure are applied to a special structural bonding membrane in which Jesse Ortiz facilitates the release of an epoxy resin, which – upon cooling – creates a bond between the club's stainless body and face material that is stronger than welding. Upon curing, the membrane returns to its slightly spongy state, thus creating a soft forged-like feel to each shot."
This material is supposedly very resistant to wear, providing you with a wedge face that will maintain its grooves for a longer period of time over conventional wedges. If you're a golfer who changes out your wedges frequently to keep fresh grooves, these might be what you're looking for to maintain your groove integrity for several years.
Esthetics
The Pelz/Bobby Jones boast a more rounded face shape compared to the teardrop-shaped of my current wedges. The difference was subtle and something that didn't really take any time to get accustomed to. The sole of the club is very basic with nothing more than a single letter – "G" (gap wedge), "S" (sand wedge), "L" (lob wedge), or "X" (extra lob wedge) stamped and paintfilled in black.
The back of the club has the Bobby Jones name and medallion, Jesse Ortiz's name, a small "Pelz," and the degree of loft and wedge initial. It seems like a lot of information for a back of a wedge but it's done in a tasteful manner and looks pretty sharp.
The finish is a pretty standard stainless steel that looks to be a bit more gray which is nice as it didn't give off a glare at address. Toss in the dark gray for the face insert and the Pelz/Bobby Jones wedge certainly stands out from the wedge crowd.
Performance
I'm pretty set in my ways when it comes to my Titleist Vokey wedges and other than demoing out a few different manufactures over the years, never found a good enough reason to switch to anyone else.
Having said that, the Pelz/Bobby Jones wedges offered a nice alternative to several other wedges I've tried out recently and it didn't take too long to get accustomed to their feel and performance. Now, if you're looking for an oversized, game-improvement style wedge, look elsewhere as these certainly are not for you. I'm not saying you can't use them, just don't expect to be rewarded for your bad swings.
I tested out two models, the 56-SW (14° bounce) and the 60-L (4° bounce) which was a bit different from my normal wedge setup of a Titleist Vokey 52.08 and a Spin Milled 56.10. I had a bit of gap than what I was used to and it took me a few rounds to get accustomed to having a gap between 125 yards and 100 yards but having much more versatility under 100 yards with the addition of the lob wedge.
It also took me a little time to get accustomed to the different color of the insert. While not a big issue, it was still a bit strange to look down and see the darker gray color rather. It's not a deal-breaker, mind you, just something that might take you a little time to get used to. If anything, think of it as a sign saying "Hit it here."
Generating spin with wedges is a big topic (search our Forum) and manufacturers seem to come out with new or improved grooves annually that boast to be able for you so suck back your wedge shots like the Tour pros do. Unless you are really good or it's an accident, its been my experience that most average golfers can't generate the clubhead speed necessary to get those types of shots.
Because I fit into that category of the "average golfer," I'm not going to be able to tell you whether or not the Pelz/Bobby Jones wedges will suck a shot off the green. In the hands of a good golfer, they undoubtedly will. In my hands… not so much.
Having said all that, I have gotten better in my wedge game through some instruction and practice so now my typical full wedge shots from the fairway drop and stop or spin back a little, but it's usually not more than a foot in any direction. With the Pelz/Bobby Jones wedges, I found that I was getting a little more release with my shots as I didn't feel I could generate quite the amount of spin to which I was accustomed. Mind you, it wasn't a huge difference, but for the most part, my shots would drop and then release a little rather than stop immediately.
On less than full shots from the fairway, the results were pretty much the same, as the ball would release a bit rather than just stop. Part of this could be due to the design of the grooves and part of this is my swing. One advantage of this however was that my golf ball wouldn't get ripped up as would happen with my other wedges, so I didn't have to banish my ball to the shag bag after a few wedge shots.
I read Stan Utley's The Art of the Short Game earlier this year and have subscribed to his theory of using one club for all my greenside shots. However, while testing the Pelz/Bobby Jones wedges, I split the time between the 56-14 and the 60-04 equally to find out whether or not I need to change up my wedge configuration in my bag.
Using the 56-SW, my pitches and chips responded similarly to what I'm accustomed to. Again, the ball seemed to run out a bit more like all my other shots but not so much to make a difference in my game. Out of the sand was pretty much the same as well as the 56-SW preformed well.
I haven't had a lob wedge in my bag prior to the Bobby Jones, so using the 60-L was a new experience. While perhaps having a bit too much loft for my taste, I enjoyed being able to use it in the sand (which made it much easier to escape the bunker) and it performed very well around the green. I may end up adding one to my bag after this experience.
Specifications
The Pelz/Bobby Jones wedges come in four lofts; a 52° Gap wedge with 4° bounce, a 56° Sand wedge in either 10° or 14° bounce, a 60° Lob Wedge in either 4° or 8° bounce, and a 64° X-wedge, which comes with 4° bounce. Sorry lefties, but these are only available for righties.
The two I tested came with a Lampkin Crossline mid-sized grip which I found to be an odd grip to come standard as I have longer fingers yet the grip was too big and hard. I believe this may be Dave Pelz's influence, as he feels that too many amateurs get too handsy or wristy with wedges. At any rate, I regrip my own clubs in my basement, so putting a standard grip on was a quick fix.
The Pelz/Bobby Jones wedges retail for about $150 each and you can order them directly from Bobby Jones Golf or Pelz Golf as well as several different online retailers.
Custom lengths and lies are available at no additional cost and you can get custom sole grinding options, available upon request and produced directly within the Jesse Ortiz Design Studio.
Final Thoughts
The Pelz wedges by Bobby Jones are a really nice wedge and performed quite well on a variety of shots from various lies on the course and around the green. I did have to rethink my wedge game to allow more release in my shots as these don't spin quite as much as other wedges I've used in the past.
Also, at $150 a pop, I'm not sure how many people are going to drop that kind of money down when a vast majority of wedges are at a $120 pricepoint and below. Still, considering how often one uses their wedges, perhaps $150 isn't too much, but I'll leave that up to you to decide.