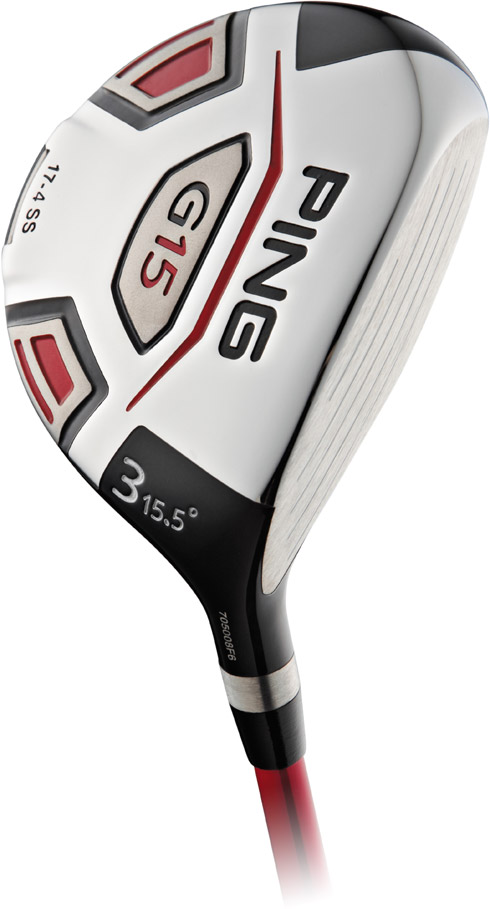 The folks at PING have been quite busy as they celebrate their 50th Anniversary and as a gift to you, they released two new lines of clubs. One of those is the G15 fairway wood which has the unenviable position of following the wildly successful and much praised G10 model.
Rather than leave "well enough" alone and just slap a new coat of paint on the G10 and call it a day, PING went out and changed things around a bit with the G15. While it's more of an evolutionary change, it still boasts some pretty cool design features that should make you give it strong look.
So is the G15 one you should add to your list of fairway woods to try out during your next shopping trip to your favorite golf shop? What about the headcover? Is it forgiving? Most importantly, did it knock out my current occupant out of the bag?
Read on to find out the answers to those questions.

Design and Technology
Constructed of 17-4 stainless steel, the G15 features an "elongated, low profile" design for additional forgiveness and to make it easier to use on a variety of lies. That larger head gives you more confidence when standing over your next shot.
The sole features an external weight pad which allowed the PING engineers to move the center of gravity low and and farther back to give you a higher trajectory and increased that ever so important increased distance. High launch and more distance is quite fine with me.
Even though the G15 boasts an elongated head, I never felt that I was looking down at a mini-driver. It seems pretty subtle and based upon performance really isn't an issue at all.
Esthetics
As far as color combinations go, red and black have seemed to be the rave for the past few years and PING joins in with their offering on the G15. The sole mixes in a nice amount of black, red and silver to make the G15 esthetically pleasing to the eye for the rare instances you are actually looking at the sole.
The "moon-thing" alignment aid that was featured in prior models of PING woods is a thing of the past (though you can still tell it had some influence) and is replaced by some nifty red triangles which work out quite nicely in getting the club lined up with your target line. Easy to use while at the same time not being over gaudy or annoying is a good thing in my opinion.
As far has head size goes, the G15 falls in line with your typical modern fairway wood. Not quite mini-driver size (which is nice), the G15 oozes confidence as you really get the sense that it would be quite difficult to screw up your next shot with it. Operator error is all that can get in the way.
Performance
As I've stated in prior fairway wood reviews, my primary purpose for a fairway wood was for off the tee on tighter driving holes. Recently though with some instruction and practice I've started to use my fairway wood off the deck more.
The G15 pulls off that shot quite easily as the ball is launched quickly and effortlessly. Regardless of being in the light rough or the fairway, the sole interacts with the ground smoothly and the distance was pretty impressive. The G15 makes going for par five's in two a whole lot more entertaining.
The G15's forgiveness factor is rated as Extreme and I could not agree more. There is some workability in it to be sure but I found the G15 primarily wants to go straight. The sweet spot seemed to be most of the face (not quite but pretty close) and shots where you nailed it felt pretty much the same as those where you just missed it.
Even with my swing, I had to work pretty hard to really screw it up badly. The G15 isn't a miracle worker for your swing but it's pretty close. Put a decent swing into it and you will be rewarded. A not-so-decent swing will be at least playable (a horrible swing, it doesn't matter what club you're using). The lower handicapper might have more discernment for the subtle difference in hitting it flush versus just missing it but I couldn't and quite frankly, wasn't a big concern for me. Making golf a bit easier is much higher on the list and the G15 scored high marks.
Off the tee, the G15 was equally admirable and fun to use. Normally my game is to hit my driver as often as possible and suffer the consequences and the G15 forced me to change that up. It's not a mini-driver or a driver replacement but it will send the ball quite a ways down the fairway (the right shaft/head combo helps, more on that later).
As with all the newer fairway woods, tee it low or you might be faced with the dreaded balloon ball. PING lists the trajectory as High although that can change some based on the shaft you get with it.
One thing that I had to get used to was the "PING sound" which was quite different from what I was accustomed to. Rather than the softer/muted sound I've experienced with other fairway woods, the G15 exudes an audible and deeper "crack" when struck that gives one the impression of hitting the ball quite hard. Much more authoritative in the sound department, which I found to be quite pleasing on the ears. It's not obnoxious by any means, you just know your hitting a very solid club.
Speaking of shafts, you have two standard options when it comes to graphite shafts with the G15, the PING TFC149F and the Aldila Serrano 75. My G15 came with the Serrano and I found one of the best head/shaft combos for my swing in a fairway wood. Your mileage may differ but it's a pretty impressive combination.

With a little less spin and a lower trajectory thanks to the Serrano, the G15 can bore through the wind nicely and the weight wasn't such that I had to dramatically alter my swing in order to accommodate the almost too-light shafts that seem prevalent in today's fairway wood market. I like a heavier shaft to give me more control and the Serrano fit the bill perfectly. Kudos to PING for offering that up as a standard option.
The standard grip is the PING ID8, which is a rubber grip with a "dog-bone" texture. Overall, its a nice grip and one that is comparable to what's on the rest of my clubs so I didn't feel the urge to change it. It feels comfortable and the alignment marking is a nice aid to use to ensure your hands are where they should be.
PING offers up an extensive options list of custom shafts and grips so if one of the two stock offering don't work out for you, rest assured that PING has a shaft that will. Go get fitted and find the best head/shaft combo for your swing.
Specs and Extras
As I mentioned before, the G15 I tested came with the Aldila Serrano graphite shaft which comes in Regular, Stiff, and X-Stiff flexes and is a bit heavier, provides for lower spin, and a lower trajectory than the other standard shaft, the TFC 149F, which comes in Ladies, Soft Regular, Regular, Stiff, and X-Stiff and is a lighter shaft to help you increase clubhead speed for more distance.
PING has a very impressive Custom Department so if either of the stock shafts don't work for, you can choose from a myriad of shaft manufacturers such as Fujikura, Grafaloy, Graphite Design, and UST to name a few. The G15 will run you about $200 with either of the stock shafts and comes in all lofts for both righties and lefties. For those of you who fight the banana ball, PING offers a Draw version (with the exception of the 7W).
I do have one issue with G15 and that's with the headcover. Oh, it looks nice and fits the club snugly and isn't difficult to take off but I found it to be a pain to put back on. The opening seemed a bit small for the head and I found myself wishing for the much easier to use sock-style headcover on my other fairway wood. In the grand scheme of things, not a huge issue but I would prefer not to have to wrestle with the headcover to get it on the club.
Club    Loft     Length    Lie      Head Size    Swingweight
----    ----     ------    ---      ---------    -----------
 3W     15.5°    43.00"    56.0°      154cc          D1
 4W     17.0°    43.00"    56.0°      151cc          D1
 5W     18.5°    42.50"    56.5°      147cc          D1
 7W     21.5°    42.00"    57.0°      140cc          D1
Conclusion
I've been using the same three-wood for the past three years and though I've tested out my fair share since then, I hadn't found one that made me want to make a change until now. With the Serrano shaft, the G15 works out very nicely for my swing and with as forgiving as the head is, it was a no-brainer to make the switch.
I've been quite impressed with the results I got with the G15 and if you're in the market for a new fairway wood, I would highly recommend adding it to your list.