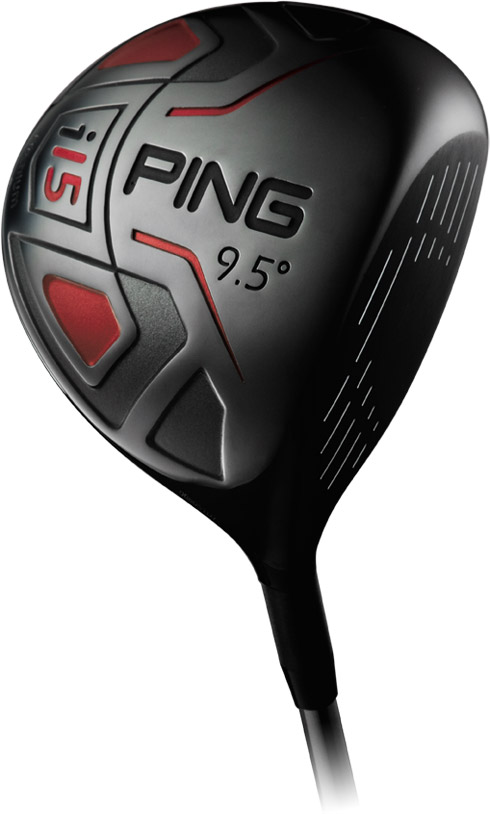 There's just something about an all black driver that evokes fast cars and sunglasses. You know, it's just a cool thing that makes you feel good. There's a reason rock stars are so partial to black.
PING has presumably given the i15 driver its rock star livery for a reason (read: "performance"). The i15 is "tour-style," which is marketingese for "you better have game." While that is really overstating the level of skill required (it's much more about shot shape and solid contact than handicap), the i15 is clearly the more demanding and higher performing of PING's two new drivers. Finding the one that's the best for you is the real secret. So (as PING's website asks) "are you a G-Man or an i-Guy?" According to the site, the G-Man desires "maximum power and forgiveness," while an i-Guy seeks "traditional look and feel." Frankly, I'm probably more of an "H" guy myself… I need some forgiveness (a little "G") while also being able, on my better days, at least, to take advantage of some "i" qualities.
The early buzz about this driver was that "hackers need not apply." Guys talked about this driver the way they talk about muscleback clubs… "We're not worthy!"
After all that talk, I had a certain level of concern that this driver would be too much for me, particularly on those days when my swing is not at its best. But after several rounds and couple small buckets of range balls, I can say that you shouldn't be afraid to try this driver provided you make reasonably good contact on most swings and don't fight a fade. Forget that "traditional look and feel" bit, it's more accurate to say that the i15 is for players looking to work the ball off the tee.

Design and Technology
With one notable exception, there's not that much technology in the i15 that we haven't already seen, to some degree, in the G-2, G-5, and G-10. You'll find what's become fairly standard stuff: a 460cc titanium head, a face that's thicker in the middle and thinner around the perimeter, and internal weighting designed to tune launch conditions. The i15 is however a refinement of all that engineering and tweaked toward players who make consistent contact with the center of the clubface.

The most radical piece of engineering in the i15 is the "onset" face. As you may have guessed that's the opposite of "offset." The hosel is actually positioned behind the clubface on the i15. This feature is intended to help counter the bane of many "better" players: the hook. Just as offset drivers (hosel positioned in front of the clubface) help slicers minimize their misses, the onset i15 should help players who typically play draws keep the dreaded hooks at bay.
The internal weighting of the i15 also contributes to a fade bias, according to PING, as well as helping to lower spin and produce optimum launch conditions. Finally, the i15 sports a bulge crown design (it's higher in the middle) and a deep face, intended to optimize energy transfer.
Esthetics
As already stated, the i15 is a good looking driver. While the sometimes controversial "half moon alignment aid lives on, it is a smaller, more subdued version of the one found on the earlier G-series models. I can live with it just fine, and I sure do dig the dark menacing look of this driver.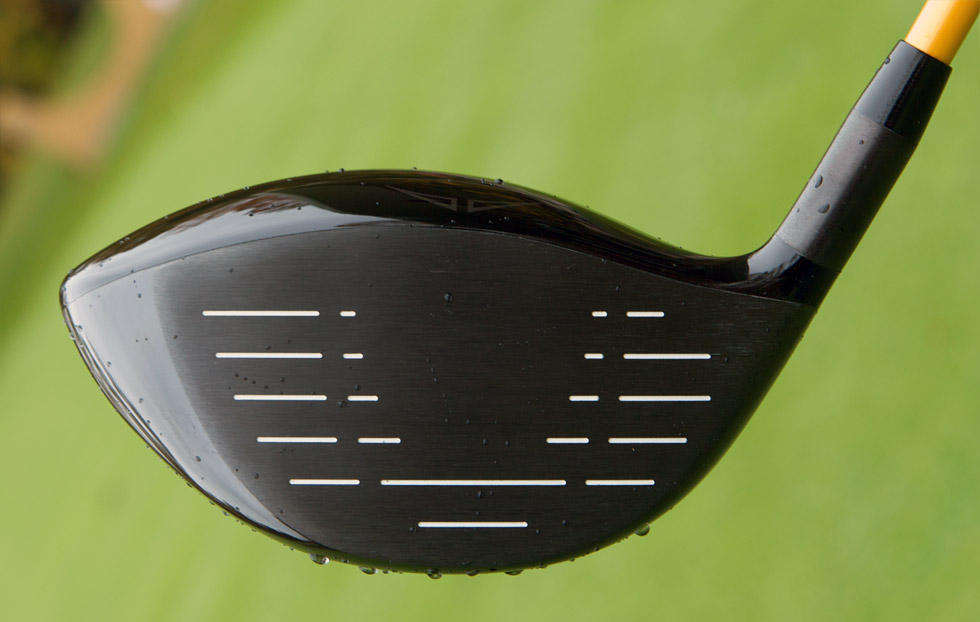 PING states that the i15 is for the player seeking "traditional look and feel" in a driver. Sitting on the rack in the golf shop, the i15 doesn't exactly scream traditional look (presuming "traditional" means resembling a persimmon head), and a few hits in the cage will confirm that the i15 does not feel all that much like persimmon, either. Clearly, traditional has more to do with the pear-shape of the i15 than its size. It would be true to say that the i15 driver looks slightly more "traditional" than the G-15 and most other drivers on the market today.
The "titanium carbon" gives the i15 a stealthy and dangerous look, which should be a good thing when you're on the first tee with your buddies.
PING says that the i15 has a muted sound, and I'd have to say that, for a PING driver, that is true. On off-center contact, the i15 sounds fairly similar to my old G5. When you hit it on the money, however, the i15 drops in tone and sounds solid, a little like how a good softball bat sounds when you drill one. And I mean that in a good way. You're not going to mistake the sound of the i15 with that of a persimmon driver, but in a sport filled with harsh, metallic-toned drivers, the i15 is among the better sounding ones.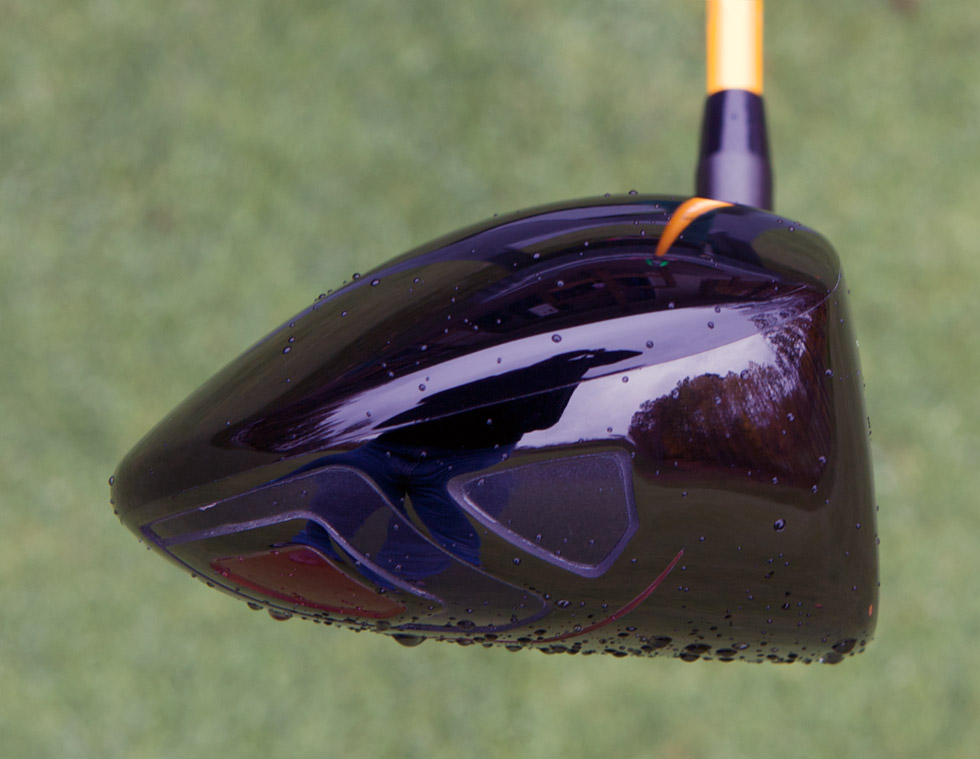 Performance
PING drivers always seem to perform well, and the i15 is no exception. I played a G5 driver for quite awhile, and it remains one of the longest I've had the pleasure to play. It was a great driver for distance with a fair bit of forgiveness as well. But for whatever reason, when I missed fairways, I tended to miss them by a lot. I finally gave up some distance to play a driver that helped reduce those round-killing big misses.
So I when PING introduced the i15 driver, I was quite happy to give it a shot at making the bag. PING sent a 9.5° model with the UST AXIVcore Tour Red (S), a good looking combination that screamed performance.
When I first saw the i15 on the web, I was pretty stoked to see what it was like in person. One of the first things that got me excited about this driver is that it is purported to be fade-biased. I had even heard that the face was 2° open. Since I struggle to consistently hit a fade when needed with my current driver and because my usual bad miss is a hard hook, this aspect appealed to me. Suffice it to say, I was very excited to get my hands on this driver.
Which is why I was really surprised when the i15 appeared to have a slightly closed face. Erik had met me at a course here in Columbus, and before our round we were experimenting with the i15. He also thought it looked closed. We wondered if it might be an optical illusion caused by the onset.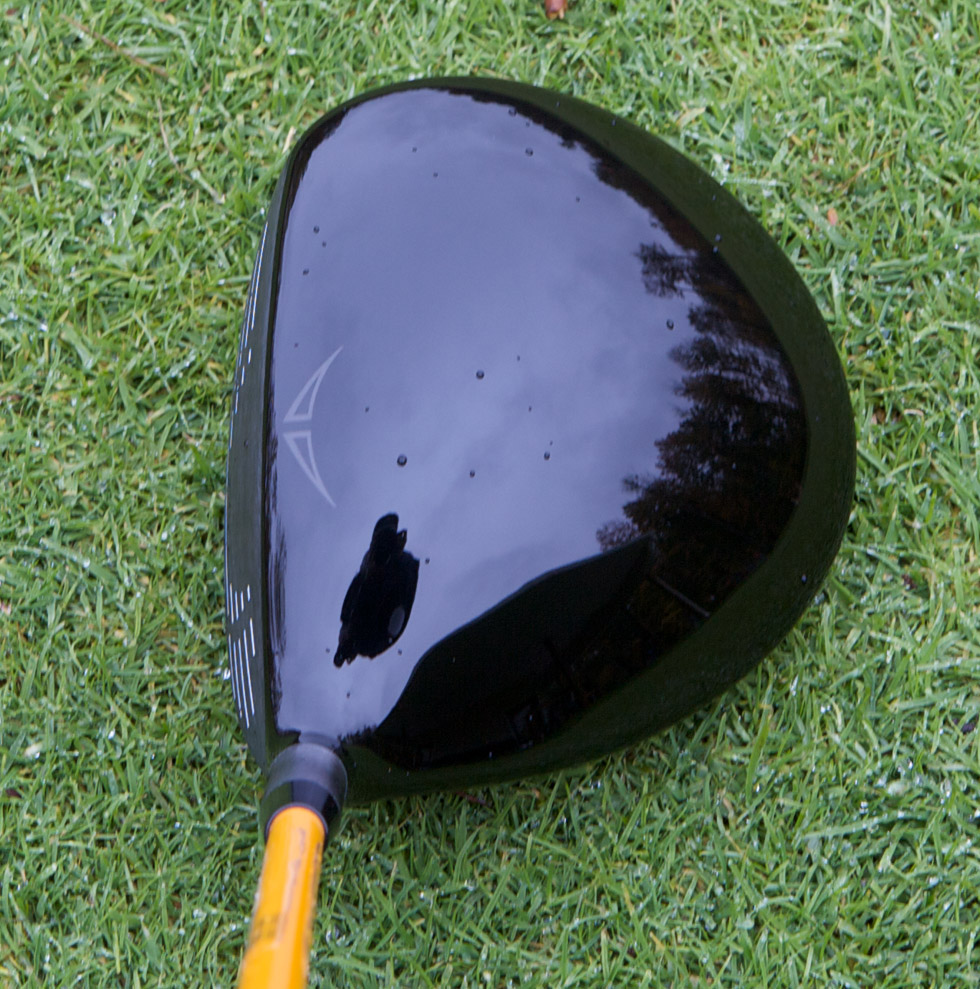 We're both draw players, and, onset or no onset, the first few shots that each of us hit with the i15 curved left in a classic draw flight. Erik is plays more of a draw than I do, so his shots had a little more snap to them than mine (as well as hang time and distance). Was the i15 mostly marketing and not enough substance?
When we got out on the course, I managed to play an unremarkable round. It wasn't a great driving day, but I also don't remember getting into all that much trouble off the tee either. According to Scorecard, I hit 9/14 fairways, with most misses winding up in the left rough. That's a slightly above average driving day for me, but I sure wasn't entertaining any thought of kicking my current driver (a Titleist 909D2) to the curb yet, either.
However, the second time I had the i15 out, I started to get it slotted very nicely and found I could easily play a little draw that went hard and long. Ball flight withe the i15 is lower than with my Titleist (Voodoo shaft), but overall distance was slightly longer. I started thinking, maybe PING is on to something here.
While it is fair to say that the i15 is hook resistant, it is not hook proof. My typical shot shape with the i15 was still a draw, as it is with my usual driver. However, I was happy to be able to reliably move the ball to the right when I needed to (something I haven't been able to do consistently with my driver this year). That's a big plus for me.
I've heard some pretty good players say that they thought the i15 was going to be too unforgiving for them to play. While the i15 is not going to be confused with game improvement models (like the G15), players looking to be able to work the ball off the tee and who regularly find the fairway now should still be able to find it with the i15, as well.

Specs and Extras
The i15 is available in left or right-handed models in three lofts.
Loft      Length      Lie      Head Weight      Swingweight
----      ------      ---      -----------      -----------
8.0°      45.75"      58°         199g              D3
9.5°      45.75"      58°         199g              D3
11.0°     45.75"      58°         199g              D3
The club is offered with the PING-designed TFC700D (R, S and X flexes) and UST AXIVcore Tour Red 69 (R, S and X flexes) shafts. Additional options are available (at additional cost) through PING's Custom Options program.
Conclusion
In my experience, the i15 provides above-average workability and distance. This driver is not going to be a good fit for everyone. If your modus operandi off the tee is to try to hit a straight ball every time, this may not be a good fit for you. If you struggle with a slice, then there are definitely better choices for you. But if you want to move the ball both ways off the tee, then this is one of the more workable recent driver options that I've come across.
Golfers who want to work the ball, who make consistent middle-of-the-clubface contact with the ball, and who hit a reasonable number of fairways a round may well find a new friend in the i15.
While my first outing with this driver did not live up to my expectations, it has been steadily winning me over since that first experience. I'm not sure the i15 is going to boot the incumbent out of the bag, but I'm certainly going to give it the chance this spring, and so far as I can tell, it's going to be a close race.