I've never had a club built and constructed for me before. I've been fitted for proper shafts and things, but never have I had a custom club built to my liking. At some point I found out about Scratch Golf Wedges, who specializes in custom-built wedges. As you'll remember from last week, I love wedges, so I had to get fitted for one of their wedges.
I don't know how I found out about Scratch Golf, but I will say that I was slightly nervous, as I had no experience with them, nor had I heard from anyone who had a wedge built for them in the past. But at the risk of spoiling the rest of review, I wasn't disappointed.

Background
Scratch wedges are 100% custom-made, hand-ground wedges made specifically for the individual based on their specifications, not the masses. Each wedge begins as a raw head of extra heavy, fine-grain 1018 soft carbon steel and is forged at the Ishibara foundry in Japan. Ishibara is highly regarded as a foundry that uses a combination of high quality materials and old-world craftsmanship.
Scratch offers any loft between 47 and 64 degrees, in three different toe shapes and virtually any sole grind. You can choose any taper tip shaft, any length, any lie angle, any bounce angle, any swingweight, any grip and a choice of six finishes, with a personalized stamp up to five letters and a choice of paint fill color.
I think it's safe to say you'll be the only one in your Saturday morning foursome with a personalized wedge.
Process Overview
To say this process is simple is an understatement. By going to the Scratch Webpage, you can simply fill out their web form with the various requirements you want your wedge to have. I contacted Scratch with some questions and I heard from a Scratch Golf representative pretty q uickly. He asked me some questions, via email, which I responded to with as much detail as I could. He followed with a few additional questions, which I responded to, and in a couple weeks my wedge arrived in the mail. The whole process takes 3-6 weeks depending on what finish you request.
If you're curious about what goes on behind the scenes of building your wedge, I'd recommend visiting their website for more information.
Look and Feel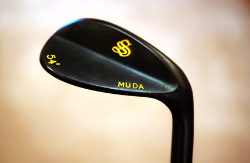 When I got this wedge, I was blown away. It was incredible looking. I opted for a 54° with the black finish with yellow filler paint and an ID stamp of "Muda," a family nickname. With the velvet cord grip, Rifle shaft, and black finish of the clubhead, the wedge looks like something you'd see Darth Vader using on the course. It's sweet looking.
My first thought when I picked it up was how heavy it was. I've never had a wedge that was that heavy, which worried me a little. Typically, I like heavier clubs, but I was worried about kind of feel I'd have with the delicate shots around the green. My concerns were quickly alleviated. Once I hit a few of those shots around the green, I quickly understood that the heavier club enhanced my feel around the greens.
I use my sand wedge to hit the majority of my shots around the green. My favorite shot to hit is the little two-bounce-and-a-skid chip shot. When I hit this shot, my ball really checked up on the skid. In fact, all the shots I hit with the wedge either spun or checked more drastically than any other wedge I've used in the past. It's a bit of an adjustment to be made, but one that I really enjoyed. It's sexier to hit a pitch shot that takes two bounces and spins verses one that runs up to the pin.
The extra spin I was getting was a bit of a catch-22. My golf ball was getting extremely beaten up and scarred by the grooves of the wedge, but I was loving that my ball was stopping on a dime.
I hit a variety of shots with the wedge and was pleased with the feel and results of all of them. Out of the bunker and lob shots hit with the face open flew high and landed soft. The longer pitches had a lower trajectory and when they hit the green they checked and spun. I was very pleased with the wedge performance.
Specifics
These wedges come in any shape, color, weight, length, and flavor. They come with a price tag of $199, which may seems a little steep. But when you compare it to other wedges, the price isn't that much higher than an off-the-shelf wedge. If you factor in the individual specifications and choice of finish, the price really begins to justify itself. I've read that your short game makes up 66% of your shots in a round, so why wouldn't you spend some extra money on a personalized wedge that is custom-made to match your swing and specifications.
Conclusion
I can't say enough good things about this wedge. It's in my bag for good. I've accepted the fact that I have to replace golf balls more frequently from the grooves chewing up the ball cover. It's a small price to pay for up-and-down tap-in putts; one I'm happy to oblige.
Check out the Scratch Golf website for more information and go pick up a wedge.
The Q&A
Here are the first series of questions and answers:
Scratch: First things first tell me about the wedges you use now, what models etc and what do you like and not like about them.?
Josh: Right now, I carry three wedges when I play picking from: a 48, 52, 58° Titleist Vokey Oil Can wedges and a 54° Mizuno black ox wedge. I like all the wedges because of the amount of spin and 'stopping action' I can generate with shots inside 100 yards. I don't really have a huge complaint about the way wedges operate. I do feel like there are always gaps in my yardage. I always carry the 48 as my pitching wedge, and I like to carry the 58°for bunker lob shots. I also like carrying the 52° for 100-yard shots, but use my 54 for 75% of all my short game work. I don't like carrying four wedges because I need a utility club to aid my declining long iron game, so I end up losing one of those four wedges (usually the 52°) and have to manufacture a shot. Additionally, I don't like 60°wedges; I think they're more show than value.
Scratch: Second, tell me about the typical conditions you play in.
Josh: I live in Washington DC and play in many humid conditions as well as some of the best weather (75 and sunny). However, I can also play in any conditions that include rain, cold and marshy turf.
Scratch: Next, tell me about the divots you take with your wedges are they deep, shallow, non existent?
Josh: Most of my divots are shallow. I don't really take a deep divot unless I really go down after it. Rarely do I have no divot.
Scratch: Tell me what lofts you want to get.
Josh: I'm interested in a 54 or a 56 degree wedge.
Scratch: Tell me about what shots you like to hit with each wedge. Which is your main sand club?
Josh: I like to hit low runners that hit, skid and stop. I like to hit lob shots; I use them in the bunker. I use my wedges around the green 95% of the time. I use either a 54 or a 58 out of the sand, depending on the amount of green I have to work with and the size of the bunker lip.
Scratch: What wedges have worked very well for you in the past?
Josh: Mizuno Black Ox and Titleist Vokey are my current favorite brands. I really HATE Cleveland wedges.
Next came a second round of questions:
Scratch: What exact model of Vokey do you have i.e. 25208?
Josh: I have the Vokey Design 200 Series, 25808
Scratch: We need to decide if you want to get a 54° or 56° what do you think you want to do?
Josh: I think I'll go with the 54°
Scratch: With this wedge that we are making how often will you use it from the sand?
Josh: Probably 60% of the time I'm in the bunker. I usually am in a sandtrap about 1-4 times a round.
Scratch: How often will you open the face for lob shots from grass lies?
Josh: Anywhere from 2-5 shots around.
Scratch: Below are the rest of the specs that I need to know from you: Lie, Length, Shaft, Grip, Finish, Stampings, Paintfill Color, Headshape, Swingweight
Josh: Standard, Standard, Rifle 6.5, Full Cord, 3X black, muda, yellow, Standard, 6