So is it possible? We've all had this discussion time and time again and we all know Wie is going to continue to try. After all, her ultimate goal is to play in the Masters. So not only is she going to have to play on the PGA Tour, she is going to have to be very good against those guys as well. I don't think Hootie is going hand out any special exemptions to the youngster.
The best place to start with Wie is the numbers. There was a recent article by Mike Vitti posted on the PGA Tour's website that did a great job on her stats and was able to post detailed info. The article ends by giving Michelle a few guys on the PGA tour to model her game after. I agree, but there is a better golfer for Wie to use as an example.

Ernie Els, Wie is not.
Let's stop it with the "Big Wiesie" moniker for Michelle Wie. OK? The only thing I can find similar in their games is that they both are pretty expressionless when playing golf and if there is any emotion it only looks like they are passing gas. After that, it ends.
Els has averaged near or over 300 yards per drive in his last two full years on tour. Everyone talks about how long Michelle Wie is, but in her few tournaments she played in this year and last, she is only averaging 273 yards. Greens in Regulation (GIR) is also vastly different between the two golfers. Maybe their driving accuracy is close. Unfortunately for Wie, that is not a good thing because both are hovering around 60%.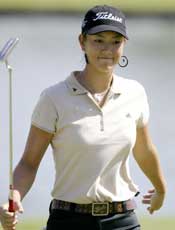 This truly is unfair to compare a teenage girl (which she will be for a while) to a Major champion. But, if Wie intends to play on the PGA Tour, there really isn't a way around it. The question still remains… who does Wie compare to? Or better yet, after whom should Wie model her game?
Different, but Successful
The Mike Vitti article says that Wie should model her game after Heath Slocum, Fred Funk, or David Toms instead of Tiger, Vijay, or Ernie. Amen. I know we fall into a trap of comparing the up-and-coming golfers to the best, but their games are different. Let's look at the other golfers a little closer and see if it makes sense. Using 2005 stats:
Name     DD    DA    GIR    PA
Slocum   159   11    22     92
Funk     197   2     67     168
Toms     107   54    37     10
This is closer to what I was thinking. Here are a few guys that have had success (even a major championship) on Tour. Funk is known for his length, or lack thereof, and his accuracy off the tee. Slocum is accurate from tee to green and Toms has a great overall game including putting. None are considered to be powerful players like the big guns mentioned earlier.
Even with that, when I looked at the numbers above, there was one thing that bothered me a bit. The shorter hitters, Funk and Slocum, their putting numbers were not as good as I would have liked. For Wie to compete, she needs to be next to perfect on the greens. Good won't cut it. Her putting needs to be Toms-like.
Speaking of David Toms, I think she can aspire to be statistically close to him, but I don't think Wie can get her distance out there and keeping it accurate as well. What I'd like to see is a combination of a shorter, but accurate player along with a great putting stroke.
After a bit of research and some thought on the matter, enter Scott Verplank. Look at his numbers in the same category.
Name      DD     DA    GIR   PA
Verplank  159    9     59    9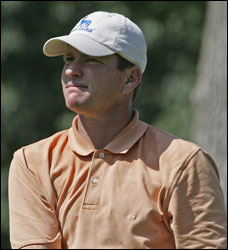 Verplank has never been known as a bomber… and he probably never needs to. What he is, is a consistent striker of the ball with a deft putting stroke. If you look at his game, it isn't a good model for just Wie, but for many amateurs as well (including me). I don't pretend that I can hit it a ton and the focus of my improvements over the last year or so have been in accuracy and especially putting.
I see Scott Verplank as a player that knows his limitations and plays to his strengths. He keeps the ball in play, limits his mistakes, and gives his putting game ample opportunities to make birdies. The simplicity of this approach is amazing and for those who truly want to become better golfers it would be well served by paying attention and modeling their game after Verplank. That includes you, Michelle.
Still, Life is Good…
Realistically, Michelle Wie is not going to compete with Tiger, Phil, or Vijay. If her goal is to do just that, more power to her, but my buddy Bob Rotella would probably advise her to set more realistic and attainable goals.
But like the title says, life is still good for Michelle Wie. She is still very young and has her entire career in front of her. That career is off to a great start with a debut at #3 in the women's world golf rankings, albeit a controversial one. Wie has a chance to be the greatest woman golfer of all time even with another great, Annika Sorenstam, in her prime right now.
What I hope to see is Michelle Wie compete on the LPGA Tour for a while and earn her battle stripes and get the taste of the Tour life. Then, when she has proven herself, look at where she needs to improve her game to begin to have a shot on the PGA Tour. This is where she needs to look at the Scott Verplanks and their success. Nothing would be worse than to see Wie compete in a handful of PGA tournaments and miss a ton of cuts. Even if she did make a cut, one or two out of 10 or so isn't what I would call successful or getting her closer to the lofty goals Wie has set for herself.
Photo Credits: © Unknown, © Morry Gash.