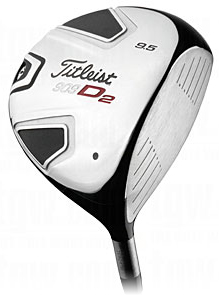 It seems to me that Titleist's 909 drivers are the most eagerly awaited Titleist drivers since perhaps… well… in a long time. The retailers I've talked with are reporting good sales numbers, and PGA Tour adoption was awfully quick, with the majority of staff players switching before the first ball was struck in 2009. On a personal level, the number of emails, PMs, and IMs I've gotten from people anxious to read this review has been off the charts – and the 909H and 909F3 reviews only seemed to wet their whistles.
Titleist is the first to admit that the 907D1 and 907D2 – two drivers with near identical launch conditions but different looks and different MOI characteristics – were perhaps not the best pair of drivers for fitting a wide range of golfers. They've corrected that "one set of launch conditions" error with 909, offering three models: the composite-crowned (a first for Titleist!) 909D Comp, the "tweener" 909D2, and a low-launch, low-spin, 440cc 909D3.
Don't get me wrong – the 907 was a great driver if you were the type of player that fit its launch conditions. I was able to, and switched to 907D2 after playing an r7 425 and an FT-3, and the 907 worked beautifully for me.
Now that I've had a chance to test both the 909D2 and 909D3, I'm ready to share my thoughts. Click through for the rest.

Design and Technology
As I mentioned, Titleist will admit the 907D1 and D2 were not the strongest pair of clubs they could have offered. With one set of launch conditions, several of Titleist's PGA Tour staff saw no reason to abandon their trusty 905R in favor of either 907.
With the three 909 driver models, Titleist is back in the game again. Between 909D Comp, 909D2, and 909D3, Titleist will be able to properly fit an incredibly wide variety of players. Of course, these clubs are still targeted at the "serious" or "aspiring" golfer. If you want the most forgiveness you can get, Acushnet is happy to take your money – you'll just be buying a Cobra driver instead.
This chart does a nice job of summarizing the issue. 907D2 (and D1) had nearly identical launch conditions as 905R, but the 909 models evenly space themselves out across a fairly wide range.
Golfers also have different preferences in terms of ball flight, trajectory, and playability, and demand more than just distance – a list that includes appearance, feel, sound, accuracy, quality, and consistency.
Each of the 909 drivers offers distinct performance characteristics with a precisely positioned CG that should fit everyone from the Tour player up to the "aspiring" 10-15 handicapper. All three models feature a lower crown and profile, which moves the CG a bit further back and down, reducing spin and increasing MOI.
Additionally, the drivers have a number of other features in common:
Optimal CG location low and deep in the clubhead.
A milled 6-4 formed titanium face insert that features variable thickness, including a thicker trapezoidal shape near the center surrounded by thinner material to maximize ball speed across the face.
An integral Titanium blind bore hosel – gone is the bore-through design found on the 905 and 907 drivers. This saves internal weight, provides a solid feel, and allows for more shaft options.
Shaped sole design with the primary tasks of tuning the acoustics and reducing vibration. Each model has a different "trim" color on the sole as well.
Modern shapes with Tour-approved profiles – gone is the "triangle" found in the 907D1.
The 909D2 is a 460cc titanium driver with a full pear profile and mid launch characteristics with low to mid spin. MOI is 4800, allowing for a little more workability than the 909D Comp, and the face is shallower than the 909D Comp or D3, providing launch confidence and a preferred setup appearance for some.
That contrasts with the 909D3, the smallest of the 909s at 440cc. D3 is a titanium driver with a deep face, a classic pear profile, and mid launch, low spin launch characteristics and an MOI of 4600. Many will recognize that this model is an extension of the cult hit 907D4 model that was never released to the public.
Titleist has stated that they expect about half of their PGA Tour staff and player base to be best fit with 909D2, with the remaining half split between D Comp and D3. For more technical information, check out Titleist's pages for 909D Comp, 909D2, and 909D3.
Esthetics
If you don't care about a club's esthetics, you're probably not a Titleist player. Or perhaps you're just not one yet… Titleist puts an incredibly generous amount of time into fine-tuning a club's appearance. Titleist not only cares about the aspects of a club's look that modify certain performance characteristics, but those that don't as well because they realize they can affect the golfer's performance via his comfort and confidence.
From bottom to top, the first thing many will notice is the new sole treatment given to the entire 909 line. Shiny! Though I disliked the sole design on the 909H and 909F3, it strikes me as far more appropriate on the driver. It conveys "power" a bit more than 907's brushed finish, and I think the fact that the driver is used almost exclusively to hit a ball that's teed up has a lot to do with it for me. Silly reason, I know… but the sole just doesn't bug me on the driver. I'd even go so far as to say I like it.
The hitting area retains roughly the same look as that found on 907 – white grooves with a trapezoidal, grooveless sweet spot. However, they're not identical: 909D2 and D3 widen and reverse the trapezoid while 909D Comp's face looks almost identical to 907.
The crown, as with the hybrid and fairway metals, is given the old "fleckled" look that's sure to please Titleist loyalists. As I mentioned in the other reviews, the look is still very dark grey, but the fleckling helps to break up reflections and reduce glare over the solid, shiny crown on 907. The crown is finished off by the "triangle and bar" graphic we've become accustomed to on Titleist equipment.
The shape at address is a bit rounder with 909D2, perhaps due to the extra 20cc over 909D3, which appears to me to be the most "pear" shaped of the bunch. The face depth, crown treatment, sweet spot marker… it all combines to inspire confidence. It's subtle, understated, and attractive.
While the 909D2 looks quite a bit like 907D2 at address (paint treatment aside), the 909D3 has the killer looks in my book. The D3 is again 20cc smaller, and the difference is subtle, but noticeable if you look for it or set the two models side by side. By now, we've all adjusted to looking at titanium balloons on sticks, but it was very easy to like the looks of the smaller 909D3 over the D2, and to like both of those more than many of the other "we want to look really large" drivers out there.
Performance
Initially, I chose to test a 909D2 with 9.5° of loft and the stock Aldila Voodoo shaft in a stiff flex. I made the mistake of "fitting myself" by looking at specs. My second driver was a 909D3 with the same loft and a UST ProForce v2 76 shaft (also stiff).
If you've read the 909H and 909F3 reviews, you shouldn't be surprised that I found the D2/Voodoo combo to exhibit the same characteristics I found with those clubs. Namely, ball flight was a bit higher than I liked with limited ability to lower it (at least, not without adding too much spin) and the ball tended to stay left a little more than I like.
As with the hybrid and fairway metal, the higher ball flight wasn't accompanied by a loss of distance per se (though I rarely got more than a yard of roll rather than my usual 5-10 yards). Drives with the D2/Voodoo floated and remained airborne for quite awhile. I just don't like how the higher ball flight looked. It didn't help that when I'd play my normal 10- to 15-yard fade, the ball would often simply hang on the left edge of the fairway or into the rough.
I'd been playing the UST ProForce v2 76 in my 907, so I tried the 909D3 with that shaft next, and it snapped the issues I had with the D2/Voodoo right back into "perfect" range.
I've always struggled with getting a bit too steep on my driver, and over the past few years I've had trouble hitting a draw partly because I was playing the ball further forward than I might prefer in an effort to reduce backspin.
As I alternated between the 907D2 and the 909D2 and D3, I realized that the D3 gave me the ability to move the ball back in my stance just a bit (inside the left heel instead of even with it) and still keep the ball from ballooning.
That's largely because the 907D2 asked me to make a small compromise: I could launch the ball a teeny bit higher than I wanted, but with the right amount of spin, or I could hit the ball on the trajectory I wanted but with a bit too much backspin. The better compromise was to play the ball up and to reduce spin.
The 909D3 eliminates the need for compromise in my golf swing. Ball flight and spin are well within the zone for my swing speed (~108 MPH). The ball comes off on a lower, flatter, more boring trajectory. I can hit the ball lower (in wind, on firmer turf) if I want, and I haven't lost the "carry the trees on the corner at the 10th hole at Lake View" shot, either (high ballflight).
Several holes at my the courses I normally play require a draw off the tee. In hindsight, I think having to play the ball a bit more forward with 907D2 inhibited my ability to hit a reliable draw with that club, and I tended to pull 3W on those holes. The 909D3 eases the requirements for me to hit a draw. It's still not my preferred shot, and I probably still can't pull it off really well more than about seven times out of ten, but that's an improvement from four or five of ten.
Forgiveness? Even with the smaller (440cc) head, the 909D3 performed admirably. I'd compare their forgiveness to be nearly the equal of 907 in practice. I don't mis-hit the ball towards the toe or heel very much, but the few times I did the 13″ bulge brought my ball back to the target with minimal distance loss. Likewise for my more common miss – shots low or high on the clubface – and the club's 11″ of roll.
Though the 909H and 909F3 seem to have gotten a higher pitched, more metallic sound than previous generation models, the drivers haven't changed appreciably. That's a good thing, as Titleist drivers have always sounded quite good to me, with the right pitch and volume. The drivers may not scream "POWER!" like some others (if that's what you take some of the more obnoxious drivers to say), but they'll relay "solid" every time you catch one near the center of the clubface.
A note about fitting: Though I thought that perhaps I might fit into a 909D2 based on my guesses and two years of experience with my 907 head and shaft, the fact that I was better suited to a 909D3 was yet another underline on the fact that you're doing yourself a dis-service if you "fit yourself" by reading off a spec sheet. Get to a demo day or visit a certified club fitter and try out a bunch of driver head and shaft combinations to find the best fit for you.
Specs and Extras
The 909 drivers will be available to righties and lefties in 8.5, 9.5, and 10.5 degree models. Righties also get an 11.5° model. The lie angle is 58° (D2/D3) or 59° (D Comp), and the face is 0.5° open.
Stock shafts for the 909D2 and D3 are the Aldila Voodoo (69g, 3.3° torque, med-stiff tip, mid-high flex point, medium trajectory) and the Diamana Blue 65 (65g, 4.3° torque, medium tip, mid flex point, medium trajectory), while the 909D Comp gets the Matrix Ozik XCon-5 (62g, 4.9° torque, medium-soft tip, mid-low flex point, med-high trajectory) and the XCon-6 (65g, 4.1° torque, stiff tip, med-high flex point, medium trajectory).
Sole highlights are red on D Comp, Silver on D2, and black on D3. D2 and D3 have an MAP of $399, while D Comp is $499.
The 909 drivers all ship with the headcover you see here. Titleist has gone away from the zippered all-cloth headcover found on 907. The 909 headcover uses a magnetic enclosure (which lessens covering and uncovering time, and can't break) and added some more materials. The result is a dark, moderately menacing headcover with a beefy look that weighs about a quarter of a pound more than the 907 headcover.
Conclusion
Like I said at the top, I was one of the players that fit within the 907D2's launch conditions, and my 907D2 replaced two drivers (the r7 425 and FT-3) that I had previously adored quite a bit.
I had perhaps my best driving years with the 907D2, and that looks to continue to improve with the 909D3. There's almost nothing I dislike about this club: it looks good, it sounds good, it lets me work the ball in every direction, it's forgiving in just the right amount, and it's long.
If you're a Titleist guy, you should be able to find a 909 driver model you adore as well. If you're not a Titleist guy, well, you may very well soon be.
Links that May be Helpful