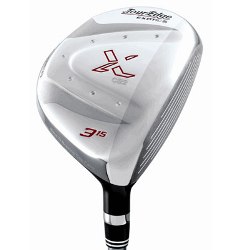 You may have seen the Tour Edge advertisement for their new Exotics CB2 fairway wood that boasts of a guarantee that you will gain an additional 20 yards compared to your old fairway wood. It's a pretty bold statement and one that is sure to grab golfers' attention as we all strive to add additional yardage to our game.
I had the opportunity to test the CB2 to see if this small company from Batavia, IL might have the best fairway wood you've never heard of.
To be fair, my current fairway wood is a Titleist 904F with a True Temper Dynamic Gold steel shaft, so I was bound to gain some additional distance just by switching to a lighter head and a graphite shaft. Just how much distance was a bit surprising. Did it make me reconsider my steel-shafted ways? Read on to find out.

Technology, Design and Specs
The Exotics CB2 is an updated version of Tour Edge's popular Exotics fairway wood line. The originals made the Golf Digest 2006 Hot List and were widely lauded as solid and long. The Exotics line is unique in that it uses a chemical bonding process called combo-brazing to join a titanium face with a hypersteel body to blend them together without weld seams.
The CB2 has a titanium-cupped face that is 30% lighter than the original Exotics fairway, providing for more discretionary weight. Tour Edge engineers moved the weight to the back of the head to increase the Moment of Inertia (MOI) by 30%.
The folks at Tour Edge describe the head as follows:
superior design chemically bonds a light-weight, high-tech, titanium-cupped face with a heavier hyper-steel body. It starts with a cold-rolled titanium cup face that is computer-milled around the edge of the cup with a high precision rim. The remaining body is precision cast to include an interlocking channel. The parts are chemically treated, pressed together, and vacuum heat-cured for permanent bonding without heavy welding.
In non-engineering speak, the head is light and the face is hot and forgiving.
Look and Feel
The first thing you notice is the lack of an alignment mark, which I found to be a bit odd. It took a little range time as well as a couple of rounds to get used to this, but as I quickly found, with the face this hot and forgiving, mis-hits just off the center went nearly as far as shots hit flush. I personally would still prefer some sort of an alignment aid if for no other reason than to add some confidence. The black finish looks sinister (in a good way!) and wasn't too reflective on sunny days.
Even with the titanium face, the CB2 feels solid and wasn't so light that you didn't know where the head was during your swing. I was pleasantly surprised with the sound, as the sound was a lot more "steel" than "titanium." It delivered a solid thump rather than a high-pitched tink.
The shaft tested was the Graphite Design X-Quad which comes in at 68 grams with a mid kick-point and 3.5° torque. This shaft is a good 20 grams lighter than most fairway wood shafts, and much lighter than my steel fairway wood shaft. It took some time to get comfortable with the much lighter graphite shaft, but I'm coming from a little further away than most people.
In the end, I found the shaft to be a bit too light for my liking. It did force me to slow things down a notch to make a more controlled swing, which is a good thing, but not something my shaft should force upon me. I still probably would end up getting a heavier shaft and Tour Edge does offer several different shaft options such as the very popular UST V2 and Aldila Exotics NV-65.
Performance
For my game, I usually don't use a fairway wood off the deck as I really have no business attempting to go for a green in two on par fives. After using the CB2 however, I may rethink that strategy depending on the course layout as at both the practice range and on the course I found I was able get the ball up in the air quickly and more often then not was able to control where I wanted the ball to go. The CB2 performed admirably not only on the fairway but also launched the ball quickly and high on shots I attempted from the rough.
Where the CB2 really stands out over other fairway woods is off the tee. With a nice, smooth swing I found myself more often then not at least 30 yards past where I would normally expect my fairway wood to end up and on several occasions found myself nearly reaching the same distance I would normally carry my driver. Needless to say, the CB2 is a cannon. After seeing a few rocket down the fairway, I was sold and would find myself opting to hit the CB2 off the tee on some tighter par fours and not have to worry about the distance loss that occurred with other fairway woods I had used in the past.
I had several drives that I hit near the toe and was expecting a rather ugly shot but was pleasantly surprised by the forgiveness offered by the CB2 as those shots went just as far as well struck shots went with my current fairway wood.
One issue with the fact that the CB2 behaves more like a driver off the tee rather than a typical fairway wood is the higher ball flight, I would occasionally find myself hitting a ball that would balloon up after getting caught up in the wind as opposed to the more boring ball flight that I was accustomed to.
The only other issue (and a minor one at that) was with the headcover. There is a large "X" on the sock portion that was somewhat annoying and the club seems to not want to slide in quite all the way. There were several times I thought I had the cover on completely only to find the club stuck below the molded top. I have more that happy to see the sock go and would have prefered either a zipper or magnetic headcover.
Conclusion
You can pick up the Exotics CB2 for $349.99 at Edwin Watts . That makes it one (if not the most) expensive fairway wood on the market today but if you are looking for long and forgiving fairway wood as well as great alternative or even a replacement to your driver, the CB2 is one you should consider. Think of it as replacing two clubs in your bag with one and with drivers costing upwards of $400 (and more), the price suddenly doesn't look bad at all.
As a final item and one that shows how much Tour Edge believes in what they offer to the golfing public, they offer something that is rare in the golf club industry, a lifetime warranty on all of their products.