Michelle Wie is among the most promising young female athletes we've seen in a while. Nike knows this and that's why they put their logo all over her new wardrobe. About a year ago we were talking about her potential and how she would fit into the new LPGA mix. Unfortunately things have changed a tad in the last year. She seems to have lost her way. And who can blame a 17-year-old kid for not knowing quite what to do.
Erik J. Barzeski recently explored the Wie fiasco in The Continuing Michelle Wie Saga. It sparked some thought. Here's what I think Michelle Wie could do to right the ship…

Number Five: Dump Daddy's Expectations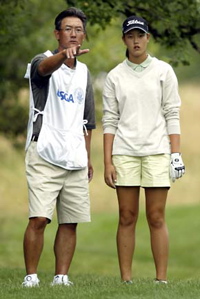 Being a golden child must be a nightmare. For Michelle Wie it's the media frenzy piled on the high hopes of her parents. There has to come a time when Michelle Wie sits mom and dad down and says, "Thanks for your care, for raising me, and for instilling a great work ethic, but I'm going to live my life the way that I think is right."
The real shame is that there may be few places that Michelle Wie can be herself. If Pops is as overbearing as he seems to the rest of the world, life can't be fun. The first place to start would be to establish some parental boundaries.
Number Four: Enjoy the Game
I think a pretty good case can be made for playing golf only if you love it. Ms. Wie is playing like golf is a bummer. So my free advice, worth exactly what Michelle has paid for it, is to rediscover her love for the game. Try to get a tee time with people she likes. Play for fun, not for the score.
If Michelle Wie is unable to enjoy golf at this stage in her life, probably the best thing she can do is hang up the Nike contract and parental expectations and dump her tournament commitments. She shouldn't pick up the game again until she wants to. Until then, be a college girl.
Number Three: Quit the PGA Tour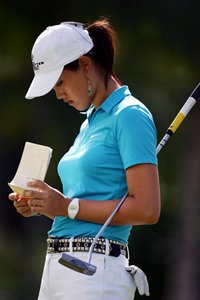 I'm personally tired of the Wie circus on the PGA Tour. I thought her decision to dump the John Deer Classic was a great one. Perhaps that was a step in the right direction.
The problem with the PGA Tour is that Michelle isn't going to get a hero's welcome from the boys. Many of them believe they have their Tour and Michelle Wie has hers. An occasional trip to the PGA Tour would enable Wie to pursue her goal of making the cut on the boys turf but making it a staple of her schedule is absurd.
Number Two: Play A Limited LPGA Schedule
The very best thing that Michelle Wie can do is try to recapture some of her initial magic on the LPGA Tour. Check out her 2006 LPGA Major performances:
British     Kraft     LPGA     U.S. Open
T3          T3        T5       T3
It was better than Sorenstam accomplished as an amateur and should have given her a confidence boost. Wie could take a Tiger or Mickelson approach to the majors by preparing for the big events in regular LPGA Tour events. There's gotta be enough sponsors exemptions out there for her.
Number One: Be A Kid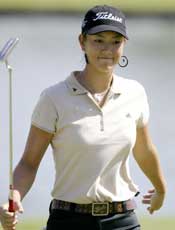 Michelle Wie is entering Stanford this fall in what could be the most enjoyable years of her life. She should enjoy school, pursue studies about which she's passionate, make a bunch of friends, and study at Denny's until 5 a.m.
The only expectations on Michelle Wie are the ones she puts on herself. The media will churn stats and speculate about her chances of competing seriously on any tour but she's got to learn to ignore the media firestorm. Some of the $10 million has to be left so she should spend holidays at home, visit friends, and do her best to lead a comfortable life.
In the "Wie Saga" article I mentioned earlier, Erik was right in saying that if Wie isn't careful she could burn out before she's out of the gate. I hope she doesn't do that, because she is a phenomenal talent. She's proven her ability to contend in LPGA majors and her inability to have much fun at PGA Tour events.
Note to Michelle Wie: Take a deep breath and start again. Give yourself a do-over.
Photo Credits: AP/Honolulu Star, Unknown, Unknown.