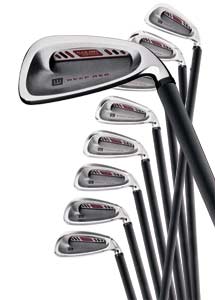 Executive Summary: the Wilson Deep Red Irons are an excellet set of irons for a mid to high handicapper.
About the Purchase
Unlike Erik, I'm happy to report exactly where I purchased my set of Deep Red irons. I purchased the 2003 Deep Red Irons from rockbottomgolf.com, over eBay. They have a direct sales site, and if you feel like gambling, you can try their auctions. I opted for the latter choice, and ended up saving almost $100 in the process. If you're in the market for a club or set and don't mind older clubs, give them a shot.
Look and Feel
These clubs are aggressive, and a great deal of that bold aggressiveness comes from Wilson's Fat Shafts. Instead of the standard hosel width, the Deep Reds have a nearly half-inch hosel which slams right into the head of the club. Most people don't know Wilson for their golf clubs, but standing next to a guy with "normal" irons, you definitely get some glances.

The Deep Reds also benefit from a "fluid feel" insert. It's basically a urethane-filled section of the cavity that dampens the sting you get on off-center and mishits. For the frequent off-center and mishitter (is that a word?) this translates into a set of irons that feels softer but still transmits enough of the impact feeling to help you learn. More on that later.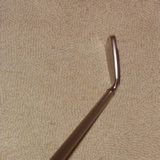 Playing with the Clubs
It took me a few rounds to get used to these clubs – I chalk most of that transistion up to the fact that I switched from steel to graphite shafts. Once I got used to the clubs, though…
Two things about the marketing hype Wilson sells with these clubs: your mileage may vary, but I suspect that if it does it's because you're a much better golfer than I am. Between the Fat Shafts and the oversize heads, I noticed the effect of the Fat Shaft hype immediately.
Without a doubt, my shots were straighter and more consistent than previously possible with my older clubs. On a whim, I borrowed my father-in-laws old DDH irons (also graphite shafted) and took those to the range for comparison. There was no comparison. The Fat Shafts worked as advertised: the clubhead twisted less, and the clubface was more square at impact. If you know much about golf, I think you can guess the result…
Distance. The most plesant surprise was my increased distance across the entire set of clubs. From 3I to PW, I have added about one to two clubs to my game. Where I would hit a five or six iron, I'm pulling out a seven iron without thinking, and mulling over hitting it long. Just last weekend, I was hitting my seven iron over 150 yards, and flying greens that I would struggle hitting with a seven just three months ago. As I get more comfortable with them, the Deep Red irons are only helping my game more.
On top of that, the straighter shots and increased distance have done something else for my game: increased my confidence. I won't go into a long spiel about increased confidence here, but I will say that instead of second-guessing myself and my ability to hit the ball on-target and distance, I'm pulling out my clubs and going for the green more often. The results are better, but more importantly I'm enjoying the game more.
With straighter, longer shots and increased confidence in just about any long to mid iron situation, what's the downside?
Not for the Advanced Golfer
Here's where I start projecting into the future, when my golf game resembles that of some of my office mates – low handicapper who can shape my shot to fit a situation.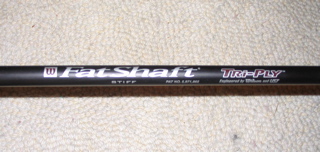 With the Deep Red irons, I think there is a serious issue for low handicappers. The Fat Shaft does too good a job keeping the clubhead square and the shot straight, and the urethane insert dampens too much of the feel of the shot.
I've let several lower handicap players use my clubs (one guy was a 2, the other a scratch golfer) and both complained about the lack of feel and their inability to shape a shot. When they'd want to hit a fade or a draw, instead of the shot they wanted they'd end up with a shot only slightly off the center. For golfers used to being able to have that level of flexibility, this is apparently very frustrating.
(If I ever get that good, I'll let you know what I think, okay?)
One other sign that the Fat Shaft is too good at doing its job and frustrating for low-handicappers? This year is the first year Wilson has produced a Deep Red iron model without the Fat Shafts – this year's Deep Red II Tour irons feature your choice of steel or graphite shafts with a standard hosel. Apparently, Padraig Harrington's been playing with regular-shafted Deep Reds for a couple of years, and Wilson finally listened to their most visible pro.
Conclusion
All in all, I'm extremely pleased with my purchase. For mid- to high-handicappers looking for a set of extremely forgiving irons to help their game, I can't recommend the Fat Shafts enough. Wilson offers the new Deep Red II's, as well as the more affordable Fat Shaft-branded clubs. These latter include an iron set with two hybrid clubs, so if that's your thing, take a look at them.
Specifically, I would highly recommend the Deep Red irons if you can find them. At $299 for a complete iron set with this much forgiveness, you'd really have a hard time going wrong; they're a confidence building set, but cheap enough to replace when you finally outpace them.