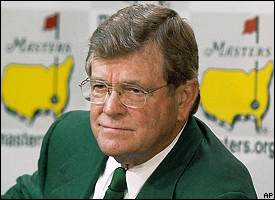 According to various reports, Augusta National is going to be lengthened from 7,290 yards to 7,445 yards for the 2006 Masters, making it the second longest course in major championship history. Tees at holes 1, 4, 7, 11, 15, and 17 (pars 4, 3, 4, 4, 5, and 4) will be moved back.
The longest course in major history was Whistling Straits, which measured 7,514 when it hosted last year's PGA Championship. Said Augusta National Chairman Hootie Johnson of the changes:
Since the first Masters in 1934, this golf course has evolved and that process continues. Our objective is to maintain the integrity and shot values of the golf course as envisioned by Bobby Jones and Alister Mackenzie. Players' scores are not a factor. We will keep the golf course current with the times.
Hootie Johnson has also floated the idea – on several occasions – of having a special "Masters ball" that travelled shorter distances in an effort to reign in the obscene distances today's pros are hitting the ball.

Frankly, we're sick of Augusta National and Hootie Johnson in particular trying to protect the course and to "maintain the shot values." In Bob Jones' day, the greens didn't stimp at 13 and the fairways didn't stimp at 11. Several of Augusta's holes feature dramatic downhill tee shots, including 1, 4, 7, 11, 15, and 17, which make them play significantly shorter than the listed yardage.
The facts are simple: Augusta National remained the same yardage for more than fifty years. The scoring average in 1940 when the course measured 6,925 yards was 74.59. In 1990, at the same yardage, the scoring average was less than a stroke better – 73.74 – despite a large increase in the average driving distance. Then, they began lengthening the course, and the average score slowly increased: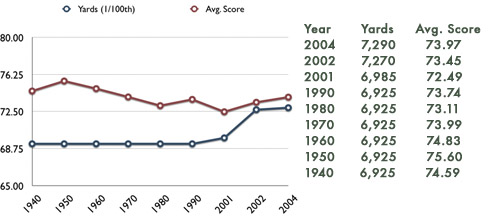 This year, at 7,290 yards and with somewhat soggier conditions than previous Masters tournaments, only 16 players managed to break par, and none – save Tiger Woods and Chris DiMarco – bettered 283 (5 under) on the par-72 track.
Augusta National acts as if it's struggling to maintain its relevancy in today's game. Regardless of the fact that the scoring average remains well above par at Augusta National, Hootie and his clan are driven by the belief that they must stiffen the test, and that the only way to do so is via distance control – by subtracting it from the ball or adding it to the course.
Hootie, listen up: it's time to snap back to reality. Fairways need not be 50 yards wide. Rough need not be less than half an inch. And par fours need not be 525 yards. Take a page from the USGA's book, throw in a little bit of what the PGA learned last year at Whistling Straits (hint: it wasn't the distance alone that caused players fits), and then go back to your Scottish roots and look at what makes the British Open such a stern test of golf.
Constantly blaming distance is one of the fastest paths to irrelevancy, Hootie. There are lots of other reasons that explain why distance is not everything. You're quickly venturing into "crazy old man" territory, like crazy Uncle Herbert blathering about "the way things were in my day" over in the corner.
Applying the Augusta National edict "Distance is the Root of All Evil" is an emotional, factless approach to solving a problem that simply doesn't exist.
Photo Credit: © AP.