Naples Grande Resort & Club has undergone an ownership change, a name change, and an attitude change. There's a new look, a new name, and a new attitude for one of this city's legendary destination resorts. Under the fresh ownership of the Blackstone Group, the Registry Resort is now the Naples Grande Resort & Club – the new name reflecting a new era for this grande dame on Naples' trendy north side.
Did we say era? Frank Cavella, area vice president for Naples Grande Resort & Club, puts it this way: "A new name, new look and new aura." The latter, not coincidentally, is the name of the resort's recently-opened signature restaurant just off the refurbished lobby.
"The Registry helped define Naples 20 years ago," Cavella said. "We're just trying to bring it back now with a new look and feel."

That new look and feel is evident from the moment one enters the lobby. Its hardwood floors and open public spaces give Naples Grande more of a South Beach feel than a Southwest Florida feel.
"The whole concept is really Florida modern – unlike any other in Naples – smart with a lot of substance," Cavella said. "It's the changing face of what is the 'new' Naples."
Even more, the Naples Grande Resort & Spa is the new face of the Blackstone Group's Luxury Resorts division, which includes such destination resorts as Boca Raton Resort & Club, Carmel (CA) Valley Ranch, The Boulders in Carefree, AZ, Rose Hall Resort & Country Club in Montego Bay, Jamaica and the El Conquistador Resort in Puerto Rico. The Blackstone Group earlier this year announced a $2.6 billion deal to acquire the Meristar Hospitality, whose properties include South Seas Island Resort on Captiva Island, FL, and the Dunes Golf & Tennis Club on neighboring Sanibel Island.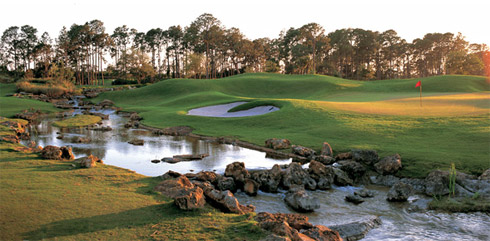 The Blackstone Group also owns the Edgewater Beach & Club just a couple of miles down the road from Naples Grande Resort & Club.
"Naples Grande is the first hotel in the portfolio to take on the new (company) look," Cavella said. "It's going to help position Luxury Resorts in way as to show what modern luxury really is in terms of service and ambience."
Naples Grande certainly has an abundance of both, from its three miles of beach along the Gulf of Mexico to its five restaurants (including Aura) and 474 guest rooms. The Sanctuary, the resort's Spa, is a popular draw that should become even more popular next year when it's replaced by Golden Door Spa. The Strip House, a high end steak and seafood restaurant, is scheduled to open later this year.
The resort's name change now puts it on the same page as its highly-acclaimed Rees Jones-designed golf course – Naples Grande Golf Club. The 7,078-yard, par-72 course, less than a 15-minute drive from the resort, is one of the top layouts in an area brimming with quality golf courses.
"It's a very player-friendly course. It has a very nice flow," said Naples Grande Head Professional Chris Brems."
"The course is probably one of the best-kept secrets in Naples," said Cavella.
A high octane marketing campaign this year aimed at attracting more resort play – for groups and individuals – should lift the veil off Naples Grande Golf Club and reveal its wide fairways and large greens to a larger clientele.
"We're going to run some aggressive programs in the summer, which is a perfect time to play," said Michael Brooks, director of golf for Luxury Resorts. "One of the hurdles is, we have to get over is what people think the weather is like past May. It's not as hot here as in the Carolinas… yes, we get some hot days and thunderstorms, but there are a lot of days you can play…"
"We're trying to capitalize on two great properties and the golf course. We have a very user-friendly structure even during high season. Resort guests have right of first refusal to tee times. The course isn't open to the public and will not be. We think that attracts the type of players that fit our customers."
And everything here at Naples Grande fits, pardon the pun, to a tee.