Although there's a PGA Tour event this week, the real action may be coming from the ladies. Yes, it is their turn to compete for a USGA major championship and with the young guns on the LPGA tour including Morgan Pressel and Michelle Wie, it will surely be an interesting tournament. We can expect another media field day with young Wie this week as she attempts to secure her first professional victory and perhaps validate all the attention she's attracted attempting to compete with the men.

Last Year
In an epic moment that will ring on in golf history, the 23-year-old Birdie Kim in her first Women's Open holed out of a bunker on the 72nd hole to leap ahead of a close leaderboard.
The ironic thing is that Kim was ranked 141st in sand saves and yet also holed out from the 10th bunker prior to her 18th hole heroics. Kim shot 1-over 72 Sunday, 3-over-par 287 for the championship, and in the process, deflated the hopes of 17-year-old amateur Morgan Pressel who had been on the 18th fairway tied with Kim when the ball disappeared in the hole to a raucous applause. Needing to match the birdie on a hole that surrendered just four the entire championship, Pressel's chip for the equalizer ran 15 feet by the flagstick. She took bogey and tied another amateur, Brittany Lang, for runner-up honors at 5-over 289, while Natalie Gulbis and Lori Kane shot 6-over 290.
The runner-up finish was no consolation for the charismatic 17-year-old Pressel, teary-eyed as she dropped her final putt on No. 18.
The Course
This year their Open will be played at the namesake of the Newport Cup, Newport Country Club. The club was built on a site that featured few houses or trees at the time. Many decades of Colonial land clearing, followed by firewood cutting during the British military occupation of 1776-78, left the area virtually devoid of trees. It is believed that the ridges in the current 10th fairway possibly represent a former encampment site where the French occupying forces kept watch against a possible British attack from the sea. It is safe to say that another war will be waged on these grounds throughout the week.
Who's Hot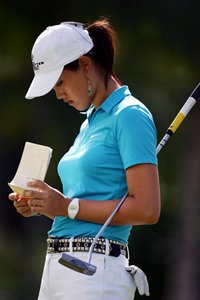 Michelle Wie is coming off a disappointing attempt at qualifying for the men's U.S. Open, but will probably use her "almost good enough" play as a motivator for the championship intended for her gender. Once again, we'll listen to talking heads reminding us that Michelle Wie will one day win a golf tournament.
Lorena Ochoa has been laying down some solid golf this year and her game certainly suits the Newport Course. Her top-5 position in Driving Distance will definitely set her up to attempt a few birdies this week, a statistical category she habitually leads.
Who's Not
Well this one is easy. Annika Sorenstam has most definitely not made her presence known on tour. Her usually dominant play has been missing and she has yet to make a charge like we're used to. Its hard for me to see her playing very well this week, but then again, Tiger is Tiger and Annika is Annika, so anything is possible.
TV Coverage Times
All times eastern (ET) unless otherwise noted.
Thu, June 29       ESPN      2:00 - 6:00
Fri, June 30       ESPN      2:00 - 6:00
Sat, July 1        NBC       3:00 - 6:00
Sun, July 2        NBC       3:00 - 6:00
Photo Credit: © Unknown.