Connecticut isn't exactly regarded as a mainstay of professional athleticism. Their only professional sports team are the New England Seawolves, who compete in the AFL. Perhaps it is for this reason that the crowds go bananas for their very own PGA Tour stop. This year is sure to please the Connecticut crowds once again with more stellar play from the best touring professionals in the world.

Last Year
Brad Faxon, a New England favorite, found himself nearly out of contention after two rounds of last year's Buick Championship. He made the cut by one stroke after a first round score of 69 followed by an uninspiring 71 to make the weekend at even par.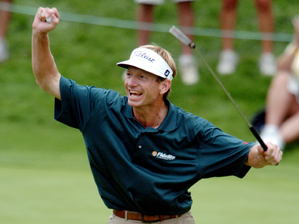 Faxon, considered one of the finest putters in the game, took 60 putts to finish his first two rounds, a feat with which many of us can sympathize. However, he seemed to have found his stroke by the weekend, taking only 48 putts in the last two rounds on greens that are slippery when wet. Fax finished the tournament off with a 65 and his career-best 61 to win the title in a playoff against South African Tjaart van der Walt. The stars seemed to align for Fax here last year as his greens in regulation percentage rose 10.6% from 61.6% to 72.2%. Another one of his stats that rose significantly was his scrambling percentage: up 23.1% from 56.9% to an even 80%.
The Course
Even today, in the age of ever-present course renovations, few courses have undergone the drastic changes that the Tournament Players Club at River Highlands has. Originally designed by a nephew of Donald Ross, the course was deemed to be in need of a little pick-me-up and the Tour turned to none other than Pete Dye, world-renowned course architect to ink up the plans. It seems that Dye restrained himself while working on the front nine, but let loose on the back nine, leaving the impression that the course has two distinct personalities. Bobby Weed was contracted to even out the flow of the course and built seven new holes, altering the eleven others.
Who's Hot

Irishman Padraig Harrington has backed up his solid performance at the U.S. Open with another quality performance at the Barclays last week. This leaves him in good standing to perform well again this week. Look the this guy to make some noise.
Another U.S. Open hopeful was Steve Stricker who also played well last week and should continue to trend upwards with more excellent golf. This course may benefit Stricker's game as he has the ability to control his ball very well.
Ben Curtis just dominated at the Barclays, finally ironing out the wrinkles on his reputation after winning the British Open and solidifying his place on tour. I hope to see a lot more birdies from this guy.
Who's Not

Well, seeing as this isn't tournament doesn't boast one of the larger purses the Tour sees during its season, many of the top players will not be playing this week. This will allow the rookies and journeymen a shot to make some cash money.
Despite his new PGA Tour commercial in which he says, "I'm not a super-hero. I just play one on TV." Camilo Villegas hasn't made much noise since the Tournament Player's Championship and Doral. Although he's not hot at the moment, I look to Spiderman to open a can of it this week.
TV Coverage Times
All times eastern (ET) unless otherwise noted.
Thu, June 29       USA      4:00 - 6:00pm
                   XM146    12:00 - 8:00pm
Fri, June 30       USA      4:00 - 6:00pm
                   XM146    12:00 - 8:00pm
Sat, July 1        ABC      3:00 - 6:00pm
                   XM146    10:00 - 8:00pm
Sun, July 2        ABC      3:00 - 6:00pm
                   XM146    12:00 - 8:00pm