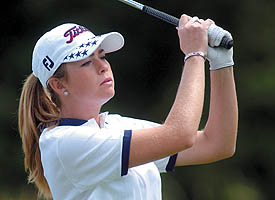 Paula Creamer's world is starting to open up, and she has an important decision to make: turn pro or not.
After ending up tied with Michelle Wie in the US Women's Open earlier in the year, she decided to remain an amateur and keep her options open for Q-School.
Now, she's sharing the medalist honors at the Futures Tour Q-School with soon-to-be pro Brittany Lincicome. Lincicome has already decided to turn pro, but Creamer is still keeping her options open after helping the United States team finish second (and personally finish seventh overall) in the Women's World Amateur Team Championships in October.
Just 18-years-old, Creamer is currently in the LPGA qualifying finals, which start Wednesday. If she doesn't get her LPGA card however, she still has the option of joining the Futures Tour. Saving that, she could always go to college and remain an amateur. Oddly enough, if she remains an amateur she could still compete in the Futures Tour as an amateur, and doesn't necessarily have to turn pro.