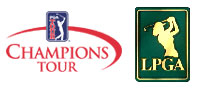 In yet another sign of the increasing importance of the Asian population to the LPGA's popularity, South Korea's SBS (Seoul Broadcasting System) will be sponsoring the LPGA's return to Hawaii in 2005. The LPGA announced that it will hold a $1,000,000 event at Arnold Palmer's course at Turtle Bay resort in February, marking the LPGA's first Hawaiian event in nearly three years.
Meanwhile, the Champions Tour announced that it was planning on keeping the SBC Championship at Oak Hill. Since its move from the Dominion Country Club in 2002, the SBC Championship at Oak Hill has "truly been one of our players' favorite courses", said Rick "Screw 'Em If They Can't Walk" George.
The SBC Championship will be held in October, 2005.