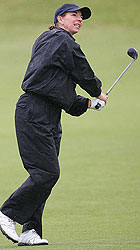 "Mom-on-Tour" and leader Kris Tschetter is sitting pretty in the clubhouse tonight after firing a 3-under 69 battling wind and rain. When asked if she considers herself a good player in tough conditions, Kris stated, "I don't really mind playing in bad weather. I figure it's the same for everyone, so you just have to stay patient. But for the last few years with my back, it was hard because my back gets so stiff, it's hard to keep swinging. I just try not to let it bother me. I think a lot of players show up, 'Oh, this is going to be a long day,' and their attitude gets bad right away."
Using a therapy that takes the inflammation out of her back called an ARP machine, advanced recovery performance, Tschetter credits an improvement in her game to this system, "I've already seen such a difference. I'm not as tired when I get done playing, and they say that's just the tip of the iceberg. I'm leasing one of their machines. I'll tell you what, it's unbelievable how much it's helped me."

At the Ironhorse Course at the Vanderbilt Legends Club, Kris maintained an even pace carding 6 birdies and 3 bogeys and is the only golfer today to have a round in the 60's. Playing the 10th hole first today, Tschetter used her 6-iron to drop a ball 50 feet from the hole then nailing the putt, but evened the score on the next hole, which she bogeyed. Tschetter's putting did not let her down as she sank a 20-footer on the 6th hole, a 396-yard par-4. She then placed her golf ball a foot from the hole with a sand wedge on the 7th for a birdie.
Playing on the Tour for 18 years, Tschetter's last tournament win came in 1992 with a victory at the Northgate Computer Classic.
Grace Park, Cristie Kerr and Stacy Prammanasudh are all tied for second place with a 2-under par 70. Returning after attending to recurring back problems, Grace took an early lead with birdies on three out of four holes, but bogeys on 7 and 9 kept her from taking the lead.
Stacy proclaimed about the conditions, "I was hitting the ball well off the tee, I hit a few errant iron shots. That's going to happen when you can't hit anything perfectly. I did make the one lengthy putt, but I gave that back with a three-putt, so it all balances out. The holes against the wind were pretty tough. Just had to stay patient out there and par was your friend."
Both Wendy Ward and Lorena Ochoa battled it out in a tie for 5th place with 7 other contenders. Ochoa played steady golf with two birdies and a bogey today. Ward's day was a bit more exciting, carding three bogeys but making it back with 4 birdies, never going on the plus side.
Natalie Gulbis and Karrie Webb are both currently in a tie for (44th place) finishing their rounds with a 4-over par. And, Annika's sister, Charlotta Sorenstam, is in the middle of the pack, scoring a disappointing 8-over par 80 in a tie for 115th!
Catch the action tomorrow on ESPN2 Apr 29 4:00-6:00 PM, Apr 30 2:00-4:00 PM and May 1st 3:00-5:00 PM (ET).
Pos   Player                Today    R1
1     Kris Tschetter          -3     69
T2    Grace Park              -2     70
T2    Cristie Kerr            -2     70
T2    Stacy Prammanasudh      -2     70
T5    Michelle Ellis          -1     71
T5    Wendy Ward              -1     71
T5    Lorena Ochoa            -1     71
T5    Sophie Gustafson        -1     71
T5    Hee-Won Han             -1     71
T5    Christina Kim           -1     71
T5    Rachel Hetherington     -1     71
Photo Credit: © AP.