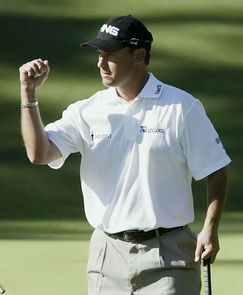 Chris DiMarco and Arjun Atwal share the lead at seven-under after the first-round at the Zurich Classic of New Orleans. Defending champion Vijay Singh, coming off of a win at last week's Shell Houston Open, is two-strokes back.
The Player's Club of Louisiana is the home of this year's Zurich Classic of New Orleans. The Zurich Classic has moved to the year-old TPC of Louisiana from its prior host course, English Turn. Many players whom did not play in the pro-am and only had the chance to play one practice round were unfamiliar with the new course. The windy conditions did not help their unfamiliarity with the course too much either.

This is Chris DiMarco's first event since his spectacular week at The Masters, where he was defeated in a playoff by Tiger Woods. During the first round today, DiMarco showed no sign of rust. He played well in today's windy conditions. "My irons are very crisp and when you hit crisp iron shots the wind doesn't affect them as much," said DiMarco.
Chris DiMarco started his round on the back nine with three birdies followed by a streak of five consecutive pars on the front side. On the front nine he also posted two birdies and made a lengthy eagle putt at the seventh to finish at seven under.
Arjun Atwal of India had a late streak of six birdies at the end of his first-round to finish at -7 also. Atwal was defeated in a playoff last month at the BellSouth Classic. This week he is focusing on his putting. Like many other players in the field, he was battling against the wind. "I just tried to make pars because it was so windy," Atwal said. "Then I got things going on the front nine."
Vijay Singh is lurking two strokes back at five-under par along with four other players. He had four bogeys but also posted an amazing seven birdies and one eagle to put him tied for second. Singh won this tournament last year at English Turn by one stroke. He also won last week at the Shell Houston Open.
Other notables of the first round are Tom Pernice Jr. (-5), Padraig Harrington (-4), Hank Kuehne (-3), and Hunter Haas (-1).
The weather forecast for Friday's second round calls for strong winds and a high temperature of 84&deg F. There is little chance of rain for Friday but a strong possibility of rain for the weekend rounds.
Pos    Player            Tot
T1     Chris DiMarco      -7
T1     Arjun Atwal        -7
T3     J.J. Henry         -5
T3     Tom Pernice, Jr.   -5
T3     Vijay Singh        -5
T3     Tim Clark          -5
Photo Credits: © AP Photo/Amy Sancetta