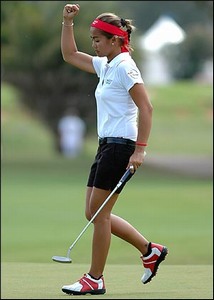 The LPGA kicked off the year with its first full-field event, the SBS Open. The final round concluded today and it was Jennifer Rosales who finished on top despite late round charges by both Michelle Wie and Cristie Kerr. Rosales finished the three round event with a final score of -9. J-Ro took advantage of optimal scoring conditions in the first round and jumped out to an early -7 lead. In the second and third rounds, the Hawaiian trade winds picked up and made scoring much more difficult. Rosales outlasted the competition thanks to rounds of 69 and 72 to seal her second victory on the LPGA Tour.
Although Rosales's victory was big news, the spotlight was shining squarely on the youngsters. Paula Creamer made her first start as a professional on the LPGA Tour, and 15 year-old Michelle Wie made her second start since teeing it up with the men at the Sony Open.

Early on in the round, it looked as though Rosales would pull away from the field, going as low as -11. However, she dumped her second shot into a water hazard on the 7th hole for a double bogie and scored two more bogies on the 13th and 15th holes. It looked as though Cristie Kerr would be able to catch Rosales, trimming the lead to just one stroke, but it was not to be as Kerr finished the back nine at +2 giving Rosales a 2 stroke victory.
Just how did Michelle Wie finish? Wie's performance at the SBS proved that she is more than capable of hanging with the best female golfers in the world in the toughest conditions. The youngster began the day five strokes off the lead, but dropped several birdie putts (including one on the 18th) to get within two strokes of Rosales. While she did show some signs of nerves on the tee box near the end of her round, Wie looked like a seasoned pro for the most part. Want more evidence of how good Wie is? She was the only player in the field to be under par all three rounds. Wie may not be ready to compete on the PGA Tour yet, but she should have answered any doubters who questioned her ability to compete on the LPGA Tour.
There was another young gun who garnered a lot of attention at the SBS Open. The last time we heard from Paula Creamer, she had just won the LPGA Q-School. Creamer finished T-40 in her LPGA debut, struggling in the windy conditions.
Pos   Name                 Tot   R1   R2   R3   Tot
 1    Jennifer Rosales     -8    66   69   73   208
T2    Michelle Wie         -6    70   70   70   210
T2    Cristie Kerr         -6    70   68   72   210
 4    Reilley Rankin       -4    71   66   75   212
T5    Heather Bowie        -3    68   75   70   213
T5    Hee-Won Han          -3    70   70   73   213
T7    Catriona Matthew     -2    75   69   70   214
T7    Tina Barrett         -2    72   70   72   214
T7    Carin Koch           -2    70   72   72   214
T7    Gloria Park          -2    73   69   72   214
T7    Nicole Perrot        -2    72   69   73   214
T7    Rosie Jones          -2    70   69   75   214
Photo Credit: © CNN-SI.