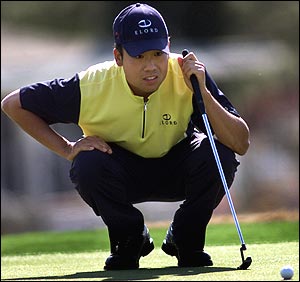 You better keep your eye on Kevin Na. He is the youngest player on the PGA tour but is getting used to feeling the weekend heat, finishing ahead of second round leader Calcavecchia. He finished tied for second at the FBR Open behind Phil Mickelson earlier this month and is showing maturity and poise against some great golfers this season. Na's 7 under 65 was good enough to tie Geoff Ogilvy for today's lead.
The PGA Tour is going to benefit greatly from young guns like Na breaking onto the scene and racking up wins early in their career. Look no further than the early years of Tiger's career to prove what a boost young talent can be to the game of golf.

Na said, "I've learned a lot from last year, playing on Tour. I played a lot of events – 32 in the States and 2 overseas, and all that tournament experience is helping a lot for me, and I'm playing a lot smarter." After Na's performance this weekend I'm inclined to believe him.
Na's highlights included four straight birdies starting at the third hole. He birdied the par-5 8th after a bogie at 7. Birdies at 10, 14 and an 82-foot chip for birdie at 15 rounded out his day.
Ogilvy avoided bogies all day long but didn't take the outright lead since he couldn't get crucial putts to drop. However, his consistent play this tournament has put him in a great position to bring home his first PGA win. Earlier this year, Ogilvy was leading into the final round of the Bob Hope Chrysler Classic, but lost to Justin Leonard. Perhaps Ogilvie will be better at chasing down a lead rather than defending it. Either way he knows what he has to do, "Par is not going to get the job done, so you have to keep going, make a few putts," said Ogilvie.
Mark Calcavecchia proved that yesterday's hero could falter today with his round of 71. He double bogied the 431-yard 11th by chunking two approach shots, and needs a low round tomorrow to get back into contention.
The leaderboard is tight at the top, so Sunday could prove to be anybody's day.
Pos  Name                 Tot    R1    R2    R3
T1   Kevin Na             -18    67    66    65
T1   Geoff Ogilvy         -18    65    66    67
 3   Doug Barron          -17    66    66    67
T4   Lucas Glover         -16    67    67    69
T4   Mark Calcavecchia    -16    64    65    71
T6   Darren Stiles        -15    64    70    67
T6   Brent Geiberger      -15    67    66    68
T6   Joe Ogilvie          -15    66    66    69
T9   Scott Gutschewski    -14    69    67    66
T9   Todd Fischer         -14    68    67    67