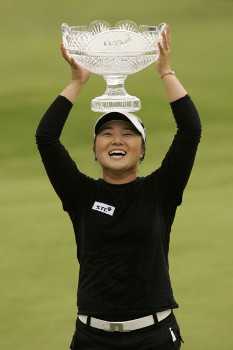 Playing alongside of the number-one female golfer in the world would intimidate most professional tour players but not 25-year old Jeong Jang. Looking cool as a cucumber Jang charged to a four-stroke lead to defeat Annika Sorenstam and all contenders for the crystal trophy posting a 16-under 272.
Jang is not only a first-time winner on the LPGA Tour after a six-year winless streak but like fellow South Korean Birdie Kim (U.S. Women's Open) has made her first career victory a major championship.
After sinking her birdie putt at the eighteenth Jang could only stand on the green at Royal Birkdale laughing while a flood of well-wishers poured bottles of champagne over her head. When asked how she felt after taking home the shimmering trophy and a first-place check of over $280,000 Jang responded, "Just great. How can I say more than that? I'm still nervous right now…more nervous than before!"

J.J. (as her friends on tour call her) is the only player this week to card all four rounds in the 60's. In round one Jang led by one stroke. Her second round score increased her lead to four strokes. By the end of the third round J.J. had a commanding five-stroke lead.
With a three-under par on her round today, the 5'2″ golfer only had one bogey and that was after making the turn at the 11th hole where she had trouble in a greenside bunker. Other than that one blip Jang played remarkably well. But nerves aren't always a bad thing. Sometimes nerves can make you focus more clearly on your goals. Earlier Jang had said to reporters that her goal was to shoot a 2-under par. Even though her caddy told her not to look at the scoreboard Jang said in broken but understandable English, "I just wanted to look at the board. I just want to know what was going on but caddy say 'no, no', but I did a couple of times anyway".
Annika Sorenstam wasn't that confident about her playing ability this week. Her putting was not up to snuff and she couldn't seem to find her rhythm. She missed birdie opportunities and found trouble spots. For example on the 16th hole Annika had the misfortune of hitting her ball into a small greenside bunker. Squatting low over the ball it took two strokes to get that ball out of the sand. She bogeyed that hole. On the 18th Sorenstam's drive wound up out-of-bounds and she was forced to play a provisional ball. That shot off the tee wound up in deep trouble as well and Annika finished her round with a double-bogey, obviously disappointed.
Always gracious, Annika had this to say about her playing partner Jang, "I'm not so disappointed. I think J.J. just played incredible. I think she would have been very hard to catch today. So my hat's off to her. She played excellent."
Annika still came out with a top-five finish bringing her 2005 top-ten finishes to nine out of twelve starts with six victories and total earnings to over $1.7 million. I guess she'll be text messaging her buddy Tiger Woods with a frowny face this time.
Sophie Gustafson was a player who had a chance of catching Jeong Jang today but couldn't keep up with the eighth Rolex First-Time Winner. Distance off the tee and early birdies helped move Gustafson up the leaderboard but her deficit was too great and she failed to make capitalize on the birdie opportunities at 17 and 18, two par-5's that are reachable in two strokes. Still, seven birdies are remarkable and although Gustafson hasn't had the best of seasons with only three top-ten finishes, her earnings will show a substantial increase from the $315,000 she has with a solo second place check of $175,000. Gustafson won in 2000, one year before the Open became a major championship.
Young Kim finished in a tie for third place with amateur Michelle Wie. With back-to-back birdies on the closing par-5's, Kim is another up-and-coming young gun on the LPGA tour. She has made 14 cuts out of 15 starts this season and finished strong today with a 69 on her scorecard.
Michelle Wie didn't make one birdie in her first nine holes today but finished strong placing back-to-back birdies on her final holes. Finishing with a bogey-free 69 Wie enjoyed her first links golf tournament. "Well, I'm pretty happy with the way I played my first British Open…but I just left so many putts out there." Michelle has decided that she will not compete in the Women's Amateur tournament next week calling it "too much of a stretch." Instead Wie said, "I'm going to have a nice long rest now."
Cristie Kerr finished in a tie for fifth with Annika Sorenstam. Even with her recurring injuries and two opening bogeys, Kerr managed to close out her round with a birdie at the 18th to go 1-under par today.
Natalie Gulbis claimed a top-ten finish with a tremendous round of 66 today. With only one minor setback at the par-4 13th, Gulbis birdied 4, 6, 7 and 8 on the front nine and closed out with three birdies on the back nine. Perhaps Natalie thinking that she couldn't win took the pressure off her game. "We were kind of playing for second today with Jeong Jang getting off to a five shot lead…I didn't think she was going to back off."
Paula Creamer (73) finished in a tie for 15th place. Although Paula had a one-over par for the day, a first-round 75 and two rounds in the 60's this week, reporters were focusing their attention on a rivalry between Creamer and Michelle Wie which is being made into more of a story than it really is. But Creamer put it best by saying they're good friends but "I just try to be the best player at the end of the day". I'm sure Michelle feels the same way Paula.
Pos   Player                  Today    Tot    R1    R2    R3    R4
1     Jeong Jang                -3     -16    68    66    69    69 
2     Sophie Gustafson          -5     -12    69    73    67    67 
T3    Young Kim                 -3     -10    74    68    67    69 
T3    Michelle Wie (a)          -3     -10    75    67    67    69 
T5    Liselotte Neumann         -2      -9    71    70    68    70 
T5    Cristie Kerr              -1      -9    73    66    69    71 
T5    Annika Sorenstam          -1      -9    73    69    66    71 
T8    Natalie Gulbis            -6      -8    76    70    68    66 
T8    Grace Park                -4      -8    77    68    67    68 
T8    Louise Stahle (a)         -3      -8    73    65    73    69
Photo Credit: © Pete Fontaine/WireImage.com.