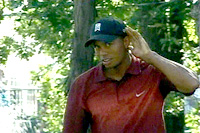 Vijay Singh simply had too big a lead and Tiger Woods simply played the first eight holes horribly on Saturday and Sunday. End result? A comfortable four-stroke victory by world #2 Vijay Singh, his fourth of the year (and his second consecutive Buick Open). Singh is now the only player to win the Buick Open three times.
Tiger could only listen (screen capture credit to Tony @ HOG) as Vijay withstood a back-nine 30 by the world's highest-ranked player. That 30 included a bogey at the last when he nearly missed the fairway to the right – that is, the adjacent fairway – and couldn't get up and down from a greenside bunker.

Of course, "what if" plagues Vijay Singh's mind, too. He's the only player – aside from Tiger Woods – to finish in the top six of each of the first three majors (T5 Masters, T6 U.S. Open, T5 British Open). Statistically, Vijay Singh was last or next-to-last in each of those tournaments. Oh what could have been…
New Never Compromise mallet putter in hand (Vijay says he found it laying around in his garage), Vijay putted confidently all week, holing putts from everywhere throughout the week. This tournament marked the beginning of Vijay's tear last year, winning six of eight tournaments, and it's safe to say that although Tiger is Back, Vijay never Left.
Who among the TV viewers enjoyed watching Singh less than Mr. Woods, however? When Tiger is in contention – or even ten shots back as he was at one point today – the broadcast is all the more compelling. Tiger nearly got to within two shots of the Fijian before Vijay birdied 16 and Tiger bogeyed 18. Woods on Saturday got up-and-down from a water hazard for a birdie at the 16th, holing a 60-foot putt in the process. His back-to-back eagles on Friday (followed by two birdies) were exciting. And the little run he made on Sunday made things interesting, too, but ended in a fizzle with that wayward drive and bogey at the last.
Zach Johnson played well and managed to best Singh by one on Sunday, but started the day five back. Dudley Hart and Robert Allenby played Leaderboard Jumping, moving from well down to 5th and 4th with a 66 and a 65, respectively. Jim Furyk had a solid tournament, finishing up T6 with four rounds under par. Sean O'Hair, rookie sensation, did the same and managed a T8. Chris DiMarco finally found his game again, finishing T12, but stumbled in the final round to a +1 73. And hey, lookee there: Larry Mize, one of the worst players to have won a major, finished T18 at -13.
If my calculations are correct, Tiger will retain more than a four-point cushion in the Official World Golf Ranking. I expect the totals to about about 16.43 to 12.11. Ernie Els should slip to about 9.21 or so (and will fall much further this year due to his injury).
Pos   Player               Tot    R1    R2    R3    R4    Tot
1     Vijay Singh          -24    65    66    63    70    264
T2    Tiger Woods          -20    71    61    70    66    268
T2    Zach Johnson         -20    68    66    65    69    268
4     Robert Allenby       -18    70    65    70    65    270
5     Dudley Hart          -17    68    66    71    66    271
T6    Jeff Brehaut         -16    68    67    69    68    272
T6    Jim Furyk            -16    66    71    67    68    272
T8    Heath Slocum         -15    70    68    68    67    273
T8    Richard S. Johnson   -15    69    69    67    68    273
T8    Craig Barlow         -15    66    67    71    69    273
T8    Sean O'Hair          -15    70    66    66    71    273
T12   Stephen Leaney       -14    71    68    67    68    274
T12   Daniel Chopra        -14    71    66    68    69    274
T12   Fred Funk            -14    68    66    70    70    274
T12   Steve Lowery         -14    69    66    68    71    274
T12   Chris DiMarco        -14    70    65    66    73    274
T12   Geoff Ogilvy         -14    66    71    65    72    274