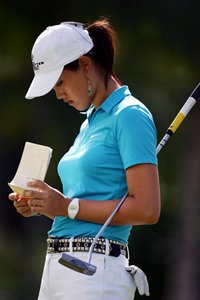 The first comprehensive world rankings system for women has been released. As you would expect, Annika Sorenstam tops the list. Her place atop the list was a foregone conclusion, but the placement of some other gal golfers has many scratching their heads in confusion.
Most notably, rookie Michelle Wie occupies the third spot on the list with a 9.24 points Average, sandwiched between Paula Creamer (second place with 9.56) and Cristie Kerr (6.94).
Creamer and Kerr combine for eight career LPGA victories while Wie has a big goose egg in professional golf. Kerr voiced her opinion on this matter, saying "Michelle is a sweet girl, she really is, but she hasn't done anything worthy of being ranked so high." While this may seem true, the Women's World Golf Ranking doesn't rank players the same way the men's system works.

The major difference are that all women (both amateur and professional) can be ranked after playing only 15 events on the LPGA, LET, JLPGA, KLPGA, ALPG, or LGU (as opposed to 40 events for the men's ranking system). The system still uses a two-year rolling period, and Wie's placement in some of the LPGA majors in which she's played have served her well.
The 15-event rule has also allowed infrequent players eligibility into the rankings, including Wie. Additionally, the most recent 13 weeks of tournament play are weighed more heavily than previous tournaments, which goes a little towards explaining why Creamer placed ahead of Kerr despite having significantly fewer career victories.
Other notables on the list include:
Rank   Player              Points Average        Events
1      Sorenstam, Annika        18.47              41
2      Creamer, Paula            9.65              35
3      Wie, Michelle             9.24              15
5      Kerr, Cristie             6.94              48
6      Miyazato, Ai              6.58              55
10     Inkster, Juli             4.11              42
18     Gulbis, Natalie           3.38              57
28     Kim, Christina            2.86              62
(Complete rankings available here.)
Rankings systems are always hotly contested, debated, argued, and dismissed. It remains to be seen whether this ranking system, like its counterpart for men, will at least be considered mildly accurate. Placing a career non-winner in the third spot gets it off to a dubious start.