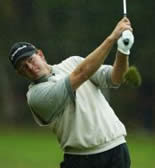 Who says it never rains in England? Well, no-one, frankly, and with good reason. The first round of the HSBC World Match Play Championship was heavily disrupted by rain, which meant that only one match out of the eight 36-hole first round matches was settled before the close of play, with US Open champion Retief Goosen crushing Jeff Maggert 12&11. Goosen was 8 up after the first 18 holes, and only required a further 7 holes to complete the rout and set a new record for the largest margin of victory in the event.
The delay has given me the opportunity to make some predictions for what's left of the first round, and I'll do the same for the remaining rounds. Post your predictions on here too, and we'll see who comes out tops!
Read the extended entry for my predictions.

Match 1: Els vs. Drummond (Els currently 2 up after 34)
This one's a no brainer; I'll be very surprised if 5 time winner Els loses from dormie 2.
Match 2: KJ Choi vs. Angel Cabrera (Cabrera 1 up after 33)
Gotta give this one to Cabrera. Choi will find it hard to make up ground on the big-hitting Cabrera over Wentworth's 5-5 finish.
Match 3: Harrington vs. Riley (all square after 32)
Harrington's a great match player, so I'll give him the edge here.
Match 4: Levet vs. Weir (all square after 32)
A close one, but I'll give this one to Weir.
Match 5: Goosen beat Maggert 12&11
'Nuff said.
Match 6: Hamilton vs. Westwood (Westwood 3 up after 29)
Another obvious choice I suppose, but I've got to go with Westwood.
Match 7: Jimenez vs. Flesch (all square after 26)
Tough call, but my money's on Jimenez.
Match 8: Singh vs. Langer (Langer 2 up after 26)
Sorry Bernhard, Singh's got enough holes to make up the 2 hole deficit and claim victory.