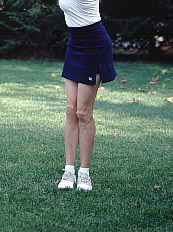 When my swing feels rushed or I sense that I'm out of balance, I always revert to one very simple drill: I put my feet together and hit shots. The steps?
Put your feet together
Swing
Don't fall over
Start slow, and build up to faster swings. With your feet together, you'll be forced to make a smoother, more balanced swing. Your tempo may improve, as any sudden changes will result in a loss of balance. Your head will stay more centered (if it sways, you'll topple!) and you'll use your shoulder and hip turn to generate power. You should be able to hit most of your shots at least 80 to 90% as far as normal.
This drill is perhaps one of the purest drills for improving your golf game.