11:27 – Verplank halves the 15th to win his match 3&2. Mickelson and DiMarco are both down dormie two on the 17th, likely losses. There will be no record-setting loss today for the U.S. team. Just a record-tying one. Ugh. Final score: U.S. 9½, Europe 18½.
11:23 – If the matches finish the way they are, Europe will have won the last three rounds of singles play, today 3½-8½. Over those three years, the score is 23½-12½ in favor of the Europeans.

11:20 – A man streaks. On his stomach he has written "cocky" with an arrow pointing down. Paul McGinley concedes JJ Henry his long birdie putt to halve the match.
11:08 – Scott Verplank scores the first hole in one for the U.S. team in the Ryder Cup at the 14th! The highlight reel play continues! Padraig, from the tee, has "this to halve the hole" jokes Dan Hicks. He sticks it to four feet, but does down dormie four.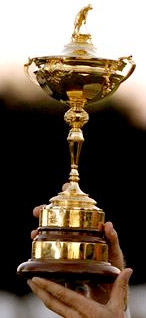 11:07 – If the Ryder Cup continues to go this way – this badly for the U.S. – it's not like we can take Canada. They already play against the U.S. in the Presidents Cup.
11:05 – EA Sports needs to give Tiger Woods – the video game – a "Ryder Cup" mode. That may be the only way to get the U.S. team "in the game."
10:56 – Zach Johnson does the right thing and concedes Darren Clarke's three-footer for par at the 16th. Clarke's bottled up emotions are let loose, and Lehman and Woosnam both embrace him. There is no doubt: Garcia may have won more points, but Darren Clarke is the man of the matches. 8-16.
10:52 – Johnny Miller: "If you can get by who won, it's just been fantastic the shots and the clutch putts and chip-ins." True. Still, a beat-down all the same.
10:44 – Mark Rolfing calls the water hazard at the 17th a lateral hazard, despite the obvious yellow line. Derrrr. Donald makes his par putt to win 2&1 and to officially win the Ryder Cup outright. Stenson drops in a short putt to win 4&3 over Taylor. The score is 8-15.
10:41 – David Howell birdies to retain the Ryder Cup for Europe, beating Brett Wetterich 5&4. The Ryder Cup is over. All the U.S. can do now is try to avoid being beat down as badly as they were at Oakland Hills.
10:35 – Clarke holes yet another long one at the 15th to go to dormie three. Vaughn Taylor loses a hole to go down dormie four. Europe is on pace to win in a very lopsided fashion. At 8-12, Europe leads six other matches, is all square in one, and is losing only one. That's 9½-18½. The score at Oakland Hills? 18½-9½. Yeah, that bad.
10:29 – Mickelson dunks one in the water at the 12th. I used to think Phil was a phony, but didn't have feelings one way or the other for him. His play in this Ryder Cup – and lack of preparation – has tilted the needle towards actual dislike. It's despicable. Last Ryder Cup he changed clubs right before the event. Remember?
10:27 – NBC shows footage of Stevie. He was leaning over to get the end of the towel wet and his foot slipped on the rock. WHOOP! Down goes Stevie and the 9-iron goes in the water. Stevie acts like nothing happened. Tiger wanders over to peek into the water.
10:21 – Campbell, two down on the 16th, goes for the green with a hybrid. He finds the green about 30 feet from the cup after Donald was already forced to lay up.
10:16 – In a post-round interview, Tiger Woods tells the story of how Stevie Williams was cleaning his 9-iron in the water at the 7th hole, slipped, and dropped the club into the water. "It was Stevie or the 9-iron," said Dottie, and "the water there is deep" added Tiger. Woods got the club back on the 15th. Casey ends his match on the 17th, 2&1, birdieing from 30 feet. 8-12 Europe.
10:12 – Tiger wins 3&2. His Ryder Cup record is 3-2-0 and he leads the U.S. team with three points. He'll lead the U.S. team. Furyk, at dormie, will not be capable of tying him. Personally, I'm already trying to get psyched for today's Steelers game.
10:03 – Furyk eagles the 16th to go to down dormie two. His putt from the fringe travelled at least 60 feet. The hole is the size of a bucket right now. Johnny Miller talks about the ongoing highlight reel put on by both sides.
09:58 – The few U.S. leads are all 1-up or 2-up. The Euro leads are predominantly 3-up or more. Darren Clarke holes a 90-foot putt from just out of the bunker and all the way across the twelfth green to win yet another hole.
09:49 – Furyk misses. Casey goes dormie. Montgomerie sticks his bunker shot on 18 to about six feet. Toms likely has to make his 60-foot eagle putt to halve the match. He misses badly. Then Monty makes to send the matches to 7-11. Maybe they can buy a slushie while they're there (sorry).
09:48 – Casey misses his birdie after sticking it from the rough and through the trees on 15. Furyk has a shorter birdie putt to win the hole and stay alive. Campbell goes in the water and falls two down to Donald.
09:40 – Furyk drops a long birdie in on top of Casey's to remain three down with four to play. Phil Mickelson holes a long one, but Olazabal dumps it in on top of him to remain one up. After the commercial break Darren Clarke drops a bomb to go to three up, and Westwood goes five up through seven over DiMarco.
09:36 – Toms birdies at 17 after Monty putts close for par – can Toms pull out a half? Donald birdies at 12 to win a hole and go up over Campbell. Garcia chips in to stay alive against Cink, but Cink makes the 25-footer to end the match, 4&3. The first match to end goes the U.S.'s way, but it will be one of the few to end that way today. Cink made seven birdies in 15 holes. Cink is currently the leading point-earner with 2½ points for the U.S. Woods will likely beat him later today.
09:33 – DiMarco falls to four down through six. Both he and Phil Mickelson have flat out sucked in this year's matches. Let the second guessing begin: Mickelson and DiMarco should have sat out a lot more than they did.
09:30 – Campbell and Donald both have ten consecutive pars (and thus ten consecutive halves). Who will blink first? Monty barely clears the hazard on 17 – can Toms win the last two holes?
09:27 – Current score: 3-1-8. One each of matches (Garcia/Cink and Monty/Toms) are all but a lock.
09:23 – Why are the Europeans wearing red-striped shirts and red sweater vests? They're the blue team. And the U.S. is wearing blue hats and blue vests with red shirts beneath. Halved in par, Monty goes dormie against Toms with two to play. Garcia goes dormie down to Cink with four to play.
09:17 – Cink drains another bomb, this one from about 35 feet, to match Garcia's birdie from 20 feet. Garcia is four down with five to play. Garcia is not playing badly, but his undefeated record will be soiled today.
09:10 – Stenson birdies to go one up from all square. It's now 3-2-7. Reverse it and the U.S. ties… but this isn't a board game and you can't just flip every match. The U.S. is set to lose big. Not as big as Oakland Hills, but big nonetheless.
09:09 – Montgomerie is 2-up with three to play over Toms. Furyk gets a ball to trickle in and pulls to three down with seven to play.
09:04 – Cink makes a 65-footer to take the lead back to 4-up over Garcia. Unfortunately, he's one of three Americans leading: the score is 3-3-6 currently.
09:03 – According to NBC's display, Montgomerie has 1173 yards to the hole. On Friday, someone was shown to have 198000 yards to the hole (which Gary Koch incorrectly read as 19,800). Woods falls to only one up after his bunker duff.
09:00 – Splash! Zach Johnson, already one down, gets wet at the seventh. Woods duffs a greenside bunker shot and Verplank stuffs one at the par-three third.
08:46 – With all the talk about the selection process this year, I'm surprised it hasn't been mentioned yet in TV coverage. What changes would you make? I like Lehman's tactic – the top 10 American finishers per week, and the majors should be weighted higher.
08:43 – Gary Koch incorrectly interprets what Tiger means when he says he "putts to the picture" as Tiger holes a birdie to win another hole against Karlsson.
08:41 – The matches fall to 3-4-5. If the Ryder Cup ended now, the Europeans would have 17 points.
08:29 – Through eleven matches, four European flags appear on the scoreboard. Only three American flags appear. Four matches are all square. I'll represent this as 3-4-4 in the future: US-tied-Euro. The U.S. needs 8-1-3, 7-3-2, 6-5-1, or 5-7-0 to win today.
08:23 – Montgomerie, from a fairway bunker at the 11th, hits the rocks surrounding the greenside pond and the ball caroms back to the fringe.
08:20 – Cink and Garcia manage to halve a hole (the ninth). Cink remains four up with nine to play. Furyk loses yet another to fall to four down through eight against Paul Casey. Furyk has never lost a singles match. He will today.
08:09 – Furyk misses a short birdie putt to go three down to Paul Casey. Cink loses a hole to Sergio Garcia after hitting the ball in the water. In eight holes, not a single hole has been halved between the two.
08:05 – Do we really need a five-minute sports report at 8am? It's all yesterday's news.
07:56 – Miller has commented several times on the fact that Toms has given Monty several three-ish foot putts early in the match. Toms is forced to putt from inside three feet on the ninth. The gimmes will stop soon from Toms. Garcia finds the water on the seventh, already four down. Cink's match may be over in no time – he goes to five up through seven.
07:52 – "Nobody hates to lose more than Vaughn Taylor," said Lehman. Yet now he's playing in only his second match. He birdies the first hole to go one up. After the commercial break, Tiger birdies from eight feet to go two up.
07:50 – Tiger looks on. Where's he been the first few days? Earlier, the announcers speculated that perhaps not having a partner has freed up his thought process. Eh, maybe. I don't think Tiger is mentally weak enough to let extra thoughts bug him.
07:47 – Europe leads in three matches and two are halved. If the Ryder Cup ended now – without the last four matches having teed off – Europe would retain the Cup.
07:45 – For having the first and second day's play on tape delay, viewers saw very few golf shots. Sadly, with today's live coverage, that trend seems to be continuing. Show more golf! Show less of the players walking around, talking with their caddies, etc.
07:41 – Tiger puts the second American flag in eight matches or so on the scoreboard, birdieing the par-five fourth.
07:39 – Zach Johnson is the only rookie on either side to win a match. The U.S. has four rookies, Europe two (or is it three?).
07:36 – The live scoring page at rydercup.com is behind NBC. No spoilers today!
07:32 – Lehman on what he told his team: "They're relaxed and ready for today. I told them they've been preparing for a day like today all their life, and today is a chance to fulfill all your dreams. How sweet would it be to do it to them twice?" Roberts then asks Lehman what his biggest fear is today. "No fear" says Lehman. Duh. What else would he say? This isn't court – you're allowed to ask questions to which you don't already know the answer.
07:27 – Cink – this time from the fairway – stuffs another inside five feet. Where was this all week? Where was it yesterday in the alternate shot, where he was blown out with Zach Johnson? Methinks the U.S. team should play more better-ball and alternate shot in their betting matches in practice rounds at PGA Tour stops.
07:23 – Toms stuffs a hybrid to about eight feet on the 478-yard par four sixth against Montgomerie. This follows Tiger's chip from behind the third, which he halves despite Karlsson's stuffed 8-iron.
07:19 – Stewart Cink came to play… but he keeps winning holes from the rough. Find the fairway, Stewart! Cink is the only U.S. member winning his match out of six, currently.
07:16 – Colin Montgomerie made the point that Brookline wasn't 10-6, it was 10-9 because Europe had three rookies and Tiger, Phil, and other U.S. stalwarts were playing them. Monty feels the Euro team is much different now than it was in 1999. And, you know, he's right.
07:15 – In 16 matches played thus far, the U.S. has won only three of them. They'll need at least twice that to win the Ryder Cup today (six wins + five halves is 8½ points… which would get the U.S. to 14½).
07:13 – If you're watching this live, say hello in the comments below.
07:09 – Consider this. 10-6 is seemingly insurmountable, but every session has been 2½ to 1½ in favor of Europe. Europe has made all the important putts (or chips!) and the U.S. has been burning the edge. Consider this fact: if one putt had gone the other way – either for the U.S. or Europe – in one of the four matches per session, it would be 8-8. That's how close it's been, and that despite the fact that the U.S. team has played horribly.
07:02 – Garcia is on his own today – no more team play for The Serge. Cink has a two-up lead on Garcia in two holes. Fortunately, Sergio is forced to wear team colors, so no more solid yellow.
07:00 – The U.S. has a long, long road ahead of them. They likely will not win the Ryder Cup again. Europe needs only eight halves, four wins, or any combination of the two among the twelve singles matches today.