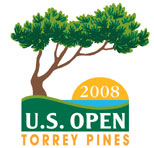 We're live blogging the final round of the 2008 U.S. Open at Torrey Pines.
This Sunday, we'll find out the answers to several questions:
Can Tiger overcome what is clearly a lot of pain, elevating himself to even greater heights in completing his third career grand slam?
Can Tiger top his back nines on Friday or Saturday? Will he even need to?
Can Lee Westwood become the first European to win the U.S. Open since Tony Jacklin?
Will Rocco regain his form and put on a show? How about D.J. Trahan, Geoff Ogilvy, Robert Karlsson, or any of the others within five shots of Tiger?
Could someone possibly fire a Johnny Miller-like 63 to come from well back?
Click through to read the live blog.

15:06:47: Bob Costas starts us off. Yawn. Tiger tees off in 83 minutes, and you can expect about 52 of those 83 minutes to discuss Tiger almost exclusively. The other 31 minutes will be commercials.
15:12:09: I will admit to being disappointed in how few shots they showed of John Atkinson shooting his 114. It was his day, yet we saw the celebrities 95% of the time. Lame. I think next year (assuming they do that again) they should get four no-name players with handicaps of about scratch, 3, 6, and 9.
15:14:57: Only 15 minutes until we see an actual golf shot. Jim Furyk birdies the first. There are some low scores out there – Carl Pettersson is -3 through six, Eric Axley is -2 through four, and Heath Slocum is -5 through 16. My -2 winning score prediction isn't looking so good right now.
15:19:44: The holes are located in the same spots (roughly) as they were during the "U.S. Open Challenge," so I wonder if any of the pros had a scout out to watch the round or anything. I like the holes on the second and third in particular. The tees are up to 277 on the 14th, the tees are back on the 13th, and the pin is front right on the 18th.
15:38:15: Good to see some amateurs playing well at the U.S. Open. Phil's "nice little run" is two birdies in a row. He'll be 39 tomorrow. Heath Slocum knocks it tight at the last hole and converts for a 65.
15:48:31: Hey look, it's that Lexus commercial again. Did you know Lexus – along with Rolex and American Express – are partners with the USGA? The USGA must like companies with "ex" in the name. Oh wait, there's IBM and RBS, too. OK, so it's either "ex" in the name or an acronym.
15:59:11: 30 minutes to go. Anyone that can predict Tiger's score, Lee's score, and Rocco's score before 5pm eastern time will win a free copy of Scorecard.
16:14:58: Phil's in at +6 after rounds of 71, 75, 76, and 68.
16:21:08: Rocco tees off after Ogilvy (left rough) and finds the fairway. Ogilvy would short-side himself and Rocco would take an aggressive route, but end up in the bunker.
16:30:27: It's that time. Lee goes right. Tiger, who's made six, five, and six on this hole, and wearing his usual Sunday red, backs off after a good shot on 18, then goes "left to left" in the words of Roger Maltbie. He's over the heads of most of the gallery that was there to watch.
16:36:18: Tiger's ball is "in a little nest," but he "has a wide open alleyway." Ahead, Ogilvy and Rocco hit great shots and save their pars.
16:38:33: Tiger yanks it left, hits a tree, and is still in a bad spot. It's like Phil Mickelson at Winged Foot's 18th hole, except this is on the other coast and the first hole. Lee Westwood has a good lie, but misses the green miserably to the right. Rocco, from 127 at the second, hits it to four feet.
16:42:10: Tiger has to go under a tree, but doesn't, and is still 85 yards away and in the hay. He hacks out and lies four fifteen feet short of the green. Ahead, Rocco birdies to get to -2 and to re-take the lead.
16:44:53: Tiger cozies his fifth shot up to three feet for six. Lee will likely miss his to fall to -1, even with Tiger and one back of Rocco. It's inconceivable to think that Tiger Woods will make 23 on the opening par four this week, but only 14 to 17 on the 13th hole, a par five.
16:47:18: Rocco nearly aces the third. Tiger's group is now an entire hole behind after one hole. That might help Rocco – he'll be farther away from any "Tiger Roars." Johnny says Rocco "looks like the guy that cleans Tiger's swimming pool."
16:50:26: Tiger with driver on the second, no good, and way right. We get an early grimace and Tiger looks to be in bad, bad shape. Regardless, Tiger's turned a birdie hole into one where he's just going to have to try to stay at -1 with a par. Is Tiger's knee problem making him force the issue and make mental mistakes? Rocco misses his short birdie putt and taps in for par at the third.
16:55:37: Tiger hacks out to the front portion of the green – a tough two-putt. Westwood finds the back right of the green. Mediate, on the fourth, misses in the first cut to the right. Ogilvy yanks his left on the fourth and hits it off land.
16:57:43: Tiger's not making any excuses with his knee, and I'm not going to either. He says it only hurts after impact, so I'm not sure why he wouldn't just load up on cortisone if there's truly no risk of doing further damage.
16:58:22: Tiger's first putt is well short of the cup, and he'll face a six footer for par. Rocco, from 208, leaves himself short of the fourth. Ogilvy drops, and from 190, finds the left front bunker. It buries. Westwood's birdie from 20 feet for a share of the lead loses speed and misses low. Tiger misses his six-foot par putt and falls back to E, starting 6-5.
17:04:27: Rocco makes a relatively easy par at the fourth. At the third, Westwood makes a great shot and leaves himself on the proper tier. Tiger's ball comes to rest about three feet outside of Lee's, on the same line, and just barely above the ridge that would carry his ball 15 feet further away.
17:09:02: Alan: "Stevie should break Tiger's driver." Me: "I don't know why he's trying to hit things hard. He should smooth everything."
17:09:26: Tiger's birdie putt goes begging short. Westwood had a good look at the line. Rocco finds the fairway with his draw at the fifth, despite the dogleg right nature of the hole. Lee Westwood misses, and Luke Donald Golf comes to a close as he gets attended to by a medic and WDs.
17:13:28: We have an AOL IM chat room going. If you'd like to join, the name is "usopen2k8". Join up, have a chat.
17:13:49: Tiger, still a hole behind, smooths one off the fourth tee and finds the fairway. Roger Maltbie tells us that the group has been told to pick up their pace. Mediate's birdie chip from the back of the green, with the pin out, comes up eight feet short. Ogilvy rolls his birdie putt in to get back to +1.
17:18:12: Tiger hits a big hook, and Johnny says "when you hit a big hook, it goes longer." Tiger finds the back of the green and will have a long birdie putt. Rocco misses his par putt right, and Westwood, from the fairway bunker, uses the hills to the right of the green and his ball gets kicked even further back than Tiger's. Both were somewhat unlucky.
17:25:10: Tiger's birdie putt at four just misses low. He'll par, as will Westwood. Rocco finds the fairway at the sixth, another left-to-right dogleg. "ProTracer" shows that drive to be pretty straight. Current top four are Rocco and Lee at -1, Tiger at E, and Ogilvy at +1. Ogilvy was in the penultimate group when he won at Winged Foot in 2006.
17:28:07: Lee finds the garbage on the fifth, except it's all browned out and may not present much of a problem. Tiger chooses the 3-wood, smooths one out there, but still winces after sending the ball along its way.
17:29:59: News flash: Ernie Els can't putt. Oh wait, that's not news.
17:30:12: Ogilvy, from the right rough, hits a great shot. Rocco is short and right but still in short grass.
17:32:37: "This lie, with the ball below his feet, will put even more pressure on his knee." I don't know about you, but I'm getting tired of hearing the word "knee." I'd trade hearing about the "marine layer" (i.e. fog) if I didn't have to hear 20 knee references per minute. Tiger finds the green, 40 feet away. He's likely going to need some birdies, and I don't think he can wait until the par fives today. Rocco chips strongly past the hole. Westwood's lie is one you "couldn't pray for" to be so good.
17:34:30: During yesterday's coverage, my five-year-old asked if "Rocco Bama" was playing. She had voted for "Rock Bama" in her mock election at school because "Hillary kills unborn babies." We later told her his name was "Ba"rock "O"bama. Anyway, Rocco Bama misses his par putt to fall back to E, now tied with Tiger behind Westwood, who bounces over the fifth green. He would recover nicely and make par.
17:40:06: Rocco finds the bunker on the 7th and his ball appears to sit down. Lee -1, Bama and Tiger E, Ogilvy +1.
17:42:22: Heath Slocum's 65, by the way, have given him the lead in the clubhouse at +4. He'll likely be moving up from his current T12 position. Lee finds the fairway at the sixth. Tiger hits and winces, but finds the fairway. Again, the pain occurs after impact.
17:43:58: Allow me a mini-rant on the stupid "NBCEEIT" "technology." It's called ZOOM, idiots, and that's all it is. If I lean in a little closer to my TV, that's the equivalent of your "technology." Lame. Good golly how I miss CBS's SwingVision.
17:45:03: Rocco dumps his ball into the front right bunker. Els can't putt, so he's decided to chip everything in. He gets to +2, tied with Karlsson.
17:47:01: Pettersson two-putts for birdie at the last to take the clubhouse lead at +3 after a -3 round of 68. Westwood, 182 out on the sixth, and from the first cut on the right, hits to about 35 feet. Rocco chops out of the bunker to four or five feet. Tiger comes up short and his ball sucks backwards. He's 25 yards short of the green. Ogilvy, a hole ahead, drops a ball in the side door to get to E, tied with Tiger for second place, one shot back. Rocco rolls his par putt in.
17:51:02: Brandt Snedeker drops his coin on the golf ball resulting in a penalty stroke. We see him discussing it with a rules official on the ninth tee. Trahan birdies the eighth to get to +3. Els misses another short birdie putt that would have put him to +1.
17:52:01: Tiger tries a chip and run that stays high and will tap in for par. Ogilvy yanks his shot onto the green at the eighth. Bama finds the green right, 25 feet away. Westwood's birdie putt takes a peek but rolls four feet past at the sixth.
17:58:13: Does Ed Burns even play golf? Where's "hole-in-one kid" and "rainy day golfer"?
17:59:01: Lee (still no nickname) finds the fairway at the seventh with a great drive. Tiger finds the right rough but the ball appears to be sitting up. Ogilvy, on the eighth, nearly rolls in a long one.
18:01:07: Tiger, 165 to the hole, wind from the right. He moves a bug away from his ball. He can't go long. Tiger stares at it. His ball doesn't jump, but sits 25 feet below the hole. Shepherd Lee gets his ball just inside.
18:04:16: I still don't understand why there are windmills and dinosaurs on Torrey Pines. I know what they're trying to say ("have fun, like mini golf when you were a kid"), but it's not working.
18:05:55: Tiger leaves his birdie putt well short. Ernie, from inside of 20 feet, again misses a birdie putt. "He could be just lighting it up today" says Johnny. Ogilvy finds the bunker left of the ninth.
18:10:09: Lee stuffs it to seven feet at the eighth. He's still leading three players by a shot. Tiger stares at his shot but leaves it short and in the bunker. "I wonder if he's not getting the power he normally gets and he hasn't adjusted" wonders Johnny.
18:13:33: Ogilvy, from a poor layup at the ninth, chases it through the back of the green. Tiger blasts to three feet from the bunker. Bama, from the intermediate cut at the ninth, also chases it just over the back of the green.
18:15:35: The Shepherd misses his short birdie putt at the eighth. Karlsson makes a birdie to get to +2. He's -8 on the back nine. Bama's chip drifts five feet beyond. Ogilvy's, previously, was left seven feet short.
18:18:28: Ogilvy misses his putt and makes bogey at the ninth. The Shepherd stripes one down the ninth fairway. Els finds the bunker with his third shot on the 13th. Bama rolls his par putt in at the ninth. Tiger, wincing yet again, flies The Shepherd's ball and finds the fairway 30 yards beyond. The Shepherd -1, Bama and Tiger E, and Ogilvy +1. Lee is playing well, with Tiger.
18:23:23: Ernie blasts out to seven feet, nearly holing his bunker shot. He'd hole the par putt. The Shepherd has a fairway wood pulled. The pin is back left, and Peter Jacobsen says you can't go long. He would find the front right bunker – a long bunker shot. Tiger, from 267 and with an iron, backs off. No wince, and the ball finds the putting surface. Two putts will give Tiger a birdie.
18:29:03: Bama stuffs it to six feet at the tenth. The Shepherd plays beautifully from the bunker to six feet. We get our first look at the 14th as Ernie Els pulls his 3-wood. He short-sides himself on the downslope of a bunker – par will be about all he can expect.
18:31:09: Tiger leaves his eagle putt short, but should tap in for birdie to move back to -1. Westwood can clean up his six-footer to move to -2, and Bama is likely to get to -1 again, making the leaderboard Shepherd -2, Bama and Tiger -1, and Ogilvy +2 (as he misses a par putt at the tenth).
18:33:53: D.J. Trahan gets to +2 with Els and Ogilvy. They're four back of The Shepherd and three back of Bama and Tiger. The Shepherd retains the honor (Tiger's yet to tee off first today) at the tenth and, with his 3W, sends it into the lip of the left fairway bunker. Tiger is +1 on the back, the Shepherd -3. Tiger's 3W finds the fairway. "He's not grimacing as much" notes Johnny.
18:39:08: Tiger, to a back right pin, sticks it to eight feet right over the top of the flag. Ernie, hitting his third from the bunker, rolls out to six feet. The Shepherd, from 129 and in the bunker, skulls it and flies the entire green and under the grandstands. He'll have to use the nappy drop zone. We could see a two-shot swing here. Bama pitches out from left of the 11th to about eight feet.
18:42:30: Bama, with 13 putts through 10 holes, saves par and makes it 14 putts through 11 holes. Ernie saves par. The Shepherd drops into a hay field. David Fay tells us about the drop zones they first implemented at Winged Foot. The Shepherd's ball shoots out 35+ feet from the hole.
18:44:35: Bama finds the first cut of rough on the long, par-four 12th. Ernie, at the 15th, leans left and misses well right. The SHepherd's par putt misses. He'll fall back to -1. Tiger can make his putt to take the lead. He leaves it out to the right, though, and will only par. Tiger, The Shepherd, and Bama: all -1. Els is T4 with Trahan and Ogilvy at +2.
18:50:06: Johnny: "It looks like his knee has settled in a bit. Either the adrenaline has kicked in or the focus has kicked in." With a 3-iron from the 11th, Tiger flies it right over the flag and the ball rolls back to inside of five feet. Tiger's finally got the honor, by the way. The Shepherd hits one less club and flares it right into the bunker.
18:54:40: The Shepherd nearly holes his bunker shot, coming up just short. "He's missing greens, though. He's gotta change that" says Johnny. Bama's long birdie putt on the 12th comes up just a bit short. Tiger's five-footer for birdie at the 11th falls, and he takes the lead at -2. The Shepherd and Bama are still at -1, with the same trio at +2.
18:58:39: Tiger's drive on the long, long 12th, a "baby par five" per Johnny, doesn't wince a bit and finds the left side of the fairway. The Shepherd finds the bunker left. Johnny: "That's not good; that's not good." We're reminded yet again of the 13-for-13 streak.
19:03:46: The Shepherd has to lay up. He does so in the fairway. Tiger, 182 to the flag and further from the left than ideal, backs off. Into the wind, he finds the green 30 feet right of the flag. He hates the shot, but only 30% of people have even found the green. Bama lays up at the 13th. Els, on 15, hits the ball four feet from the rough. His third hits a tree and falls straight down. His putt for double bogey misses. He falls to +5 with a triple bogey.
19:07:09: Alex B about Tiger: "When Tiger's on, his misses hit the green. He's on." The Shepherd, from 90 yards, throws it long and pulls it back to 15 feet.
19:08:26: D.J. Trahan moves to +1 with a long birdie. Current board is Tiger -2, Bama and Shepherd -1, and Trahan at +1. Ogilvy and Karlsson are one more back.
19:10:30: Bama sticks it to a yardstick on the 13th – the same shot Ernie Els previously dumped short in a bunker. The short 14th hole looms large.
19:11:18: The Shepherd's par putt goes by. Tiger will tap in for par, Lee for bogey. We'll give Bama his birdie, so the board is: TIger and Bama -2, The Shepherd E, and Trahan +1. Remember, Rocco had to win a playoff in a sectional qualifier and is now tied for the lead in the U.S. Open after 67 holes in the U.S. Open.
19:14:13: Can Tiger's knee take a fifth day if this goes to a playoff?
19:14:47: Rocco misses the birdie putt I gave him! He caught a tiny piece of the right lip. Correction: Tiger: -2, Bama: -1, Shepherd: E. Tiger, from the back tee on the 13th, finds the left edge of the fairway.
19:21:07: Westwood (Shepherd, in case you missed that earlier), has 292 to the hole and has a 3W out. 277 to carry to the front. The Shepherd swings as hard as he can and yanks it into the ice plant, marked as a lateral hazard. Tiger, from a yard closer, hits it 20 yards further left!!!
19:23:40: Rocco Bama finds the greenside bunker left of the green at 14. Tiger and The Shepherd likely won't find their balls.
19:26:18: Tiger making a mental mistake in a major? That's what I'd call it, making this his second of the day. After dropping, and from a nasty, horrible lie, Tiger find the back of the green. Two putts for bogey will drop him back to -1.
19:28:16: Rocco blasts close at the 14th and will birdie to take the lead at -2. The Shepherd hits through the green and will also likely two-putt for a bogey. He'll fall to +1.
19:31:18: Tiger's par putt is, like so many others today, short. The Shepherd's par chip also misses. Currently: Bama -2, Tiger -1, Shepherd and Trahan +1. What will these two do on 14?
19:37:20: Tiger lays up at the 14th with an iron. He finds the right side of the fairway. The Shepherd pulls his 3-wood. I wonder if the 17th at Oakmont factored into Tiger's decision at all. Furyk and Cabrera both bogeyed, and Tiger had to work for his par. The Shepherd reaches the very front of the putting surface.
19:40:42: Tiger has 101 yards looking right at the flag. He flies the ball 30 feet long – not a great shot by anyone's standards. Bama, from the 15th tee, yanks one left and bounces one off the cart path, past a eucalyptus tree, and into some long but possibly manageable lie.
19:44:05: The Shepherd's eagle putt comes up miserably short. Tiger's 30-footer for birdie also comes up horribly short. He taps in for par. Par at a 267-yard par four. Bama punches out from the rough on 15 successfully. The Shepherd rolls in his birdie putt. Bama -2, Tiger -1, The Shepherd E.
19:48:45: Bama sticks his 84-yard third to five feet at the 15th. Alex B says "Rocco reminds me of Paul Goydos at The Players."
19:51:57: Tiger flails one well right at the 15th. He'll have a trampled-down lie, likely, but Bama's par putt misses left. He falls back to -1, even with Tiger, and one ahead of The Shepherd.
19:54:44: Johnny: "It's hard to believe Rocco might win the United States Open. The good news for Rocco is that 16 tee shot is a draw. 17 tee shot is a draw. 18 second shot is a draw."
19:55:28: Tiger has a cuppy lie, but it's mostly bare. There's a small tree in the way. 180 yards. Tiger opts to go up over the tree. We cut to Bama on the tee at 16, where he bounces past the pin and just over the back of the green. He's hit 7 of 16 greens today. Tiger, ready to go on the 15th, is now looking to play a high cut. He backs off. Some guy in the audience, giddy, gets an erection from being so close to Tiger. Tiger steps over the ball, it misses the tree, really high, short and right. He'll have to work really hard to make par. The Shepherd finds the green 30 feet away.
20:00:01: Bama's chip from the back of the 16th settles three feet past the cup. He'll save par and remain at -1. Tiger probably won't. The green runs away from him. Lie is so-so. Tiger goes for the ultra-flop and… hits it to about twelve feet. These are those par putts you have to make from time to time in a U.S. Open.
20:02:33: Ogilvy moves to +3. He'll have to finish birdie eagle to get back to even par. The Shepherd's birdie putt at 15 comes up short. Rocco knocks his knee knocker into the cup. He moves to the 17th tied for the lead as Tiger prepares to keep it that way with his twelve-foot par putt.
20:04:38: Tiger's par putt… misses left. He falls back to even par. Current leaderboard: Rocco Mediate -1, Tiger Woods and Lee Westwood E.
20:06:13: Rocco Mediate finds the right side of the fairway at the 17th. Robert Karlsson makes a birdie to become the leader in the clubhouse at +2. That won't hold, though.
20:09:28: The Shepherd finds the center of the green at the 16th. Bama, to a back left pin at 17, walks after it. It nearly hops in the hole before going 12 feet beyond. Tiger gets a tad unlucky as the ball hangs up just short. "It could have been stiff" says Roger Maltbie. We go to commercial break&helip; an erectile dysfunction commercial.
20:14:32: Bama's birdie putt from the back of the 17th just misses left and slides three to four feet past. His putting has been solid to this point. The Shepherd's putt was on line but he left it short. Bama sneaks his par putt in the right side.
20:16:08: Tiger takes the flagstick out. His chip rolls six feet past after just missing to the right. Gary Koch: "He just cannot afford another bogey." Rocco Mediate walks onto the 18th tee to chants of "Rocco."
20:17:15: Tiger's par putt will test him more than Bama's did on the last hole. Gary Koch says the putt moves more than players think. Tiger isn't most players: he puts it in the heart of the cup.
20:18:16: Rocco's tee shot on the 18th is over-hooked into the first cut. He'll likely lay up.
20:20:48: The Shepherd finds the light rough just right of the 17th fairway. Again, the hole is back left. Tiger chooses a 3-wood. He hits a draw up the left center of the fairway.
20:22:19: Rocco lays up. He only wanted to hit the ball about 160 yards. He's laid well back. Trahan birdies the 18th to get to +2, tied for the clubhouse lead, and T4 behind Woods/Westwood at E and Rocco at -1.
20:24:51: Rocco at the 18th, from 126 yards, hits it onto the middle right side of the green. It'll be a tough birdie. Tiger plays a cut to the back-left pin and the ball sits quickly, 35 feet away. Rocco walks onto the 18th green, leading two players by one in the 108th U.S. Open.
20:26:10: Westwood, from 159, comes up short and in the bunker. Gary Koch: "Might have caught that a little high on the blade." We're reminded again that nobody outside the top 100 in the world rankings has ever won the U.S. Open. Rocco would be the oldest U.S. Open champ and the oldest first-time major winner if he can pull it off.
20:27:15: Odds of a playoff? I'm saying 35-51%.
20:28:29: Rocco's lengthy birdie putt misses right. He has two feet to post -1. Westwood's third from a "perfect lie" in the bunker at the 17th rolls out above the hole to five feet.
20:30:29: Rocco posts 283, -1.
20:31:04: Tiger backs off his birdie putt, asking photographers to stay still. Johnny: "Do you think he'll get it to the hole?" Gary says nobody's made it from that position today. 35 feet, a foot left, and an inch short. Rocco -1, Tiger and Lee E.
20:34:32: Odds of a playoff? I'm going 75-80% now. Two players have a chance to birdie a 527-yard par five. Westwood retains the honor.
20:35:26: Lee stares after his tee shot. He misses to the right, in the fairway bunker. He has a flat lie in the middle of the bunker. Johnny: "He can birdie from there, but it takes eagle out of it."
20:36:43: Tiger starts the ball well left, but it's not going to come back enough. He too finds the fairway bunker, but on the left side of the fairway. Will they lay up or go for it? I'm reminded of that Tiger/Nike commercial. "Weak? Or Strong?"
20:40:18: Yardages are: 227 yards for Tiger, 228 for Lee. Tiger's loses the U.S. Open. He lays up well into the right rough. The ball momentarily sits up, then disappears.
20:41:38: Westwood lays up in a much better spot: it's in the left side of the fairway.
20:43:36: Tiger's ball is in an area where a shot's previously been played. "Not really a divot" says Maltbie. 105 yards. Tiger and Stevie engage in conversation.
20:44:55: Tiger, to put the ball close to have a chance to tie Rocco Mediate… Tiger has a twelve-footer to force a playoff in the U.S. Open.
20:46:51: Lee Westwood gets no suck back and is just outside Tiger's ball, maybe 15 feet, maybe 20. I could be exaggerating (shortening) Tiger's putt in the excitement.
20:47:55: Odds of a playoff as determined by those in the chat room? Around 30%.
20:49:02: NBC can't bother to tell us how long these putts are. They have ShotLink. NBC sucks.
20:49:38: Johnny: "Eight or nine inches outside left." Lee takes his practice strokes. He sets the putter behind the ball. He lets it go, on that line. It misses right. Rocco has to dodge one bullet, but it's coming off the putter face of one Tiger Woods.
20:51:37: Tiger stalks his 15-footer. Will he make it and force a playoff, or will he finish second yet again, getting to within 13 of Jack's record of 19?
20:52:06: Tiger is taking his practice strokes beside the ball. He gets over it, widens his stance, and lets it go.
20:52:24: It's in. Barely. It lips IN. Tiger Woods has birdied the 18th hole at the U.S. Open to force a playoff. Tomorrow.
20:52:49: I think a playoff is the best, fairest way to decide this kind of thing, and yet also anticlimactic too.
20:57:24: Heart rate has returned to normal. We'll live blog the playoff tomorrow, too.