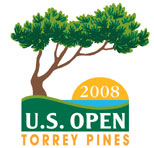 Last year at Oakmont, after arriving at 5:00am and still being only the sixth to make my way to the 18th hole grandstands, I watched Tiger Woods miss a birdie putt to force a playoff. This year, from about 50% closer, he lipped the putt in.
How fitting it would have been for Rocco to play off last year. He too is a Pittsburgh area guy. We could have even let Jim Furyk join the fray, and re-enacted (in reverse) the 1962 U.S. Open, when Jack Nicklaus (of Ohio) took down Arnold Palmer (of "near-Pittsburgh" Latrobe) in a playoff.
Instead, we saw Tiger Woods grimace his way through a +3 start on the first two holes before he "took some things" to ease the pain. We're sure nothing will ease the pain like winning, but as many have pointed out, Rocco has nothing to lose, and like Lee Trevino over Jack Nicklaus, his care-free attitude may just get him through (not that Rocco is the quality player Lee Trevino was).
Like yesterday, we have a chat room going. Join "usopen2k8" once again on AOL Instant Messenger to chat with us.
Here is our live blog of the playoff for the 108th U.S. Open from Torrey Pines.

11:33:06: Pre-game coverage kicks off on Golf Channel and ESPN. We've chosen to watch ESPN. We'll watch Golf Channel when it's over.
11:59:10: How is Tiger Woods only a 4:1 favorite to win? Didn't he have better odds to win the whole tournament before he got into a playoff? Now he has only one guy to beat – not 155 – and he's only 4:1?
11:59:53: If you're not watching this playoff in HD, I feel sorry for you. If you're stuck in the office and can't really watch at all, then even the people without HD feel sorry for you.
12:02:50: Rocco tees off first and finds the left edge of the first fairway, leaving a good look at the flag. Rocco's playoff record is 2-0. Tiger gets a favorable kick off the back of the bunker and his ball comes to rest in the fairway.
12:04:07: Tiger and Rocco laugh as they walk off the first tee. I know it's said to have worked for Lee Trevino over Jack Nicklaus, but I have the feeling that a happy, laughing, joking Tiger is even more dangerous than Tiger playing with someone he doesn't know very well (or doesn't like very much).
12:07:12: Rocco, from 176, finds the front right bunker. Tiger, from 154, leaves the ball 20 to 25 feet below the hole. Lee and Jack are mentioned, and again, I think Tiger having fun is even more dangerous. We hear about his low "goofing around" rounds at Isleworth with Mark O'Meara all the time.
12:10:44: Rocco splashes out to about five feet. Good shot. Tiger +9 on the first two holes, -10 thereafter. Rocco is -2 and +1. Tiger's putt sails by high, leaving two or three feet for par. Rocco's putt is not even close: it slides by the left side of the hole. Rocco +1, Tiger taps in to stay E. Will Tiger retain his lead?
12:13:50: Stevie Williams (in his mind): "Yes! Overtime pay!" Ha ha, errr, no.
12:16:25: Tiger one-hands a ball well left with a 3-wood off the second tee. Rocco hits 3W as well and finds the first intermediate cut of rough. ESPN cuts to a three-minute long conversation with Rocco Mediate, but all we hear are the birds chirping. NO AUDIO from the interview at all.
12:20:14: Tiger's lie is good. The hole is front center, a tough angle. He finds the rough just off the fringe near the green, short. Rocco bails right as well just above the bunker, but still in the rough, almost pin high. His chip rolls out to four feet. Tiger chunks his chip a bit and is outside of Rocco's ball.
12:25:57: Tiger's putt dives into the center of the cup after we hear a Rocco/Arnold Palmer story. No problem. Johnny: "This can be a confidence builder." Rocco makes it to build his confidence. Still Tiger E, Rocco +1.
12:27:53: Johnny makes a crack about the "members' location" and Dan Hicks corrects him. Good for Dan, standing up to Johnny.
12:29:14: Tiger's ball buries under the lip of the bunker. "That's two straight times, Stevie" he says to his caddie. Rocco almost holes it for an ace!!! Two shot swing here? So much for Tiger keeping his lead the entire time, eh? He missed by two inches. He has a two-footer for two.
12:32:12: Tiger's bunker shot runs well by, nine feet. It's about as good as he could do from there.
12:34:34: Tiger's putt misses right. He's still away by a foot. He makes the putt, and Rocco steps up and buries his, no sweat.
12:37:42: Rocco yanks his drive left into the 2½" rough. Tiger smooths a draw up the left side and also finds the rough. He's behind Rocco's ball, but Rocco had hit driver.
12:42:44: Tiger grips way down on a club, plays a low punchy draw, and turns it over too much well short of the left front bunker. That's a pretty horrible shot. Rocco draws a hybrid, hits it high, and plops his ball on the front portion of the green.
12:44:35: ESPN re-airs the previously speechless interview with Rocco.
12:46:39: Tiger chips stone dead. Rocco has a long putt for birdie. He hits it, and it rolls to two feet, just past Tiger's mark. Both will par and the players will head to the fourth hole with Rocco up E to Tiger's +1.
12:50:56: Rocco's tee ball on the fifth tee is well right – into the fairway bunker (and short). Tiger is through his bad holes. He's played 5-9 in -6, Rocco in +2. Tiger's waiting for the blimp to move. Hicks: "Has Stevie yelled at it yet?" Tiger stripes a ball down the fairway as fans yell "Cheese" (?!?!).
12:56:48: Tiger uses a slope to the left to keep his ball on the green, 20 feet away. Rocco pulls it left, and his ball bounces off the cart path not once, but twice, and is perhaps 50 yards past and left of the green.
12:59:53: Rolfing: "I actually think the two bounces helped him because he doesn't have to come over the bunker." Rocco's shot rolls long, then comes back off the fringe to about eight feet below the hole – a great recovery.
13:01:56: Tiger's putt misses low and rolls four feet past – a small mental mistake. "A classic match play situation" they tell us. Rolfing tells us that Rocco is good on the right-to-left putts because he plays a draw. Sorry, no: most righties are better on right-to-left putts because it's more natural to put the ball away from you than towards you, or to putt it forwards (the way you're facing) than backwards (behind you). Rocco leaves his putt short as Gary Gary Koch Koch repeats "Is it firm enough?" eighteen times. Tiger +1, Rocco +1.
13:08:12: Johnny shares his "insight" as he tells us "If you hit good shots, you can hit it close." Really?!?! Tiger and Rocco find the fairway, Rocco 20+ yards back. Dan Hicks gives us the Wal-Mart joke. Ugh.
13:12:56: Rocco's ball hits the right edge of the green and bounces into the back rough. Alan says "Too much steam for Rocco. Should have had a small at Starbucks." Tiger from 185, with 8-iron, "smooth little trap draw" says Johnny. Great shot, Tiger's seven feet below the hole. "Painted it right up the flag stick."
13:17:04: Rocco hits a horrible shot that gets lucky and winds its way down to six feet. There's no way he hit that how he wanted. Tiger's birdie putt falls in the right side, birdie! Tiger gets back to even. Rocco's par putt from just inside also goes, leaving him one back at +1.
13:21:56: Tiger has seemed to hit his "stride" as he stripes one down the center on 7. Rocco's finds the rough, but just barely.
13:25:54: Rocco hits off of the "tee" of rough to the green, a less than stellar shot, leaving a 30 foot birdie putt. Tiger, with 145 to the pin, hits it 142… leaving about 10 feet for birdie… Johnny lets us know, "The A Game is coming out."
13:29:25: With so much time between shots, the announcers seemed to be bored, so discuss the NBA finals and the importance of defense. Maybe Rocco should "hard foul" Tiger… going for that left leg. Rocco lags his putt to kick-in range. Tiger settles in over his putt, seeing a chance to create some separation, and puts away the 10 footer. Two consecutive business-like birdies for Big Red. Rocco's chances are waning.
13:34:07: Tiger switches from 8 to 7 iron, a decision he would regret as he hits the green and quickly bounces into the back bunker. Rocco needs to take advantage with Johnny Miller calling it a "big opening." Rocco hits a weak shot, leaving himself 10 yards short of the green, though a much easier up and down than his playing partner.
13:38:46: Tiger hits his second shot to Rocco's first. Rocco wishes he could say "you're still away." Rocco quickly chips his ball aggressively past the hole. Tiger with the same shot, but for a par, has a similar result.
13:40:48: With Rocco Mediate making an underdog appearance, we are reminded of the all-time greats of Paul Lawrie, Shaun Micheel, and yes, John Daly and all of their major championship victories. Tiger makes his bogey, dropping back to even par on the day. Rocco, with a similar putt, makes for par and trails by just one, "hanging in there."
13:45:54: Rocco hits his typical draw down the sprinkler line and Tiger also finds the fairway, though makes a noticeable grimace. Maybe he needs to take some more "things" or maybe not try to "go after" the ball as Johnny suggests. Tiger should have a great chance at reaching in two, should he decide to do so.
13:50:34: Rocco does not quite have the power of Tiger so is forced to lay up, and does so poorly, in the first cut of rough. Tiger, outdriving Mediate by 30 yards, has 287 to the hole, and is in "3-wood city," as Johnny reminds us he (Johnny) cant hit a 3-wood that far. Tiger pulls his shot into the left bunkers, an "ok" miss with the hole cut on the right side of the green.
13:54:25: Rocco has 108 to the pin and chooses the 52° wedge because he isn't fond of hitting the wedges "hard." He goes right at the pin, finds himself 20 feet behind the hole with no spin. Tiger meandering through the bunkers finds his ball and takes too much sand not completely excavating himself. He pitches his fourth shot from the rough to about six feet. Leaving a longer par putt on a par-five than he would like. It's 1:52, and we leave ESPN coverage much too early… at least let them finish the front nine!
13:58:37: Golf fans are left much too frustrated by the lack of smooth coverage transfer from ESPN to NBC, wondering how the two golfers finished out on the ninth. Instead we are forced to watch a few minutes of recaps from the opening eight holes. Are you kidding me? This golf fan is wondering if Rocco made his long birdie putt? Did Tiger tidy up a poor par by his standards? Come on ESPN and NBC!
14:00:37: Finally we return to golf as we see Tiger tidy up his par putt. We completely missed Rocco's birdie effort, and we watch him miss a short par putt. A dead push on Mediate's part that has him trailing by two strokes as he heads to the back side. Beating Tiger on 18 is tough enough, try outplaying him by three shots on just nine holes. Crowds appear to be growing as we are reminded that this playoff is much more crowd-worthy than the last playoff at the U.S. Open, featuring the relatively unknown (at the time) Retief Goosen and then- and still relatively unknown Mark Brooks.
14:03:02: Tiger leaks his tee shot right into the kikuyu grass, dropping choice words for his golf ball during its unintended flight right. Rocco takes advantage of the small opening by stripping a 3-wood down the fairway with "Rocco rhythm."
14:06:51: Tiger is forced to hack his ball down the fairway with a dreadful lie. His solid even-par effort on the front has been good enough for a two-shot cushion. Will either of these two go under par on the day? Rocco puts on his "happy face" but leaves his approach just short of the green, though in better shape to make par than his opponent.
14:09:09: Tiger finds his ball resting against the collar of the fairway, hits his ball next to the pin… but juices the ball barely off the front of the green. Rocco seemingly will have a chance to pick up a shot on this hole.
14:10:41: Rocco chunks his chip and leaves himself a lot of meat for par, Miller notes that the pressure may be getting to our beloved underdog. We continually are shown statistics that tell us why Woods is an overwhelming favorite. Well, no kidding. Everyone knows who Tiger Woods is while Rocco Mediate sounds like a bad character name for a movie set in New Jersey. Tiger shows off the flat stick, with a "stroke of genius," and makes his long putt for par. That surely sank Rocco's heart. Rocco nervously looks at his putt, realizing he must match Tiger, but fails to do so, and just like that, we have a one-shot swing the other way. Tiger leads three going to 11. Dan Hicks notes "the Rock is shocked!" Ugh. A real rapper that Hicks guy.
14:16:10: Tiger still is playing the par threes poorly, hits into another bunker. The gallery is trying to will Rocco into staying in this match and he answers their prayers with an excellent approach shot to about 25 feet behind the hole. Though each time we seem to think Rocco has a chance to pick up a shot, the sultan of swat reminds us of his exorbitant talent.
14:19:25: Tiger spits out his sand shot and leaves a lengthy par putt. The western Pennsylvanian seems to have created a strong following in Southern California with the crowd chanting "Rocco, Rocco, Rocco." Rocco settles in over his birdie putt and misses on the "pro side." He quickly taps in for par and prays that Tiger shows some mercy and gives him a stroke here.
14:22:16: We scan the galleries at upcoming holes seeing the large crowd for an empty course. Johnny notes that his duck-hunting friend has waited in the 18th grandstands since 6am. I'm not sure whether I should be impressed or dumbfounded. Tiger barely misses his par putt, giving Rocco a shot back. Tiger is up two going to the 12th.
14:24:12: Rocco "rocks back and rocks back into it" as he finds the fairway. Tiger finds yet another bunker, the big "MO" seems to be favoring Rocco right now, but we are reminded that it is Tiger not Rocco with the two-stroke advantage.
14:27:48: In the comments, we are reminded how much Tiger is favored as one poster pokes that "this would be more like Duke's football team beating the Patriots" in response to the many Giants-Patriots allusions made by the NBC crew. Rocco answers the poster's challenge by putting his long second shot to 15 feet. Meanwhile, in the fairway bunker, Tiger cusses his ball to short of the green. Maybe the Blue Devils have a chance? Tiger is not pleased, and Rocco keeps his happy face with a long stroll down the short grass with the flat blade.
14:32:10: We pan to the 18th where the morning fourball is finishing up their round. Real nice of Torrey Pines to open up the course before dawn for the Monday morning fourball, one of the members noting that they aren't used to all of the grandstands in their sight lines and with all the people watching it was difficult to inch worm their ball in the rough. We move back to Tiger who makes a poor pitch, leaving himself a good 15 feet for par.
14:34:47: Rocco races his birdie putt well past the hole, leaving Tiger a chance to get through to 13 with a two-stroke lead. Tiger is taking his time on the putt, and pulls it. Tiger taps in for his bogey and Rocco tidies up his par. All of a sudden both players are well over par (Tiger +2 and Rocco +3) and Rocco is only one shot out. This playoff has just gotten more interesting, but with the U.S. Open setup, we are left with more "defensive" golf instead of shot-making golf.
14:40:18: With the 13th playing a measly 539 yards, even Rocco may have a chance at getting there in two, finding the very left edge of the fairway after a typical draw. Tiger steps up with the big dog and lets a rip, finding the left rough though if we can see his ball the lie can't be too bad, right? Again we see the gap between Rocco's and Tiger's tee shots.
14:44:55: With 261 to the hole, Rocco appears to be going for it, leaves it just short, in the front left bunker. Miller notes it was almost a "career" shot, unfortunately, as we golfers know, almost means nothing. Tiger has a beautiful lie in the rough and has only 223 to the back left pin. He lets a rip and will have a put at an eagle, a much better result than the snap hook we saw out of Tiger yesterday. This is Tiger's first green since the 7th, though at this point it feels like his first green of the day.
14:49:10: We have know seen the Pro V1 commercial for the 2,312th time. Yes, we know they have great golf balls, and that most Tour players use the ball, thank you Jim Nantz!
14:50:04: Rocco hits a fair sand shot leaving himself a very makeable eight-foot birdie putt. Tiger settles in over the eagle putt and looks up, wondering why all the photographers are following him? He then realizes that besides the morning fourball, there are not any other groups on the course much to the chagrin of San Diego taxpayers. He settles in again, makes a perfect read, but doesn't give it quite enough speed, leaving a kick-in for birdie (and a kick in the pants for leaving yet another putt short).
14:52:57: Rocco sinks his putt, proving that he is capable of making some clutch putts. He is now momentarily tied with Tiger, who then takes away this moment. As both make birdie on the par five. They move to the short par-four 14th with Tiger retaining a one-stroke lead while also finding himself one stroke over par. Will Tiger go for it today?
14:55:40: Playing from the ladies tee with the easy pin position, Rocco's willing to go for it. He takes aim at Snoopy One and hits a great shot to the neck of the fairway right in front of the green. After seeing the shot, Tiger pulls out the 3-wood. The blimp again providing a perfect aim line, though Maltbie speculates we will see a large cut out of Big Red. "Can you believe that Tiger has played this hole at three over, Roger?" "No I don't, Johnny" An interesting exchange by our notorious commentators. Tiger hits just into the rough to the right of Rocco's ball, both should have a good chance at getting up and down for birdie.
15:01:03: Captain Cliché Dan Hicks discusses how we are down to "crunch time." Tiger somewhat chunks his chip shot, but leaves himself a good chance at birdie. Rocco, from the fairway, nearly chips in, leaving himself a tap-in birdie. He finishes it off and puts some pressure on Big Red. Maybe red shirts make everyone play well under the pressure? Tiger gives his putt the "eye of the Tiger." Tiger lips out and we have ourselves a duel down the stretch. We are all tied up with four holes to play! Does it get better than this? Rocco versus Tiger. Douglass versus Tyson. Obama versus Hilary! We have a battle to the end, folks!
15:07:28: Rocco has re-found his happy face and finds the right side of the fairway. Tiger is going to let the "big dog eat." And the big dog takes a bite out of Tiger as he finds himself right of the gallery. It looks like the pressure may be getting to Tiger now? Well, then again he is a "monster."
15:10:56: Tiger finds himself in a fairway bunker… on the ninth hole! Rocco, though, is still away and plays a great shot to about 15 feet. Rocco is putting the pressure on the Sultan of Swat, who needs a good swat out of the bunker. Tiger is collecting himself, preparing for a 170-yard bunker shot.
15:13:42: "This is Tiger Woods." Dan Hick's relays the message that we are all thinking, even with the situation as it is, it's hard to bet against the guy. He settles in and plays a huge draw right at the hole. And Tiger is inside of Rocco, leaving himself about seven feet for birdie. Uhh yeah, he's Tiger Woods. "It's a Tiger shot." I think it's safe to say that "the Rock is shocked!"
15:16:23: The gallery who has waited at this hole for much too long is rewarded with a magical shot. Will he take advantage and sink the putt? How do you feel if you are Rocco? Disbelief…
15:18:21: Rocco answers! Makes his long, bending birdie and we see some special Rocco Rhythm! We are seeing shot making now. The 45-year-old answers the call. Tiger now has some pressure to match Rocco's feat. Rocco has three birdies in a row and now has a one-shot lead as Tiger still has a putt for birdie left.
15:20:02: And Tiger leaves it out right, and now has a putt coming back for par, which he tidies up. Rocco with a one-shot lead with three to play. I think the 45-year-old couldn't care less what Tiger is doing, this man is on a mission and is not phased, from three down to one up. Three birdies in a row. Give the man some credit. The Starbucks in the morning has paid off, and may pay off with some marketing later. 🙂
15:23:07: We move to 16 where the pin is very accessible. We are reminded that Rocco has outplayed Tiger by four shots on par threes today. Rocco leaves his shot short, but leaves a routine pitch. Tiger now steps up to the tee. The gallery is incredible, imagine tens of thousands watching just one group. Tiger is indecisive with his club selection as the wind is making things difficult.
15:25:52: Tiger hits onto the green, though well short of the hole. Both are likely to par this hole and we can speculate that it may come down to the par-five 18th all over again. This is exciting golf!
15:28:48: Rocco is taking more time than usual on his pitch shot. He plays each shot relatively quickly, especially in comparison to Tiger. He putts up into easy-par range. Tiger studies his birdie chance. Does he have any more "Tiger" left in him?
15:30:50: Tiger leaves his put a quarter roll short. Tiger looks frustrated. He taps in for his par and goes to 17 with a one-shot deficit. His putt looked perfect, and slowed up tremendously two feet from the hole. Rocco can do this.
15:33:35: Rocco doesn't turn over his drive quite enough, and finds the right intermediate rough. Tiger stripes one down the center of the fairway. Both players, even Rocco, seem tremendously focused. Rocco's "happy face" has turned into the proverbial "game face."
15:37:48: Tiger is playing first from the fairway… he seems relatively uncertain of club selection today especially playing at his place, Tiger Pines. He finally settles on a club after much discussion. Stevie offers some closing encouraging words and with 162 to the hole takes aim with a baby fade. Stevie then calls Tiger off, citing a change in the wind, Tiger changes clubs. He know takes aim with a full 8-iron, still a baby fade. He hits to about 20 feet behind the hole, choosing the right club over the 7-iron.
15:41:03: Rocco quickly plays his shot and gets a fortunate kick of the face of the bunker but leaves himself a very lengthy birdie putt. Both should two putt, barring Tiger magic or a Rocco blunder. The par-five 18th is looming. Rocco wants it, and Tiger is going to have to take it away from him.
15:44:32: Rocco hits his putt to three feet, leaving an easy par putt, but this is the 89th hole of the U.S. Open!
15:45:44: Tiger studies his birdie putt, realizing a make here gives him a huge advantage going to 18. Again, he leaves it short, and taps in for his par. Rocco now has a "tricky" (according to Dan Hicks) putt to save his par. "Of Scott Hoch length," according to our always positive Johnny Miller. Rocco lays the worries to rest by making his putt, taking his one-shot lead to the 90th hole. A five par that Tiger has owned this week. Will Rocco go for it in two? Likely not with the lead, and Tiger needs a good drive.
15:49:17: Rocco pulls his drive well left into a fairway bunker, no choice to be made here, a layup for sure. Tiger sees his opening, pulls the driver and hits it perfectly down the fairway. This hole is now a par four for Tiger. Could we see more than 90 holes in the 108th U.S. Open? Could Tiger break Rocco's heart with a closing eagle? This is as exciting as the languid game of golf gets.
15:53:08: Rocco lays up from the bunker. Tiger begins to figure out his yardage for his shot at the green. The folks who have been at 18 since 6am are reaping the benefits of patience right about now, including Johnny Miller's duck-hunting friend! Good thing defending champ "El Pato" Angel Cabrera missed the cut!
15:55:41: Tiger takes aim at the TV tower and looks to hit a little fade. Tiger finds himself safely on in two. Two putts for birdie and more holes at the U.S. Open, unless our fearless Rocco can get up and down from back in the fairway.
15:58:07: Rocco hits safely onto the green leaving about 20 feet to seemingly win the tournament and shock the world. The grandstands at 18 erupt with much due applause for both Rocco and the best golfer with the bad leg. Rocco's round today has been truly amazing. With a make he will be four under par for the past six holes.
16:01:19: The morning four-ball just went out for their afternoon round. They look at wonder what is going on at the 18th green. They continue their stroll up one fairway. Skins are double in the afternoon!
16:02:10: Tiger putts at the hole and leaves himself four feet for birdie. He made an aggressive pass at the hole. Rocco now has a putt to win the biggest tournament of his life.
16:03:35: Rocco makes the stroke, right at the hole, but it fell off. Rocco now has about three feet left for his par. Tiger now looks at his four footer to force more holes. Stevie comes over to help give Tiger a read. The best player in the world and a four foot putt on the biggest stage in United States golf.
16:06:07: Tiger, after a long wait, finally strokes his ball into the hole. Rocco now with a putt to force a sudden-death playoff.
16:06:52: Rocco puts away his three footer and we have extra holes. 18 holes head to head with Mr. Woods and Rocco matched every shot. Both shoot a "USGA perfect" round of even-par 71.
16:10:05: With excellent golf by both players down the stretch, this round has been a pleasure to watch. Sudden-death golf now. With a par three as the second hole, can Rocco get there and will Tiger continue his par-three woes?
16:14:10: Tiger brings out the driver on number seven again. He hopes to repeat the birdie he made earlier on the hole. Again, Tiger takes his time, not allowing anything distract him. He finds the collar of the fairway.
16:15:49: Rocco finds himself in the fairway bunker against the lip. With sudden death golf, Tiger may be able to pull this hole off with a par now. Does Rocco have any more left in him? He said about 18 holes ago that he was running on fumes… still one heck of a show.
16:19:15: Rocco will have a shot at the green, a draw out of the bunker is tough to do. Rocco pulls it well left towards a grandstand. This is Tiger's championship to lose now.
16:20:20: Tiger with 156 to the hole, perfect angle from the fairway. He chooses the 9-iron with the adrenaline pumping. He puts it on the front of the green, forcing Rocco to get up and down to have any chance of extending this tournament to a 92nd hole.
16:22:18: The fans are cheering on Rocco to pull some more heroics. We are reminded by NBC that Tiger has found the past seven greens in regulation. The drop area is pretty generous for the USGA.
16:23:39: Rocco drops into the circle but it bounces out, and the ball is in play. The lie isn't ideal but having make an up-and-in to force another hole isn't ideal either.
16:24:30: Rocco makes the pitch and puts it to about 15 feet. Tiger will play first and has a putt to win the tournament.
16:26:13: Someone in the crowd waves the white flag. No white flags from Rocco, this man hasn't given up, he still believes.
16:27:21: Tiger makes another good read, but leaves his putt inches short again. Rocco has his putt to extend the match, the most he could ask for after his second shot.
16:28:19: Rocco makes a valiant stroke, but misses on the high side. Tiger Woods has won the U.S. Open with a par and has ended one of the most exciting days of golf in history. Tiger makes it 14/14 with a 54-hole lead, earning his 14th major championship. He earns his third grand slam. Let's not forget Rocco's effort, making this an amazing round of golf.
16:30:42: Tiger Woods with a 358 (358 always wins the U.S. Open, right?) on 91 holes finishing at one under par is your 2008 and 108th U.S. Open Champion.