Adams Golf has come out with some very nice equipment for this golf season and that continues with the release of their new Idea Pro Gold Hybrids and Hybrid/Irons blended set.
While Adams Golf might not be the first company that comes to mind for irons for the better golfer, you may want to rethink that idea as their equipment continues to get more and more play on the various tours, and with each year, their offerings for the better golfer continue to impress.
So let's take a quick peek at the latest entry into the blended set category.

Idea Pro Gold Hybrid
Using feedback from players on the Nationwide, PGA, and Champions Tours, the Idea Pro Gold Hybrids are an update to the popular Idea Pro Hybrids and incorporate their Boxer technology for "advanced geometric shaping" to give you a higher moment of inertia and more forgiveness. I for one will gladly take some additional forgiveness.
Designed for the "elite" player, the Idea Pro Gold Hybrids feature an "enhanced weighting system" and a maraging steel face. The stock shaft for the Idea Pro Gold Boxer Hybrid is the Mitsubishi Rayon JAVLN FX 80-gram graphite shaft and the headcover is one the sweetest looking ones out there: it's a gold and black striped knit sock from Rocket Tour. The stock grip is a Golf Pride DD2 in the black and yellow color scheme.
The Idea Pro Gold hybrids can be purchased individually and will carry an MSRP of $219. It might take me a little time to get used to the boxy shape but these are definitely a must-try during my next trip to the golf shop.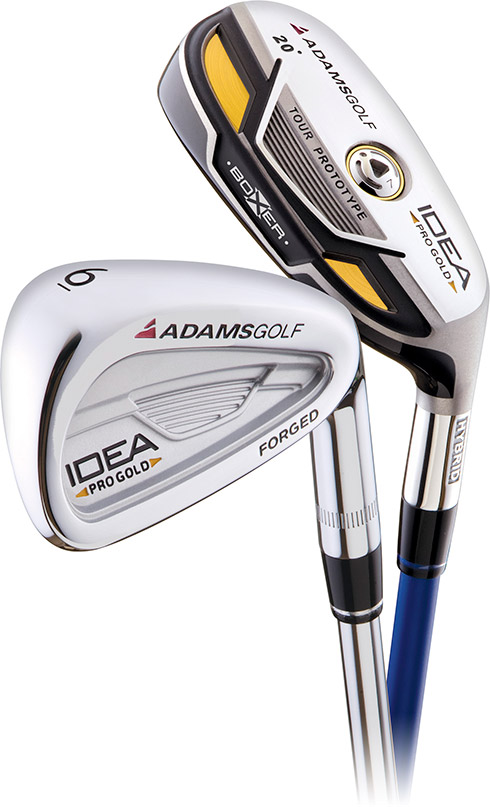 Idea Pro Gold Hybrid/Irons Set
The combo Idea Pro Gold set consists of a set of 3- and 4-Idea Pro Gold hybrids and a 5-PW forged cavity-back irons. The predecessor to this combo set, the Idea Pro combo set reviewed quite favorably so I eagerly anticipate these offerings. They look quite clean and sharp.
The 8620 carbon steel forged head is finished with a mirror-chrome plating and features a thin top line and sole to appeal to better players. Constant offset throughout the irons offer the better player more control and workability to their ball flight. A 14% increase in groove volume gives the better golfer more accuracy and feel.
The stock shaft for the forged irons is the Precision Rifle Project X Flighted steel shaft. Stock grip is a Golf Pride DD2 in the black and yellow color scheme for the eight-piece set.
For those who wish not to have the hybrid replacement for your long irons, Adams offers a three and four iron as well as gap, sand, and lob wedges to round out your set. If you need more hybrids, a one-, two-, and five-hybrid are available as well. Talk about customization.
The eight-piece sets are available now and carry a suggested retail price of $1,099 for graphite and $899 for steel. Individual irons will run about $112 for steel and $137 for graphite.
In the End
Adams Golf continues with a strong 2008 product line from their drivers, fairway woods, hybrids, and now continuing through their blended set that is geared towards the better player. If you haven't tried Adams equipment before, you really are doing a disservice to your golf game as you should really give them a test drive the next time you're out at your favorite golf shop. Who knows, they might give your current occupants a run for their money.