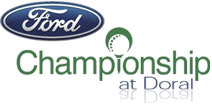 Now that the West Coast Swing has finished up, the PGA Tour turns its attention to the Sunshine State. The first tournament in Florida: The Ford Championships held at the famous Blue Monster Course at Doral Resort. The big news for the 2005 tournament is big names. This year boasts one of the strongest fields in the event's history. Tiger Woods passed on big time appearance money from the Dubai Desert Classic to tee it up at Doral. However, winning will not be easy. Woods will be competing in a field with names like Phil Mickelson, Retief Goosen, and Vijay Singh. A total of 11 of the top 12 players in the world will compete at Doral including David Toms, fresh off his domination at the Match Play Championships.

Although the tournament has not even begun yet, a bit of controversy has already surfaced concerning apparent "corporate fees" players have received from Ford. PGA.com is reporting that Vijay Singh, Retief Goosen, and Sergio Garcia received as much as $150,000 to appear at a Ford "Company Outing" at Indian Creek Country Club. These kinds of fees raise questions about the methods tournaments are using to recruit talented fields. PGA Tour commissioner Tim Finchem commented, "Perception-wise, I understand the concern. We have to deal with the perception." The Tour plans to discuss this matter at the annual sponsors meeting before The Players Championship later this month. In the worst case scenario, some see these kinds of fees eventually leading to guaranteed appearance money and reduced tournament purses. However, there is little need to worry about that this year at Doral. The tournament has a $5.5 million total purse which awards $900,000 to the winner.
Part of the tournament's allure is the drama that seems to focus on the par-4 18th every year. In 1995, Greg Norman arrived at the 18th with a 2 stroke lead and lost it thanks to a snap hook 6-iron which went right into the fountain. Last year's champion Craig Perry won in dramatic fashion by holing out his approach for an eagle-2 on the last hole of the Blue Monster. The 18th is one of the toughest holes on the PGA Tour, only yielding 31 birdies through all four rounds last year with a scoring average of 4.48. With the strongest field of any tournament so far this year, and a very difficult course, this promises to be a very interesting tournament.
TV times this week:
Thu     3:00-6:00 p.m. ET      USA
Fri     3:00-6:00 p.m. ET      USA
Sat     3:00-6:00 p.m. ET      NBC
Sun     3:30-6:30 p.m. ET      NBC
This week will be interesting once again for Tiger Woods, as he could reclaim the #1 spot in the world or, if fate falls another way, could slip to third in the world. A win at Doral would put Tiger back in the top spot. So too would a second place finish (alone) if Singh finishes outside the top five, or a T2 with Singh outside the top 23. Els, however, could sneak into second place with a win in Dubai if Woods finishes lower than T3 with one other person at Doral.