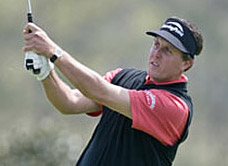 Phil Mickelson decided on Friday not to play in the Tour Championship. The Tour Championship will be held next week at the East Lake Golf Course in Atlanta, GA. Entry to the tournament is reserved to only the top 30 on the PGA Tour money list.
His decision comes just one week before PGA Tour commissioner Tim Finchem's announcement to shorten the PGA Tour schedule. Mickelson and Tiger Woods have long been in favor of a shorter Tour schedule.

Mickelson did not elaborate much on his choice to not play next week but his sports management agency, Gaylord Sports, said "He's made a personal, private decision that he's not going to discuss."
Personal, private decision? Is he worried he will be the next indicted in the CIA leak case? Did he decide to play a practice round with Brett Favre and Toby Kieth next week instead? The Tour Championship's purse of $6 million, with $1,080,000 going to the winner, certainly doesn't appeal to Mickelson since he most likely makes four to six times that per year with his Callaway contract. I just do not understand his motive behind deciding against playing in one of the most competitive tournaments of the year.
This is the second time that he has declined his invitation in five years. He also has a history of "scaling back" his schedule after the PGA Championship which makes me think he doesn't like playing in the mild climate that comes with the fall season, although he does have a good amount of blubber to stay warm. The fact that he has only won two events after the final major of the year in his entire career could confirm my hypothesis.
Personally, Phil is not my favorite player but he is possibly one of the most popular player on tour and spends the most time signing autographs compared to other professionals. He will surely be missed by the fans next week. Missed by his peers? Not quite: Phil has four wins this year, including the PGA Championship.
What do you think would have been a better excuse? Post your version of Phil's "personal, private decision" in the forum.
Photo Credits: © The Golf Channel.