The PGA Tour is making its traditional stop in Dublin, OH two weeks prior to the U.S. Open. This shady suburb of Columbus is home to Jack Nicklaus' Muirfield Village Golf Club. This year the PGA Tour will find a few changes at Jack's place. For the first time, Nicklaus himself has opted not to play in his event, Tiger Woods has decided to prolong his mourning hiatus and begin preparation for the U.S. Open, and perhaps most important to the players in the field, Nicklaus and the PGA Tour have decided to furrow the bunkers in order to penalize players for finding them instead of providing a reprieve from the rough.

Last Year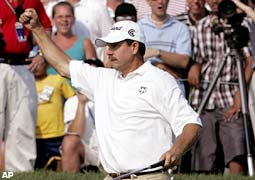 Throughout the years, the Memorial has been one of the larger, grander events on the PGA Tour schedule. Players desire to compete in Jack's event as a tribute to the marks he left on the game. This was evident as the Sunday leaderboard from last year's tournament was stacked with names like "Toms," "Couples," and "Woods." However it was "Bryant" who would remain on top that day, besting Fred Couples by a mere stroke with a final-round 68. The 2005 Memorial provided ample drama, something which is sure to be in ready supply in 2006, even without Woods or Nicklaus in the field.
The Course
Sometimes called the "Masters of the Midwest," the Memorial shares more than a nickname with the fabled Augusta National Golf Club. Some say that Jack has lifted some features directly from the home of the green jacket, including eerily similar twelfth holes (not to mention the green jackets themselves). Both holes feature diagonal, peanut-shaped greens fronted by water.
Muirfield Village, now playing to nearly 7,400 yards, is a shot-makers dream, featuring holes with varying shapes and approach shots necessary to hold the small, contoured greens. Seven of the par fours are near or longer than 450 yards, putting an emphasis on mid-to-long iron control and driving ability. A player who can control himself on these long par fours will likely do well. Just as the par fives at Augusta play a central role, the par fives here could very well be the deciding factor this week. The fifth hole, measuring 527 yards, is easily reached in two, as are holes seven and fifteen. The eleventh will be tempting to the longer hitters, but a small error there and they will pay a stiff price.
This week will also play host to an bunker experiment by the Tour and Jack. Their joint decision to furrow the bunkers may chance the type of player we'll see at the top of the leaderboard. Erik is on location in Dublin and has reported on the new developments in the world of bunker rakes.
Who's Hot and Who's Not
Tim Herron has been playing out of his lumpy mind lately, winning The Colonial and making a strong run at the St. Jude Classic the past two weeks. There was a lot of buzz about the rookies of 2006, but lately it has been a steady stream of veterans who've been making all the noise. With both Tim Herron and Jeff Maggert winning their first events in seven years, it is a real crapshoot trying to decide who's got the best chance this week as many of the Tour's official big guns, including Vijay Singh, Ernie Els, Adam Scott, Retief Goosen, and Jim Furyk return to action. With Muirfield Village favoring a shotmaker over a bomber, the player who can control his ball and position himself advantageously will have a definite advantage.
TV and Radio Times
Thu, 6/1      3:30-6:30 ET      ESPN
Fri, 6/2      3:00-6:00 ET      ESPN
Sat, 6/3      3:00-6:00 ET      CBS
Sun, 6/4      2:00-6:00 ET      CBS
Thu, 6/1       1:00-9:00 ET     XM 146
Fri, 6/2      12:00-8:00 ET     XM 146
Sat, 6/3      12:00-8:00 ET     XM 146
Sun, 6/4      12:00-8:00 ET     XM 146
Photo Credits: © AP, © Erik J. Barzeski/The Sand Trap.