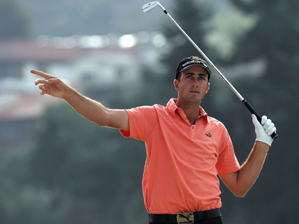 If the audience of the 2006 World Golf Championship Accenture Match Play Tournament has learned anything, it's that match play is ridiculously unpredictable.
Play started Wednesday with a couple of tournament records. Tiger Woods (1) broke the winning differential record with a solid trouncing of Stephen Ames (64). Tiger managed to win every single hole on the front nine before letting up and halving the 10th for a 9&8 victory. Asked his reaction to Stephen Ames' comment that "Anyone can win in match play… especially where he [Tiger] is hitting it," Tiger simply responded "9 and 8." Scott Verplank and Lee Westwood tied a tournament record by playing eight extra holes for a total of 26, an exhausting day that perhaps contributed to both players' early exits in subsequent rounds.

Friday was moving day and all but one of the tops seeds (Retief Goosen) were ousted. Tiger lost to Chad Campbell one-down after missing a twelve-foot birdie putt to force overtime at the par-5 18th. Chad later said he was so sure Tiger would sink the putt that he had already started planning his tee shot for the next hole.
Defending Champ David Toms was tossed aside by a rejuvenated Tom Lehman with a decisive 4&3 finish. Mike Weir allowed Geoff Ogilvy to slide out of dormie-four and the Australian went on to win on the twenty-first hole. Phil Mickelson was taken out by David Howell's excellent putting in a 3&1 loss. Padraig Harrington, playing rather poorly, escorted Vijay Singh out of the event on the nineteenth hole.
On Saturday, Retief Goosen, the last-standing first seed was defeated by fifteenth-seeded Zach Johnson 3&2. The semifinals took shape with Tom Lehman scheduled to play Geoff Ogilvy and Davis Love III to play Zach Johnson. Ogilvy went on to defeat a faltering Lehman 4 and 3 while Davis Love III would use his great length and accuracy off the tee to defeat Zach Johnson 4 and 2.
Sunday proved to be just that… one lazy Sunday. The 36-hole championship match got off to a slow start with no birdies until the par-5 8th hole. The match would maintain its steady pace for the remainder of the morning round until the 16th – Ogilvy won two of the last three and finished the morning eighteen 1 up.
In the afternoon the Lehman/Johnson consolation match teed off ahead of Love and Ogilvy. It appeared that Lehman arrived late mentally, losing several of the starting holes with careless shots. He then regained composure and whittled down Johnson's lead. Johnson eventually won 1-up to take third place and $560,000 – $110,000 more than Lehman.
The afternoon eighteen holes of the final match continued at much the same pace as the first half. Neither player seemed to be in the driver's seat and while Love had been outdriving the Australian by an average of 12 yards in the morning, the driving distances of the two seemed more evenly matched in the afternoon. Ogilvy managed to corner Love into dormie with four to go, and after winning one hole to extend the match, matched Ogilvy's par at the par-3 16th to fall 3&2.
Ironically, this week seems to be a special one for Geoff Ogilvy. His only other PGA victory took place exactly 52 weeks ago when he won the 2005 Chrysler Classic of Tuscon – a win that helped vault him into the top 64 world-ranked players and allowed him to play in this week's tournament.

In the absence of the top 64 ranked players in the world, Kirk Triplett managed to find enough game to wrap up the week with a tidy 63. Triplett's highest finish until this week was T27 at the FBR and he has gone winless since the 2003 Reno-Tahoe Open.
The leaderboard at the end of the third round showed Duffy Waldorf (-19) leading the beastly Bubba Watson by two shots with Kirk Triplett and others back in the pack at T9. By Sunday afternoon, Triplett's card showed only one blemish: a bogey on the par-3 7th hole, accompanied with an impressive ten birdies. Behemoth Bubba shot a steady 70 with no bogeys. Waldorf commented on Watson's drives after playing with him on Saturday, saying "his shots go so far that they're hard to follow, but I think this course plays well to everyone, whether you're a short or long hitter. If you get on with your irons and putt, you have a good chance." Waldorf's observation held true for Triplett, who hit an impressive 80.6% greens in regulation and topped that off with a stellar performance on the moss with an excellent 1.638 putts per GIR. Duffy Waldorf, who held both the 36- and 54-hole leads, had only two bogeys through Saturday fell out of the lead with an even-par 72 featuring three bogeys.
Pos  Player              Tot    R1   R2   R3   R4   Tot
1    Kirk Triplett       -22    68   71   64   63   266
2    Jerry Kelly         -21    66   68   68   65   267
T3   Heath Slocum        -19    67   69   65   68   269
T3   Duffy Waldorf       -19    66   66   65   72   269
T3   Bubba Watson        -19    67   67   65   70   269
6    David Branshaw      -18    71   65   66   68   270
T7   Jason Gore          -17    68   66   69   68   271
T7   Doug Barron         -17    66   70   67   68   271
T9   Cameron Beckman     -16    72   64   70   66   272
T9   Charley Hoffman     -16    69   68   69   66   272
T9   Bo Van Pelt         -16    71   69   65   67   272
T9   Gabriel Hjertstedt  -16    66   71   65   70   272
T9   Mark Wilson         -16    64   69   67   72   272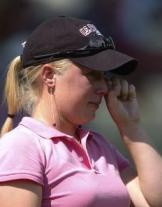 In the LPGA, this weekend marked the world's 3rd-ranked woman's first paycheck as a professional. Michelle Wie took home $73,227 for a solitary third-place finish. The tournament could easily have been hers, but thanks to a few stray shots coming in on Sunday she finished one stroke out of a playoff. After Saturday, it looked like Natalie Gulbis was poised to seize her first victory, but failed to capture the elusive title with a weak third-round performance. In the end it was Meena Lee who won the event in a three-hole sudden-death playoff against a similarly named Seon Hwa Lee. Meena Lee took home $165,000 and Seon Hwa Lee $100,942.
In a post-round interview, Morgan Pressel steadily wept, cursing her disgraceful performance during the day. Pressel has voiced her opinion about the many exemptions that have been handed out to Wie, but after being beaten quite handily this week, it will be interesting to see how things pan out between these two exceptionally gifted teenagers.
Pos   Player          To Par   Total   Winnings
T1    Meena Lee       -14      202     $165,000
T1    Seon Hwa Lee    -14      202     $100,942
3     Michelle Wie    -13      203     $73,227
T4    Nicole Castrale -11      205     $42,693
T4    Lorena Ochoa    -11      205     $42,693
Photo Credits: © Getty Images, © TravelGolf.com.