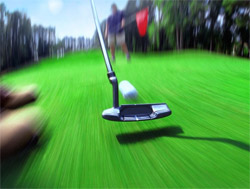 A member of our forum, after noticing that my putting stats are pretty good, asked me what tips I could offer to help others become a better putter. After thinking about it, I realized that being a "good putter" is more about the sum of the parts than any individual part. So, I wrote back to the forum member and said "I'll write something up in the future and post it for all to see."
This is the answer to that question. I can't promise that this will help everyone become a great putter – though I believe great putters are made, not born – because this process is mine. Still, a piece or two can likely be adapted to fit anyone, and I encourage comments from others about the different things they do to make themselves good putters.

Setup and Fundamentals
Putting strokes and stances are as unique as the individuals who use them. Though I believe beginners should get an idea of what a proper putting grip is, I also believe that experimentation can lead to better putting once a player is capable of making a repeating stroke.
In truth, I believe in only a few putting fundamentals. One is that you must hit the ball squarely, with the putter traveling in the instant of contact perpendicular to the putter's face. Slicing across the ball from the inside or outside is a no-no.
I believe that you must be balanced, and that you should use whatever stance you like so long as it puts your body in a balanced position capable of repeating a stroke. If your arms are too far from your body or your weight is back over your heels, you won't stroke the putter consistently.
I believe that a putting stroke without any wrist hinging is more repeatable than one that involves flipping or cupping of the wrist, but that's just me: I've seen plenty of successful putters who incorporate a little bit of wrist hinge almost as if they're using the fine-adjustment dial on a microscope.
The many number of grips seen in use on the PGA Tour tell me that you can putt well with any grip. Heck, I use an interlocking grip – the same grip I use with my woods and irons. It's the grip I've always used to putt and it's comfortable to me. I keep the putter grip very much in my fingers to maximize my sense of feel and touch.
My own personal fundamentals are:
Grip in the fingers and pointed directly up the line of my forearms.
Eyes over the inside third of the ball.
Ball just forward of center, shaft leaning ever so slightly forward.
Back relatively straight.
Shoulders square to my target line, but feet slightly open.
Your fundamentals may differ, but knowing what they are – and how to check to make sure you're still doing them – is important.
Stroke
There are generally considered to be two kinds of putting stroke: the "Pelz" way and the "Cameron" way. The Pelz, named after short game instructor Dave Pelz, method is also known as "straight back, straight through." In this stroke, the putter face remains perpendicular to the target line throughout the entire stroke. The "Cameron" method espoused by short game instructor Stan Utley and putter maker Scotty Cameron is also called the "inside-square-inside" method. In this stroke, the putter opens and comes inside the target line on the backswing, squares up at impact, and comes back inside again and closes on the follow-through:
Virtually all the good putters I've ever seen use the inside-square-inside stroke, and even Dave Pelz's star student Phil Mickelson putts this way. Scotty Cameron argues that the physics of having a putter shaft set at an angle dictate such a stroke, and I've always felt that the Pelz method requires more wrist manipulation than the arc stroke.
Regardless of the method you use – you can make a putt with either – practice the stroke until it repeats. If your square-to-square stroke is more of an "outside to inside" stroke, you're going to be inconsistent. If your inside-square-inside stroke is forced, you'll push and pull putts all day.
While we obsess about improving our ballstriking on the golf course and with our irons, rarely does a golfer practice striking putts crisply. Though today's high-MOI putters help to correct mis-hit putts, putts struck off-center still come up short and offline. A consistent putting stroke should lead to consistent contact on the sweet spot of the putter.
Equipment
Once you've determined which stroke you like, it's important to choose a putter that suits the stroke. Golfers with square strokes tend to prefer face-balanced putters while arc-strokers prefer putters with toe hang. Pelz-style putters also typically like putters with a more centered shaft than the Camerons, which tend towards heel-shafted models.
Outside of the general construction, other choices abound. Heel, mallet, or something else? Alignment dot, line, or plain? Insert or not, and if so, what kind? Bent shaft, straight shaft, and what length? What grip size?
I do most of my putting with a 33″, 350-gram Scotty Cameron Red X. I prefer the mallet shape, the soft German stainless steel (GSS) insert, and the alignment aids parallel to my target line. Other people prefer the two-ball alignment method, or aligning the putter face perpendicular to the target line just as we do with our other clubs.
Oftentimes changing your putter will result in a short boost in confidence and thus a temporary increase in holed putts. I prefer to stick with a familiar putter because I realize the putter is just an inanimate instrument: I'm the fool who has to use it properly.
It's important not to overlook the golf ball in this. I use Titleist's cheesily named "Alignment Integrated Marking" (A.I.M.) technology. Lots of golfers prefer to draw a line on their ball with a Sharpie and and a Line-M-Up (or a Gatorade ring). Others still just use the logo.
Additionally, putting with the same ball – like putting with the same putter – breeds comfort and continually reinforces the feedback you receive each time you putt. Comfort breeds trust. If I had to putt with a different ball and a different putter every time I played, I wouldn't be nearly as consistent as I am now. I know how my equipment – putter and ball – behave, feel, and look, and I'm comfortable with them.
Warmup
I don't spend a long time putting before playing a round. If I spend too long warming up, I tend to either get bored (and thus sloppy) or I begin practicing instead, which is a very different thing altogether.
If I have only a minute, I putt a few 15-foot downhill putts. It's the fastest way of gauging speed I know of. I generally prefer to take five to ten minutes, however.
I generally warm up with two balls at first. On a course with smaller greens, I'll hit a lot of 15-20 foot putts of all types: uphill, downhill, breaking, straight, etc. On a course with large greens, I'll mix in some long putts as well. The second ball lets me make an immediate adjustment. With more than two balls, I tend to get carefree with the first ball.
During this part of warmup, I'm not overly concerned about where the ball is going. I'm simply quickly reading the green speed and break and stroking the putt. I'm trying to link what my eyes see and how hard I hit the putt with how far the ball actually rolls. I'm not trying to make any putts. In fact, I don't like making putts in warmup because it deprives me of information: how far past the hole would the ball have rolled?
After about five minutes, I've usually got the speed down pretty well and I'll put one ball in my pocket. With the one remaining ball I'll read the break of a few 10-15 foot putts and check the results. This tells me whether I'm over- or under-reading the break on that particular green.
Green Reading
On the course, my putting routine begins as I walk up to the green. I get a general feel for the land and the mounds, bunkers, water hazards, and other things around the green that can affect my read.
I mark my ball, repair any ball marks I see, and step back on a line straight away from the hole, sometimes crouching to get a better look. At this point, I'm looking for a general line, and I'm looking at the entire length of the putt. When it's my turn to putt, I move up to my ball mark, crouch down again, and read the last ¾ of the putt where the slopes will have the most impact on the path.
I set the ball down and line up the A.I.M. line precisely on the line of my putt. I'm pretty quick about this, so it's not as though I'm crouching down for ten minutes getting the line just right. On large breaking putts, I also pick a substitute target – a patch of discolored grass, an old hole location, or something – for gauging the speed later on.
I never read a putt from behind the hole. I believe it's better to strike a putt confidently on a slightly incorrect line than to strike a putt without confidence on a better line, and I've always found that reading a putt from behind the hole – varying from my normal routine – simply introduces doubt.
I'm not saying you should not read a green from behind the hole – just that I don't. Stick to a routine, because a routine is consistent. My eyes have learned to read a green from behind the ball, so changing it up "for a tricky putt" or for any other reason simply introduces inconsistency and confusion.
Pre-Putt Routine
I believe that the golfer can only really focus on one thing at a time, regardless of whether that one thing is a swing thought like "release the hands" or "low and slow" or whether it's a "fuzzy focus" item like target awareness. I also believe that there's an inverse proportion between the complexity of a golfer's thought and the quality of his play.
That in mind, the only thing I focus on during my pre-putt routine is speed. I've already decided upon the line – and set the A.I.M. line on that target line – so I forget about it completely.
With my putter, I stand facing the hole (or my substitute target) and gently swing the putter back and forth, gauging the speed of the putt I'm facing. I'm trying to move the putter the speed I feel is necessary to get the putt just beyond the hole. I use a constant pendulum motion, not discreet swings, because I feel it reinforces fluid putting mechanics. When I feel I've gotten a good feel, I step beside the ball. I again look at the hole (or substitute target) and repeat the pendulum movements until I feel the speed again.
I then set the putter behind the ball, take my stance, and take great care in lining up the putter with the A.I.M. line. It's incredibly important at this point that I not adjust the line I chose based on what my feet feel or anything else. I don't believe I've ever made a putt when I've adjusted my line this late in the game. If I have doubt, I start over again from the very beginning.
After lining the putter up, I take one final glance at the hole or substitute target. I look back down at my putter, check again that it's lined up properly, and stroke the putt. If the putter is not lined up, I line it up and again look at the hole or target, look back down, and putt. I've never had to re-align myself the putter more than once.
During the putt itself, I'm not actually thinking of anything. I'm not even specifically looking at the ball, the green, my putterhead. Tiger Woods talks about how his father Earl always told him to "putt to the picture." During his pre-putt routine, Tiger takes a mental picture of the hole and, when he looks down at his ball, putts the ball to the target in that picture. Brad Faxon feels that putting speed should be reactionary – a basketball player doesn't estimate the distance to the hoop before shooting, he just lets it go.
I suppose my method is a combination of both. I don't have a specific mental picture of the hole, but I putt very quickly after doing my pendulum stroke routines and simply try to recreate the last, best stroke. The final look I take at the hole or target is similar to a basketball player looking up at the hoop at the peak of his jump and letting the ball go.
Like driving a golf ball, where the best advice I've ever heard is "just let it go," the same applies to putting.
Mental Aspect
I'm confident that I'll make every putt. I don't aim for a circle six feet in diameter because I believe the human body responds better the more precise the target. I read a long time ago that Dave Pelz says the ideal speed is that which rolls the ball 17″ beyond the hole if it misses, and though I don't like the putting stroke he preaches, I took that to heart.
That knowledge combined with my "reactionary" approach to a putt's speed and my pre-round warmup that focuses primarily on gauging the speed has led me to become a putter who nearly always gets the speed just about right. True, I'll occasionally leave a 20-foot putt a little short of the hole, but I rarely shove one six feet past. Whether the putt is five feet or fifty-five feet, "trying to make the putt" never leads to hitting the putt harder than is necessary.
A lot of golfers attach a lot of significance to their putts, particularly the short ones. While I admit that it stinks that a missed three-foot putt counts the same as a 280-yard drive down the heart of the fairway, I realize that your control of the situation stops the instant the ball leaves the putter face. If I do everything conceivably possible to hit the putt on the line and with the speed that I believe will result in the ball falling in the cup, what happens after that is out of my control.
In other words, I consider any putt I have a success if I start the ball on the line I chose and with the speed I chose. If I make an error in reading the break or speed, I learn from it. If I make an error in execution, I forgive myself (and practice until that fault is cured if it occurs too frequently).
I believe that application of the "every shot counts the same" mentality is crucial to good putting. Lots of people are better par putters than they are birdie putters, and are even better bogey putters than par putters. Even Tiger Woods is a better par than birdie putter.
But birdie putts and bogey putts still count for one stroke apiece. Many people get tentative with birdie putts because they think "par is still a good score – I don't want to three-putt." Such thinking introduces a negative – three-putting – and tentativeness. Last time I checked, negativity and tentativeness aren't conducive to good putting!
Someone asked in the forum what length putt they were 90% confident they could two-putt. This thinking is flawed in two ways. First of all, 90% confident implies 10% unconfident. Also, two-putting is a negative in my opinion: I am trying to make every putt I look at.
Drills
Outside of checking on my own personal set of "fundamentals," I have only a few drills that I like to use.
Yardstick Drill
It took me awhile, but I finally found a thin metal yardstick at Lowe's. This yardstick is plain silver, about an inch wide, and quite flexible. If my arc stroke feels off, I use the yardstick to get the proper feeling back.
For this drill, you'll need three tees, a few balls, and the yardstick. First, find flat ground. Sometimes I putt to a hole (a straight putt, preferably uphill), but sometimes I just putt to a dime or some other small mark.
Next, put two tees in the ground at about 30 inches apart. Set the yardstick on its edge to one side of these tees (the left side, relative to the direction in which you'll be putting). Push on the middle of the yardstick to bow it out to the right about two inches and push a tee in the ground behind the 18″ mark. In other words, bend the yardstick around the middle tee and hold back each edge with the other two tees.
Now you've got an arc. Put the heel of the putter against the yardstick and make a few strokes. After you've ingrained the feeling, do so with a ball. The putter face should always be perpendicular to the arc of the ruler and the heel should always touch. It may take a few tries to get the right arc – you don't too wide or too shallow an arc.
In other words, you can create one of these for a lot less money.
Teegate
This drill is similar to one Tiger Woods uses and is good for correcting mis-hits.
First, find a straight, uphill six-foot putt. Put two tees down just outside of your putter's toe and heel to create a "gate" through which you'll swing your putter. Be precise – the tees are there to reinforce square impact, so they should be perpendicular to your line. Put a ball down just ahead of the tees, swing back and through, miss both tees, and make the putt.
If you clip the outside tee, impact would have been towards the heel. If you clip the inside tee, contact would have been towards the toe. Check your fundamentals and keep working. For example, I have the tendency to lean a bit too far forward when I putt. This leads to pushing the putter out and making contact towards the heel. This drill helps solve that.
To add a little complexity to the drill, I sometimes put a tee off the toe both in front of and behind the location of impact. This simultaneously reinforces the proper arc stroke because if I take the putter straight back or straight through I'll hit that tee as well.
Tiger hits putts with the gate using only his right hand – I prefer to use both (perhaps because my interlocking grip isn't as dominated by the right hand as Tiger's is).
Look at the Target
When my sense of speed is off, I use this final drill to re-link what my eyes see with what my body feels.
It's a simple drill, and one I sometimes use during play on really long putts. With putts of 15 feet or longer on the practice green, line up the ball and your putter, then look at the hole. Make a stroke, and watch the ball go to the hole. You'll regain the link between your eyes and your hands within about ten or twelve strokes.
That's All, Folks
What else can I say?