Those who knew Byron Nelson recognize that his records and trophies all take second place to his tremendous depth of character. Anyone who witnessed Nelson at the tournament that bore his name, the EDS Byron Nelson Championship, knew how respected he was by every participant. The Byron Nelson award ceremony was always a tender moment as Nelson greeted and congratulated the victor.
Nelson's achievements are pinnacles of excellence that rival that of any athlete in any sport. His high level of play over a relatively short time-span amassed an impressive number of victories, set a new standard for the golf swing, and left us with the memories and example of what every sportsman should be: a gentleman.

Unsurpassed Excellence
Byron Nelson set the bar high for consistent play. So high, that it will be unlikely that anyone will get near it. Between 1935 and 1951 Nelson won 52 events on the PGA Tour. Thats winning slightly over three events per year for 16 years consecutively. Not bad. By the time he hung up his clubs he had won 54 PGA Tour events.
His 18-win season in 1945, including an obscene 11 wins in a row, set the consecutive win record well out of reach. Arnold Palmer said in a published statement, "I don't think that anyone will ever exceed the things that Byron did by winning 11 tournaments in a row in one year." Tiger Woods, who has recently been on a roll of his own, said, "What Byron accomplished, that goes down as one of the great years in the history of our sport." Many in the world of sports view Nelson's single-season and consecutive-wins record as one of the highest achievements of all time.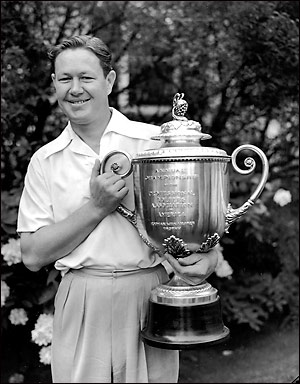 Nelson won five major championships: The 1937 and 1942 (defeating Ben Hogan) Masters, the 1939 U.S. Open, and the 1940 (defeating Sam Snead) and 1945 PGA Championships. He likely would have snagged a British Open Championship had he enjoyed traveling in boats. His best finish at the British was T5 in 1937. It wasn't until 1955 that he competed at the British again where he finished T32, past his prime years.
He won the Vardon Trophy in 1939, was the leading money winner in 1944 and 1945 (no surprise there), and had a 3-1-0 record in the Ryder Cup. It is no surprise that he became the first inductee into the Worlf Golf Hall of Fame in 1974 and was presented with the PGA Tour's Lifetime Achievement Award in 1997. Nelson's achievements are woven into the fabric of modern golf. The PGA Tour gives the Byron Nelson award to the player with the low stroke average every season.
Nelson is considered the father of the modern golf swing. While Hogan's gets much of the credit in this area, Byron Nelson was the first to see that steel shafts allowed one to use their hips and legs to drive the ball further. Nelson's lower body was quite active compared to swings of earlier eras. Nelson's student, Tom Watson, said, "He was such a great ball striker because he had that low, sweeping motion in his swing." Modern players can thank Nelson for handing them a reliable and efficient swing.
Nelson was always calm in the heat of competition which may have hid his fierce competitiveness. During his duel with Ralph Guldahl and the 1937 Masters he hit 3-wood over Rae's Creek and sunk his twenty foot putt for eagle. In his words, "The Lord hates a coward." Well, he was not coward having stared down some of the best to have ever played.
Exemplary Character
The son of a cotton farmer, Byron Nelson was born February 4, 1912 outside Waxahachie, Texas. He didn't grow up with much and began caddying to make some money when he was young. It wasn't long before he discovered that you could make a few bucks playing golf. In 1927, at age 15, Nelson defeated Ben Hogan in a local caddie championship at Glen Garden C.C.
While Nelson honed his golf skills he sharpened his inner qualities and wasn't afraid to admit he was wrong. Early in his career he took sponsor money from a cigarette company and after receiving disapproving letters he asked if he could give the money back. The company wouldn't take the money but he learned a valuable lesson. Athletes are role models whether we like or not.
"When you talk about people who provided the foundation for the modern game of golf," said Jack Nicklaus, "Byron Nelson is one of the first names you must mention. I think the only thing that rivals Byron's greatness on a golf course is the manner in which he conducted his life-as a gentleman, a role model and an ambassador. "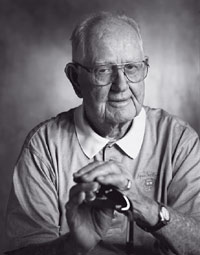 Nicklaus related an experience he had at the U.S. Junior championship. Nelson was giving a clinic. "I have never seen a man hit a ball straighter, before then or since. It has been forever etched into my memory. In my opinion, Byron Nelson's life has never been any different than his play was that day – straight down the middle."
His commitment to God, his family, and his church are well known and appreciated by golf fans. He seemed to live the Spirit of the Game with ease. From the Rules of Golf:
The game relies of the integrity of the individual to show consideration for other players. All players should conduct themselves in a disciplined manner, demonstrating courtesy and sportsmanship at all times, irrespective of how competitive they may be. This is the spirit of the game of golf.
"He was a fantastic person whom I admired from the time I was a boy," said Arnold Palmer. "He just did nothing during his long life but make great contributions to the game of golf and life itself."
PGA Tour Commissioner Tim Finchem weighed in on Nelson's passing,
The golf world suffered a devastating loss with the passing of a true gentleman, Byron Nelson. He was a legend who transcended generations and was loved and respected by everyone who knew him. Our players, young and old, looked to Byron as the consummate role model of our sport. His legacy spans across his historic performances, the gentle and dignified way he carried himself and his tremendous contributions to golf and society.
A Lasting Legacy
Nelson said in 2001, "People said my career was fine, but too short. But I did what I wanted to do." What did he want? He wanted to save up enough money to by the ranch he enjoyed for so many years in Texas. He wanted to provide for his first wife, Louise, who died in 1985 after 51 years of marriage. Later he provided for his wife Peggy. He wanted to enjoy golf, honor his competitors, and honor God and thats what he did.
His legacy transcends the game because his character was much bigger than his records. He embodied what every golfer should seek to emulate: strength of character and the pursuit of quality play. He is one of golf's greatest ambassadors and he will be sorely missed.
Photo Credits: © SI Golf, Golf Digest .com.