Today's interview is with sports psychologist Dr. Gio Valiante, who has worked with PGA Tour players such as Chris DiMarco, Justin Leonard, Camilo Villegas, and Chad Campbell. Valiante has also authored a book entitled "Fearless Golf." Dr. Valiante is a professor at Rollins College and is also the mental game consultant to Golf Digest.
We hope you enjoy the interview.

TST: What attracted you to sports psychology to begin with? When did you decide to become a sports psychologist? What made you choose this career path?
Dr.Valiante: It was a chance for me to bridge my two passions. I grew up on sports, and as the captain of many teams, I quickly learned how much of success was mental. Once I got to school, I gravitated toward psychology. It wasn't until my PhD program that I saw the possibility to merge the two.
TST: Most golf sports psychology – it seems – can be boiled down to a few things: forget your bad shots, have a good pre-shot routine, focus on the target, and play confidently without being overly bold. Why are there hundreds of books on the subject, and what does Fearless Golf teach us that we can't find in books from Bob Rotella or others?
Dr.Valiante: Fearless Golf is a departure because it is based on modern research. You're right to say that most golf psychology books say the same thing, just in different ways. I totally agree, which is why I was motivated to write Fearless Golf. I had learned about all these great ideas in psychology that were working across achievement domains, but for some reason were being neglected by the "sport psychology" status quo. Fearless Golf brings original ideas into the game that, based on the results with players of all abilities, are very effective ideas.
Additionally, the book moves a golfer from the conceptual "what" he should do, to the practical "how" to do it. It teaches "how" to be more confident, "how" to be a mastery golfer, etc…
TST: In Fearless Golf, you characterize golfers as being "ego oriented" and "mastery oriented." Explain the difference between the two.
Dr.Valiante: Simply put, golfers play the game for different reasons. Some are motivated to "show off" and appear competent to other people. These are called Ego golfers (they play to enhance their ego). On the contrary, Mastery golfers play for the sake of learning and improvement. They care about their golf games, not what others say about their golf games. Tiger Woods, Jack Nicklaus, and Ben Hogan are all mastery golfers. Research shows that a mastery orientation in achievement domains tends to lead to better, more consistent results.
TST: Without giving away too much from your book, what steps must a golfer who is "ego oriented" take in order to become "mastery oriented"?
Dr.Valiante: A couple of things are key. They must continually monitor their own underlying motivations by asking "why" they play golf. Then they can begin to ask the proper questions to focus their attention on playing the golf course rather than playing the opponent.
TST: How often does fear or lack of confidence affect the average PGA Tour pro? How about the average weekend golfer?
Dr.Valiante: It is almost always present to some degree. Whether in the form of self-doubt or indecision, fear is omnipresent in golfers at all levels. The key difference is Tour golfers have learned to manage the fear and play with it. Average golfers tend to be crippled by it.
TST: How has writing Fearless Golf changed your life?
Dr.Valiante: The best thing is the emails I get from golfers around the world who it has helped. I get emails constantly from golfers who got their first holes in one, broke personal records, or won tournaments. I like that it helps people improve at the game they love as much as I do.
TST: How does one identify a weak mental area and what measure, if any, can be used to track improvement?
Dr.Valiante: I have a model I use in the office that isn't in the book that helps golfers specify areas of weakness. It's important to make accurate "attributions" before setting off on the path of improvement.
TST: Golfers will try anything to improve their game. One of the latest "fads" is the use of hypnotism to improve the mental side of one's golf game. What are your thoughts towards the use of hypnotism for golfers? Do you feel it is beneficial? Would you refer one of your students to a hypnotist? Why or why not?
Dr.Valiante: All the empirical evidence suggests that very rarely does hypnotism work, and when it does, only in specific types of cases. Hypnotism is a step back in psychology, and is largely why sport psychology has such little credibility among psychologists in other fields.
TST: Is it possible to "practice" the mental side of golf? Is there a certain routine on the range (or elsewhere) that can help put your mind in focus when on the golf course? How much time does one need to spend on mental improvement practice?
Dr.Valiante: Absolutely it is possible to practice it. The difficulty is that one can't separate golf from life. In order to achieve excellence in golf, it is best to strive for excellence in life. Fearless Golf is just a metaphor; one can't simply be fearless in golf, one has to be fearless in the pursuit of excellence in all domains because, like confidence, fear can be contagious.
TST: A common scenario for the average golfer is they often get on the bogey train (or worse) and can't get off. A few bad holes ruin our rounds. What suggestions do you have to help recover after a series of bad shots or bad holes to prevent them ruining the rest of the round?
Dr.Valiante: This is what I call the "downward spiral" and my lab was the first to identify the psychological, physiological, and mechanical causes of the downward spiral. It's a bit complicated, but the important thing to note is that the bogey train is rarely caused by a single thing: it is typically a combination of mental, physiological, and mechanical things.
TST: Do you see a big difference in motivation – the desire to practice, to get better – amongst the PGA Tour pros you coach? Are they more often driven by pride, by money, or raw competitiveness?
Dr.Valiante: Like anyone else, the motivation of a professional changes regularly. By and large however, PGA Tour pros are motivated because they love to learn, love to play the game, and love to compete. No matter how big the purses, money alone cannot sustain the type of motivation required to play at that level. Those guys work very, very hard at their craft.
TST: Of all the people you've helped coach, who has the strongest mind and why? Is there anyone you'd like to work with? Why?
Dr.Valiante: I've never work with Tiger, but I've spoken with him quite a bit and I think it's safe to say he has the strongest mind. I've spent a lot of time with Jack Nicklaus and his mind is also incredibly strong. I would also say that guys like Chad Campbell, Heath Slocum, and Camilo Villegas have seriously good minds when it comes to competitive golf. I would not want to be playing any of them for my rent money!
TST: What, if anything, could a professional golfer learn from the average golfer?
Dr.Valiante: What Arnold Palmer learned from his father: that golf is a game and should always remain a game.
TST: What qualities make a good student? A poor student? Can a poor student become a good student and if so, what steps must they take to make the transformation?
Dr.Valiante: I once read the quote that "The wise man learns more from the fool than the fool learns from the wise man." In that vein, a good student is willing to listen and willing to learn. I like students who challenge me, as long as we're learning together.
TST: Michelle Wie has been criticized as not having "learned to win," yet she's played well this year on the LPGA Tour and has been in contention quite often. Her lack of wins haven't come from collapses but simply being beaten. Can you "learn to win," and if so, what one key piece of advice would you give Michelle at this stage of her career?
Dr.Valiante: Some golfers are great 54-hole players. Others are closers. Golfers can learn to close (as Chris Dimarco and Davis Love III have done). To find out, they should read the book, but ultimately it boils down to playing the shot rather than playing the situation… and making fearless swings even when your body is feeling scared to death!
TST: Phil Mickelson prepares weeks in advance for his majors, but puts a lot of the responsibility on Dave Pelz and Rick Smith. Tiger goes it alone, sometimes (as at Hoylake) the week of the tournament. Which method is better, and what does it say about the mentality and approach that each of those players takes?
Dr.Valiante: Golf is an individual game and every player has his or her own method. The best method is the one that works best for that golfer.
TST: How do you recommend a golfer prepare for a tournament, be it a major on the PGA Tour or their local club championship?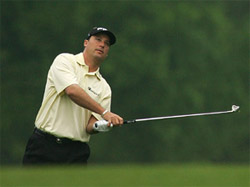 Dr.Valiante: One of the key questions Fearless Golf proposes is "what are my obstacles today?" Before majors, all my golfers identify their obstacles as well as their plan to overcome those obstacles. This preparation has worked great for Chris Dimarco, and he is close to overcoming the obstacle called Tiger Woods. Invariably, I teach my golfers to "expect the best, and prepare for everything."
TST: It's a Ryder Cup year, so talk of "gamesmanship" will once again surface. How do you recommend a player, pro, amateur, or weekend golfer, handle gamesmanship?
Dr.Valiante: By ignoring it and making fearless swings at their targets.
TST: As a psychologist, I imagine you are analyzing your own thoughts constantly. How do you turn it off? Does this affect your golf game? Why or why not?
Dr.Valiante: It actually helps my golf game. I am able to easily forget bad shots/rounds, and enjoy golf as much or more than ever.
TST: What hobbies do you enjoy?
Dr.Valiante: Running triathlons, writing, reading, teaching students at Rollins College, and traveling across this grand continent of ours!
TST: What mental game advice can we take off the golf course and into our day-to-day life?
Dr.Valiante: I've gotten dozens of emails from people who Fearless Golf has helped in their business as much as their golf game. Self-efficacy is important in life, not just golf. Being mastery oriented is important in life, not just golf. Asking great questions that help you achieve your outcome goals is important in every areas of life… so the book is a recipe for success in life in addition to success in golf.
---
We'd like to thank Dr. Gio Valiante for taking the time to answer our questions. To read about Dr. Valiante's services, testimonials, and contact information you can check him out at http://drgiovaliante.com/.
Photo Credits: © Rollins College , © Dr. Gio Valiante, © Unknown.