It's been almost a year since the last installment of Celebrity Deathmatch, but since things are shaping up in the FedExCup for a possible third mano y mano matchup between Rory Sabbatini and Tiger Wood, it seemed like a perfect matchup for Deathmatch.
I know, Steve Stricker (104,950 points) and K.J. Choi (102,900) are leading the FedExCup standings for the moment, but Woods-Sabbatini have a history extending way back to May and the Wachovia Championship. No offense to Stricker and Choi – both of whom are playing great golf – but who better to revive the Deathmatch with than brash and trash-talking Rory against the world's number one golfer? First let's meet the contenders.

Tiger Woods, out of Stanford University, is 6'1″, 185 lbs. He's 31, born December 30, 1975 in Cypress, CA. Going into this week's Deutsche Bank Championship (round two of the "Playoffs"), he is in fourth place in FedExCup points with 100,000 points after skipping the Barclays.
Rory Sabbatini (who was once named the Tour Jackass of the Week) attended the University of Arizona and is 5'10", 165 lbs. He's also 31, born April 2, 1976 in Durban, South Africa. He's currently in third place on the points list with 100,650.
Now, let's get ready to RUMBLE!
Best Website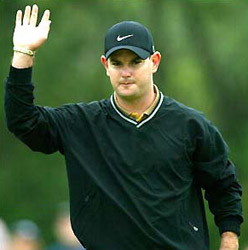 Rory: Sabbatini's site almost feels like it's been put together by a web-savvy member of the Rowdy Roadies (a group of friends and family that follow Rory to several tournaments each year). It's a little quirky and kind of fun.
Tiger: The Woods' site is "Powered by IMG Media," and is corporate all the way. It looks as much like a video game as a player's website.
Winner: Rory, because there is such a thing as being too polished.
Best Dressed
Tiger: The Woods wardrobe for each event is chosen well in advance by a team of marketeers from Nike and approved by Tiger himself.
Rory: Sabo likes wearing black and big, obnoxious belt buckles.
Winner: Tiger
Best Charity
Rory: Intrepid Fallen Heroes Fund, which helps support the men and women of the U.S. Armed Forces and their families. That's a nice gesture, especially for a native South African! Too bad the link is misspelled on rorysabbatini.com, resulting in a 404 error.
Tiger: Tiger Woods Foundation, which as helped some 10 million young people in its first ten years. For a foundation that is heavily involved in education, you'd think they could spell organazations [sic] correctly.
Winner: Tiger… Now both of you go fix your websites, or have whoever does that sort of thing for you do it.
Best Wife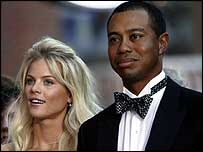 Tiger: Elin is the mother of Sam Alexis, an ex-nanny, ex-model, and, oh yeah, she's Swedish.
Rory: Well, you have to say that Amy's got his back. Harley and Tylie Sabbatini's mother garnered the ire of many by famously wearing "Stoopid Amerikan" and "Keep Up!" T-shirts. We'll give her credit for standing by her man.
Winner: Elin, errrr, Tiger. Is her twin still available?
Best Digs
Rory: The Sabbatinis have a lovely home on a lake called Possum Kingdom in Texas.
Tiger: The Woods have a little place on Jupiter Island in Florida.
Winner: Tiger
Best Publicity Stunt
Tiger: Hitting golf balls off the roof of the world's tallest hotel in Dubai.
Rory: Calling out the world's number one golfer twice this year (and then failing to keep pace with him on Sunday both times). Dishonorable mention: having a retired fireman thrown out of the Bridgestone for asking, "Hey Rory, still think Tiger's beatable?"
Winner: Rory (Heck, I could hit balls off that helipad… if I could sneak up there. Come to think of it, I could also say "Tiger's beatable" and then get my butt kicked.)
Best Confidence
Tiger: Hit just one driver during the 2006 Open Championship at Hoylake. His strategy of playing long irons into most greens worked to perfection. And when he was going through the last round of swing changes and the driver was spraying it everywhere, he kept telling us, "It's really close." It turns out he was right.
Rory: Not to repeat myself, but he called the top player on Tour "as beatable as ever" during the Wachovia and said he wanted to play Tiger. Then, playing the final Sunday pairing with Tiger, Rory posted a 74 to Tiger's 69 and finished four shots back. Then there was a nearly carbon-copy performance at the Bridgestone. We like the bravado, but put up or shut up.
Winner: Tiger
Best Career
Rory: Since turning pro in 1998, Sabbatini has four PGA Tour victories, including the 2007 Crowne Plaza Invitational at Colonial.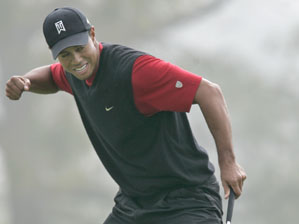 Tiger: Since February, Tiger has five PGA Tour victories, including a major. Oh, okay, we'll compare apples to apples: since turning pro in 1996, Woods has 59 PGA Tour wins, including 13 majors. And he's started a second career in course design.
Winner: C'mon, do you have to check?
And the winner is…
Tiger stomps Rory (again) 6-2 in our Celebrity Deathmatch, but we'll have to wait to see how the FedExCup turns out.
And in case you're still wondering about "Cablinasian"… That's how Tiger describes his racial lineage (CAucasian-BLack-INdian-ASIAN).
Photo Credit: © AP, © Unknown, © Unknown.