It is hard to understand what life must be like for someone like Morgan Pressel. We've watched her successful young career since she qualified for the U.S. Women's Open at age 12 and the media and fan attention have become second nature to her. "You've still got to stay a kid as long as you can be a kid," Pressel said in the days around the 2001 U.S. Women's Open. "You've got to have a golf life, or whatever your sport life is, and you've got to have a normal life, too. Time to have friends and stuff."
Fast foreword to 2005 and Pressel is on the verge of entering the professional golf ranks. Adulthood is approaching at a rapid rate as she moves toward her goal of professional competition.

Pressel began pursuing a career in golf when she was very young. "I started following my papa to the driving range, and he let me hit some balls," said a 12 year old Pressel. She began tagging along with "Papa," her mom's dad, when she was 8-years-old. "He knows how to raise a champion," said Pressel in a 2005 interview.
When Pressel was twelve-years-old and a seventh grader in Boca Raton, Florida she earned a place at the U.S. Women's Open by shooting a 2-under-par 70 in a qualifying event. She is the second youngest to have qualified for the Open behind 10-year-old Beverly Klass' in 1967.
Morgan Pressel ended up missing the cut and Karrie Webb won that year's Open by an impressive 8 strokes over the field. Webb was the only golfer to break par. Pressel shot 77-77 for two days but was pleased with her showing. I'd say that her performance wasn't too bad for a twelve-year-old. Morgan set her goals high in those days. "I want to be a professional golfer and one day to be No. 1 in the world." She is well on her way.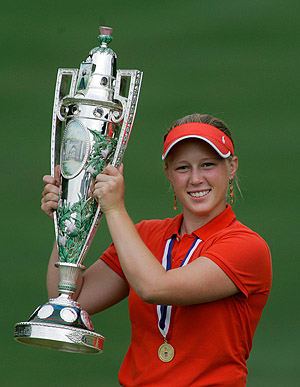 When she finished her 2001 U.S. Women's Open rounds her mom, Kathy Pressel, was there to offer congratulations and enjoy the experience with her. Just two short years later Kathy died of breast cancer. Morgan has handled the loss remarkably well. Pressel's grandfather, Herb Krickstein recalls holding Morgan in his arms after she was born and seeing much of his daughter in her. He often called her Kathy and it was probably deserved as Morgan inherited Kathy's energetic nature.
Michael Pressel said, "She's emotional and feisty, just like her mom." Excelling in sports in not new to Pressel's family. Her uncle Aaron was a ranked tennis player at age 14.
Morgan has since moved in with her grandfather to pursue her dream of playing professionally. It has given her the opportunity to focus more attention on her game under the watchful eye of her grandfather. I'm not one who really agrees with our go-for-broke style of raising kids these days. While she has the opportunity to excel in golf this way, I wonder what she is missing by being away from her father and two siblings.
Pressel tied for second in this year's U.S. Women's Open with fellow amateur Brittany Lang. She went 71-73-70-75 for a total of 289. She effectively shot herself out of the win in the final round finishing only two shots behind winner Birdie Kim. Kim holed out from the bunker for the decisive victory. "I saw her in the bunker (and thought) maybe par will win it," Pressel said later. "That's a tough hole. She hit a great shot. I was like, I can't believe this is happening to me." Morgan's final-hole bogey didn't help her chances.
There was a strong reaction from fans as Pressel cried in the post-Open interviews. Many felt she should shrug off the loss and move on. Those who come down hard on Pressel for crying should remember that she isn't the first athlete to cry after losing. Competing at the top requires a significant emotional investment regardless that "its just a game." Men cry all the time after enduring the emotions of competition. The most recent example I can think of is Jack Nicklaus' tears after the Americans won the Presidents Cup. Anybody think Nicklaus is a wimp? Not me.
I'm willing to give Morgan a pass for wearing her feelings on her sleeve. I think she needs to be given the benefit of the doubt for a couple of reasons. She is young and inexperienced and is living out her dream to compete as best she can. It is well known to her family that she is very emotional as was her mother.
I believe that when she makes the LPGA Tour that experience will temper her tenderness. It takes a lot of ups and downs to develop an athlete. Given time, Pressel will learn how to handle both victory and defeat.
The Sand Trap's own Stacy Solomon covered the story around Morgan Pressel's desire to join the LPGA in late July. Stacy pointed out that Pressel has turned down a golf scholarship from Duke University to pursue her chances of making it on the grand stage. I suppose I agree with her that an education would be better for her than the fire of professional sports, but what is success? I believe success is enjoying life and doing what you love.
Just a week ago Pressel shot a 63 to make it through the first stage of LPGA Tour qualifying. Certainly that was a little vindication for her decision to go pro. Running the Q-School gauntlet is quite a task for someone who hasn't yet graduated from high-school but she's got enough game for it. We'll find out in December if she can seal the deal. Even if she does qualify in December she'll have to wait for her birthday to enter the professional ranks.
The future of the LPGA looks bright because of people like Morgan Pressel. The LPGA stands to gain a lot through the addition of fine players like Annika Sorenstam, Michelle Wie, Morgan Pressel, Natalie Gulbis, and Paula Creamer. We can safely say that women's golf is going to get a lot more attention in the coming years.
Morgan knows how to win. The difference between Pressel and Michelle Wie is that Pressel has actually won an event. Wie stands to make a lot more money through endorsements but has yet to prove herself the winner Pressel has become. No doubt Wie's wins will come in time, but Morgan has got the job done so far.
"I like to compete. I just love it," said Pressel. "I have to win no matter what I'm doing." There is plenty of winning in Pressel's future. We'll wait with patience to see just how many wins Miss Pressel will bring home.
Photo Credit: © Steve Gibbons/USGA.