Arguably the best ball striker of all time, Ben Hogan has become a legend. Even before his playing days ended in 1971 Hogan had become a folk hero for surviving a serious car accident and continuing to play. His 1-iron into the 18th green at Merion Golf Club is perhaps the most famous shot in golf and occured after the violent crash.
He spoke very little on the golf course and is reported to have said, "I play golf with friends sometimes, but there are never friendly games." 1964 U.S. Open winner Ken Venturi reported Hogan said, "There's three ways to beat somebody: you outwork them, you out-think them, and then you intimidate them."

Hole 1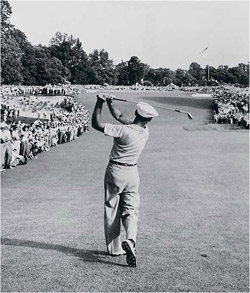 Hogan shot an 11-under 277 at Pinehurst No. 2 in 1940 for his first professional victory. He defeated Sam Snead by three strokes. 10 days after he had won his first he had won two more tournaments, the Greensboro Open and the Land of the Sky Tournament.
Hole 2
$8.50: The amount that Hogan took home from his first professional event, the 1932 Los Angeles Open. He finished 38th. He had dropped out of high school to turn pro.
Hole 3
Of the golf swing Hogan said, "Reverse every natural instinct and do the opposite of what you are inclined to do, and you will probably come very close to having a perfect golf swing. "
Hole 4
Valerie Hogan, Ben's wife said of Hogan's integrity, "When the Ben Hogan Company's first batch of irons came out in 1954, he took one look at those golf clubs and said, 'Throw 'em away.' To him, the irons weren't right."
Hole 5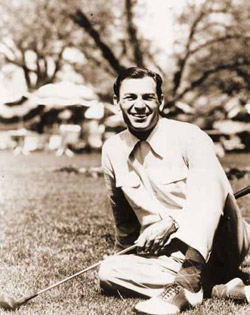 Hogan won thirty regular season events before winning his first major, the 1946 PGA Championship.
Hole 6
Hogan won ten tournaments in 1948. Among them was a U.S. Open victory at Riviera Country Club which has been nicknamed "Hogan's Alley" because of his success on that course.
Hole 7
A car accident nearly took Hogan's life in 1949. His doctor told him that he may never walk again. Hogan proved them wrong by winning 12 more PGA Tour events including six majors.
Hole 8
In 1953 Hogan won five of the six tournaments he entered including three majors. He was unable to play in the PGA Championship because it started too close to the end of the British Open (which he won).
Hole 9
Hogan competed in 292 PGA Tour events and finished in the top-3 47.6% of the time. He was in the top-10 241 times.
Photo Credit: © Hy Peskin/Sports Illustrated, Mark Ruben.