Cristie Kerr has undergone a transformation since joining the LPGA Tour in 1997. She has become one of the most recognized and loved talents in recent years. She could credit adversity, a major weight loss and health program, and the chipping off of some rough edges for her present popularity.
She has found a way to get into the winner's circle as well. She has won five events in the last two years and doesn't show any signs of slowing down. Once called "the female Tiger Woods" by the Orlando Sentinel, Cristie Kerr is doing her best to make an impact on and off the course.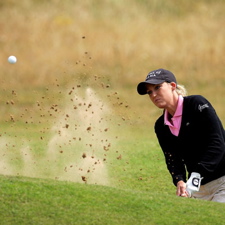 Hole One
Born October 12, 1977, Kerr started playing the game at age eight. By age twelve Kerr was a two handicap. She obviously has a knack for golf.
Hole Two
Cristie had a very successful amateur career. She won the Florida State Junior Girl's Championship from 1993 to 1995, the Junior Orange Bowl Classic, the Doral Publix Junior Classic, the Women's Western Junior Championship, the Harder Hall Women's Championship, the Women's Western Amateur Championship, the Florida State Women's Championship, the South Atlantic Women's Amateur, and was the lo amateur at the 1996 U.S. Women's Open.
Hole Three
Not always popular with her peers for the cockiness she displayed as a new Tour member, Kerr has transformed her image in recent years. Hall of Fame golfer Judy Rankin once said, "She's a damn good player. She hasn't endeared herself to her fellow LPGA players, which is a shame. But I give her a lot of credit for knowing what needed to be changed and changing it."
Hole Four
Ten top-five finishes including wins at the Michelob ULTRA Open and the Wendy's Championship for Children made 2005 one of Kerr's strongest years. In 2004 she had seven top-five finishes with wins at the LPGA Takefuji Classic, the ShopRite LPGA Classic, and the State Farm Classic.
Hole Five
At 5-foot-4, Kerr once turned to food to deal with depression. She went up to 185 pounds at one point until deciding to take control of herself. Now, its hard to imagine Kerr as anything but one of the LPGA's beauties.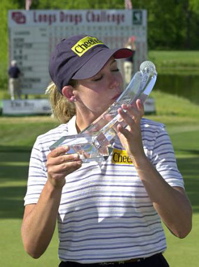 Hole Six
Winning wasn't as easy on the LPGA Tour. It took five and a half years for Kerr to secure her first win. She joined the Tour in 1997 and didn't win until 2002 at the Longs Drugs Challenge. She now has a total of six Tour victories. Unfortunately whoever chose the trophy at the "Longs Drug" event never envisioned it being kissed.
Hole Seven
Kerr is 17th in Career earnings with $5,152,768 earned through 2005. She crossed the four and five million marks in 2005 with increasingly solid play.
Hole Eight
One of Kerr's passions is helping raise awareness and support for the fight against breast cancer, which her mother was diagnosed with in 2003. Her program is called Birdies for Breast Cancer. Her mother's run-in with cancer was a turning point in her life. "I always thought of my parents as invincible, immortal," says Kerr. "But when something like this happens, it brings mortality to your own life. It opened up my eyes and made me think bigger than myself to see what I could do to maybe help fight this horrible disease." Cristie donates $50 towards the fight against breast cancer for every birdie she makes.
Hole Nine
Cristie enjoys many things off the golf course. Cooking, baking, fishing, watching movies and working out are among her passions.
Photo Credit: © Konformist, Birdies for Breast Cancer.