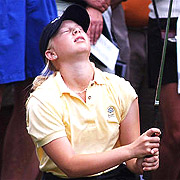 Now that Morgan Pressel has been granted her request to become a full-fledged member of the LPGA it's time to give her a nickname.
Paula Creamer is the "Pink Panther," Michelle Wie is "The Big Wiesy," Greg Norman was "The Shark" and some guy named Eldrick has cornered the market on "Tiger." A popular golfer with such a big presence should have her own identifier.
New nicknames are turning up when talking about Morgan like "Pretzel" but these are unimaginative to say the least. I believe that by the end of this article either myself or one of our readers may just come up with something that really epitomizes the spunkiness and individuality of this impressive teenager.

A few monikers came to mind as I was reading an article which will appear in the February issue of Golf Digest Magazine.
Although interviewer Dave Kindred calls her "firecracker," I'm not necessarily sure that this alias suits her to a tee although she is quite "pop"-ular. Perhaps "inferno" is more apropos.
Morgan, first and foremost, is ambitious and "loves to compete." As Morgan stated about her game she not only "wants to be number-one" but looks further down the road, "a lot further off, some kind of Hall of Fame member."
My nickname for her at this juncture would be Morgan "Perfection" or even better, "da bomb." Okay, a bit too long and not catchy enough. Let's proceed.
Her swing coach, Martin Hall, talks about what he sees in Morgan. "Beyond the record, there is her competitive fire, her spirit. She is very determined, very willful. Nicklaus, Watson, Woosnam, they're all bloody willful and strong-minded. "And Annika, the best golfer I've ever seen. I've tried to instill in Morgan the understanding that Annika is very nice off the course. But on the course, she would slit your throat and leave you bleeding."
I don't think Morgan needs as much prodding to become as strong-minded as Hall believes she should be. Hasn't he reviewed her videos? Morgan stomps and parades all over the course as if she owns it. And she's not afraid to let you know it.
Later in the interview Morgan coyly smiles when she relates how her opponents feel when they are defeated by her. "It's kind of deflating for them." It sounds as if she's licking her chops at this point, savoring the picture in her mind of that moment which was agonizing for her opponent.
Another nickname for Pressel at this point would be "Pressel The Pummeler."
There is also a softer side to Pressel. When she speaks of her mother who passed away at a young age from a bout with breast cancer, you can feel the genuine sorrow and anguish inside of the spunky kid. I almost feel like crying.
Pressel's gentle nature pervades when she discusses the number-one golfer in the world, Annika Sorenstam. "She is so nice, so genuine, and the best player in the world, by far." It was also noted that Morgan cried when she missed a putt that would have put her in a final pairing with the Swede.
Morgan is still a kid. Heck, she's only seventeen and there is more to life than just golf. She's got the prom to think about and she's learning how to drive. Add to that her teenage fashion sense and interest in turning heads with her "cute skirts." As Emily Minor of The Palm Beach Post states, "She's a bit spoiled, but aren't we all?"
Another nickname for Morgan? Perhaps "Hot Pressel." Not biting yet? Okay, I'm sure I can think of a good label that will stick!
The fire really burns hot and Morgan turns bitter when asked about Hawaiian phenom Michelle Wie. Sports Illustrated Magazine printed the following:
"I was shocked that there wasn't more talk of Michelle Wie's final round 82 (at the U.S. Women's Open). I mean, why is that? Or about how when it looked like she was going to make the cut at the John Deere Classic, she played the last four holes in three over par."
But that's not all. Pressel was on a roll. "Are the press and other players just trying to be politically correct? I don't believe in being politically correct. Michelle hasn't played a lot of junior golf, so she hasn't learned how to finish tournaments."
I have read several blogs criticizing Pressel stating that she is "preoccupied" "obsessed" and yes, even "jealous" of and about Wie but I do not agree.
The reality is that Morgan is constantly fielding questions about "The Big Wiesy," moreso than responding to questions about her own game. That would tick me off as well. This "Pressel versus Wie" bashing game has got to stop but it won't because it provides good press and lots of "chat" on the internet.
"Steamed Pressel" doesn't work that well either although she sure has a right to be upset.
I think I have just the right name for Morgan that epitomizes her spunk and verve allowing for her tirades and lighter moments.
Let's simply call Pressel "twister." I think it fits her perfectly. Dictionary.com has two meanings for the word. A twister is both "a localized and violently destructive windstorm occurring over land" as well as "a small cake richer than doughnuts." Aggressive and threatening but with a softer side. What do you think?
Photo Credit: © Erik Perel, AFP.